Using the air fryer to cook frozen sweet potato fries is perfect if you want your fries cooked perfectly and quickly.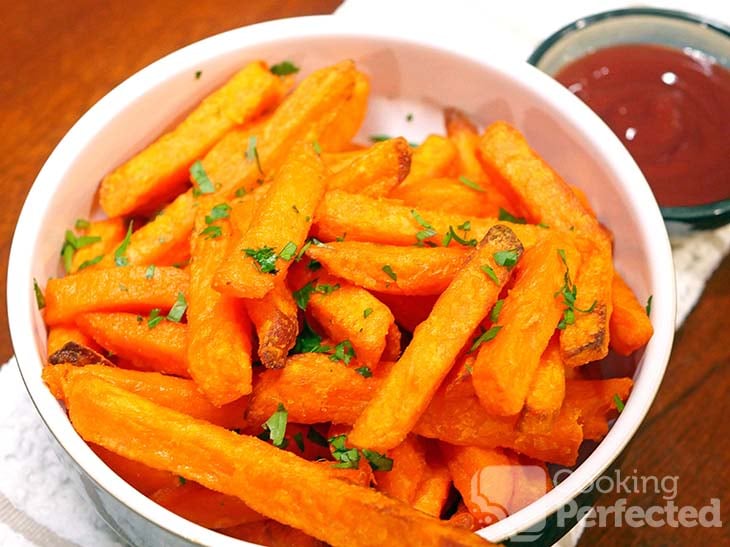 The quality and taste of these air-fried sweet potato fries heavily rely on the brand you buy. The brand I typically use was perfectly cooked within fifteen minutes and was deliciously crisp. They are perfect as a delicious appetizer, snack, or side dish.
There are quite a few different variations of frozen sweet potato. For this recipe, we are sticking to regular-sized fries. However, you can easily use sweet potato puffs, crinkle-cut fries, frozen roast sweet potato, waffle fries, and so many more. You may need to adjust the cooking time slightly.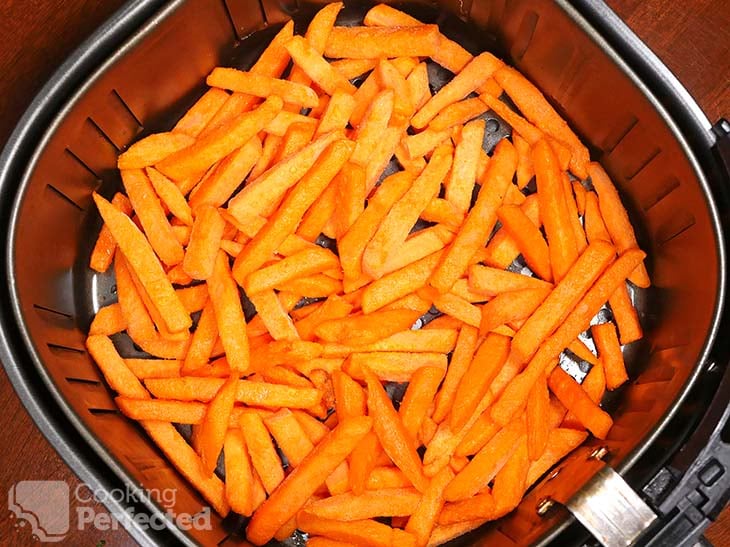 You should get roughly four servings out of a single batch of this recipe. You can double the sweet potato fries, but you will likely need to air fry in batches. I do not recommend overloading the air fryer basket.
If you have loads of spare time, then you can easily make sweet potato fries yourself. It requires a little bit of peeling and cutting, but the result is well worth the effort. I highly recommend giving it a go.
Serving Ideas for Sweet Potato Fries
One of the most popular ways to serve sweet potato fries is as a side dish. These delicious fries will match with almost any type of roast, casserole, or fried food. However, I recommend cooking chicken parmigiana or chicken wings to go with these fries as they are both incredibly delicious.
There is a wide range of condiments that will match nicely with freshly cooked sweet potato fries. My favorite is mayonnaise, but other sauces such as tomato sauce, honey mustard, BBQ sauce, ketchup, or ranch dressing will work very nicely.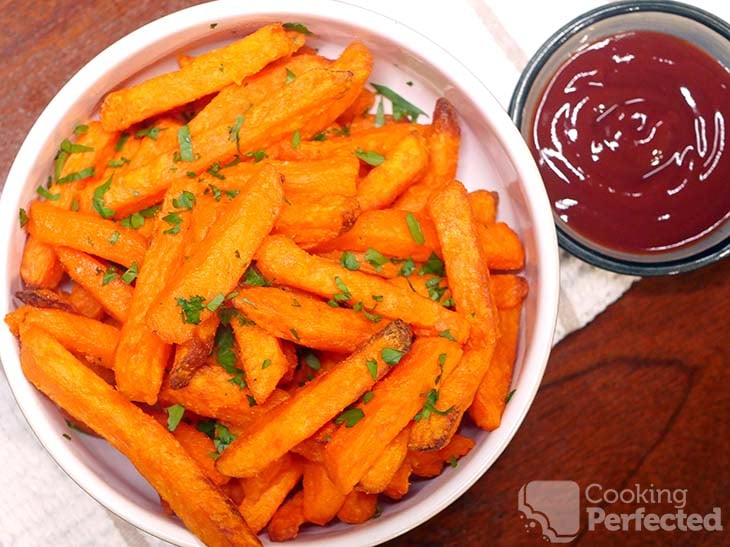 Loaded sweet potato fries is one of the best comfort foods ever, and it is super easy to make. Firstly, you will need to cook the frozen fries in the air fryer. Next, load with a generous amount of cheese and crispy bacon. Cook for a couple of minutes or until the cheese has melted. Cheese and bacon are just one topping you can do. Feel free to get creative and try others.
My last suggestion is to have these air fryer frozen sweet potato fries as part of a breakfast. They are a healthier alternative to hash browns and match perfectly with breakfast staples such as bacon. Certainly, worth giving a try.
The recipe below will take you through the few easy steps to cooking frozen sweet potato fries in the air fryer. If you have any feedback, please do not hesitate to leave a comment at the bottom of this page.
Air Fryer Frozen Sweet Potato Fries Recipe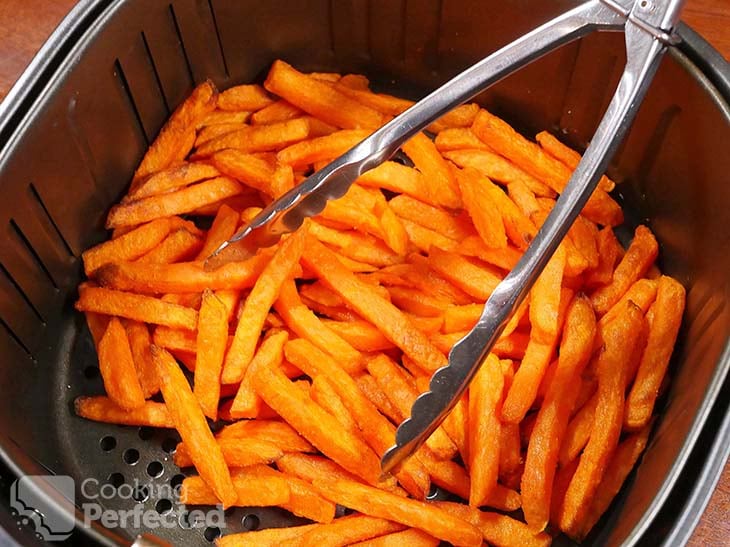 Ingredients
750 g (1.7 lb) frozen sweet potato fries
1 tsp cooking oil
Instructions
Preheat the air fryer to 200°C (390°F). It will take roughly five minutes to heat.
Place the sweet potato fries into the air fryer basket and lightly spray with oil.
Cook for 15 minutes. Shake halfway through cooking for a better result.
Serve & Enjoy.
Recipe Tips
You may need to adjust the cooking time slightly if you have super thick fries or you are using something different such as sweet potato waffle fries.
The timing in this recipe is for cooking the sweet potato fries from frozen. If the fries are thawed, you will need to reduce the cooking time by roughly seven minutes.
The cooking oil is not hugely important but helps crisp the outside of the fries. Any cooking oil will work fine, but make sure it has a high smoking point.
Overloading the air fryer basket will cause inconsistent cooking. I recommend lighter loads for the best cook, so you may have to do multiple batches. A single layer works best.
Be careful as sometimes frozen goods such as sweet potato fries might have added gluten. To be safe, check the ingredients on the package or make them yourself.
Nutrition Information
Serving Size: 189g (6.7 oz)
Servings Per Recipe: 4
Calories Per Serving: 295
Saturated Fat: 1g
Trans Fat: 0.2g
Dietary Fiber: 7g
Sugars: 15g
Cholesterol: 0mg
Sodium: 429mg
Protein: 3g
The information above is an estimate generated by an online nutrition calculator.
More Air-Fried Frozen Food Recipes
There are plenty more frozen foods that cook perfectly in the air fryer, and below are just a couple of my favorites.
If you are not a huge fan of sweet potato, you can cook regular frozen French fries in the air fryer. I think both are delicious, so pick whatever takes your fancy.
Frozen tater tots cook in the air fryer perfectly, so I highly recommend giving them a try. Tater Tots are delicious crispy pieces of potato that go great with most meals. You may also know them as potato gems, potato royals, or potato croquettes.
I hope that you enjoy the air-fried frozen sweet potatoes as much as I did. If you have any feedback, please do not hesitate to leave a comment below.