The air fryer is one of the easiest ways you can cook frozen chicken wings quickly.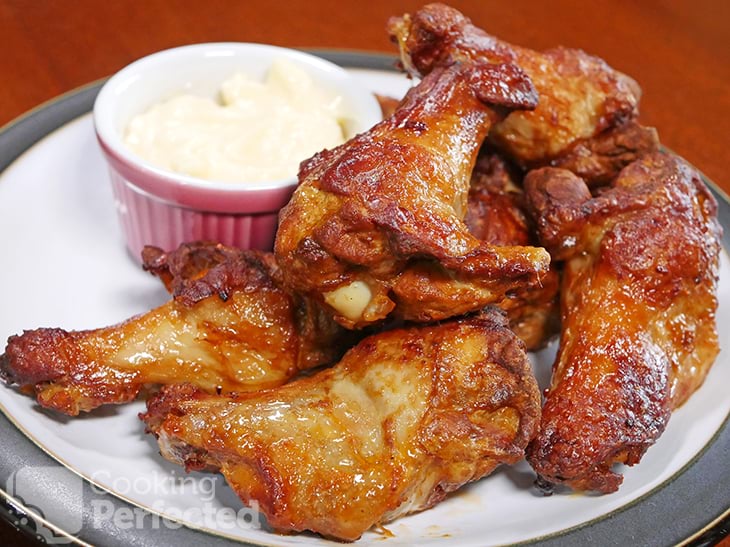 These chicken wings cook to be deliciously tender with a slight crisp on the outside. They are the perfect nibble food that will please almost anyone.
You can cook unfrozen chicken wings in the air fryer by simply reducing the cooking time by roughly half. If you want to take things even slower, you can cook honey soy chicken wings in the slow cooker.
The chicken wings I tested for this recipe were already covered in marinade. Your frozen wings might be different, for example, coated in crumb instead. The cooking time and nutritional information may vary slightly depending on what you use.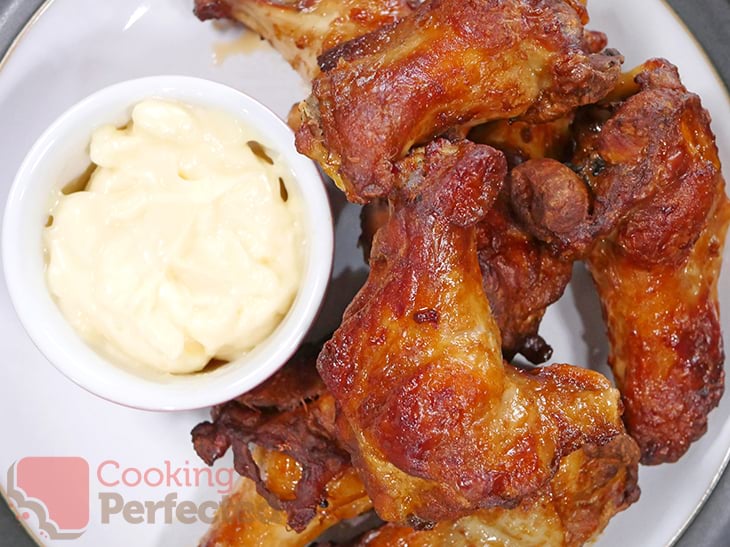 A single batch of these air-fried chicken wings will feed roughly two to four people. If you need to feed more people, I recommend doubling the amount of chicken or making some extra side dishes.
Any leftover chicken can be used in meals the next day. I love to shred the chicken and use it in a chicken a la king pasta. The chicken should be fine for roughly three days in the refrigerator.
Chicken Wings Serving Ideas
These delicious chicken wings will go great with some homemade garlic bread. Alternatively, store-bought garlic bread is an excellent choice as well. You can cook the garlic bread in the air fryer, but I recommend cooking it separately from the chicken for the best results.
There are loads of condiments and dips that will go perfectly with chicken wings. One of my favorites is a blue cheese dip, especially if I am eating buffalo chicken wings. Other condiments such as ranch dressing, ketchup, mayonnaise, garlic aioli, or even BBQ sauce will work nicely.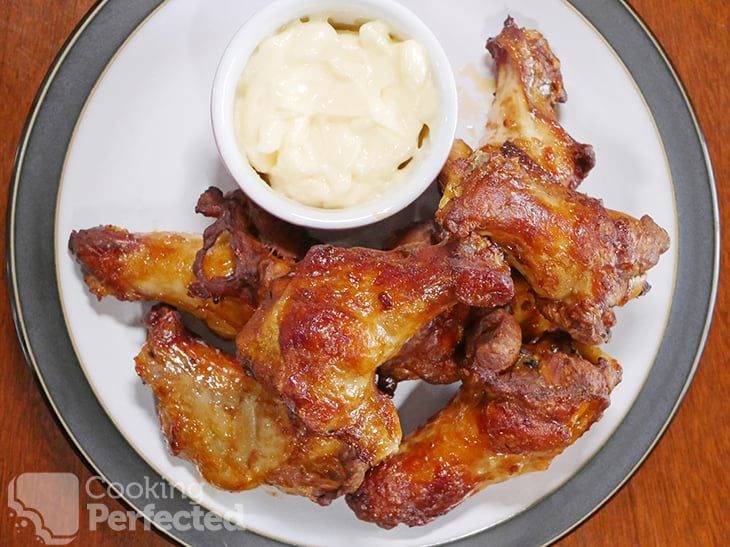 Some extra side dishes are the best way to feed lots of people. These wings will match very nicely with some Tater Tots, steak fries, or sweet potato fries. One of my favorite side dishes is some crumbed onion rings.
A simple green salad will work nicely and will offset some of the richness of the chicken wings. I love making a salad that consists of baby spinach, cherry tomatoes, red onion, cucumber, and avocado. Heavier salads such as potato salad will also be a great addition.
The recipe below will take you through all the steps to cooking frozen chicken wings in the air fryer. If you have anything to add, please leave us some feedback at the bottom of this page.
Air Fryer Frozen Chicken Wings Recipe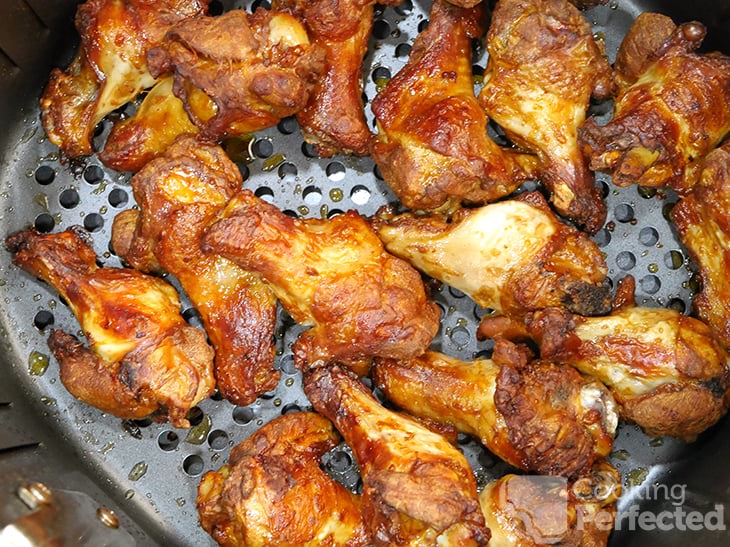 Ingredients
1 kg (2.2 lb) Frozen Chicken Wings
1 tsp cooking oil
Instructions
Preheat the air fryer to 200°C (390°F). It should take roughly 5 minutes to heat.
Place the chicken wings into the air fryer.
Lightly spray the chicken wings with the cooking oil.
Cook for 20 minutes. I recommend turning the wings halfway through cooking.
Check the chicken is cooked by using a meat thermometer. The internal temperature should be at least 75°C (170°F).
Serve & Enjoy.
Recipe Tips
To ensure that this recipe is gluten-free, double-check the packaging and make sure there are no gluten products in the marinade.
I highly recommend that you purchase a meat thermometer to ensure that the center of the chicken is cooked. The internal temperature should be at least 75°C (170°F).
A light spray of cooking oil will help the chicken form a delicious crispy skin.
This recipe assumes that the chicken wings are frozen. If you have defrosted the chicken wings, you will need to reduce the cooking time by half. Always check the meat with a thermometer to ensure it is correctly cooked.
The nutritional information below is an estimate. Please refer to the frozen chicken wings packaging for accurate information.
Nutrition Information
Serving Size: 251g (8.9 oz)
Servings Per Recipe: 4
Calories Per Serving: 512
Amount Per Serving
Saturated Fat: 5.8g
Trans Fat: 0g
Dietary Fiber: 0g
Sugars: 0g
Cholesterol: 210mg
Sodium: 1035mg
Protein: 76g
The information above is an estimate generated by an online nutrition calculator.
More Air Fryer Recipes
Below are a couple more of our incredibly delicious air fryer recipes. We are always trying more and more food in the air fryer, so please let us know if you have any suggestions.
One of my all-time favorite air fryer recipes is the seasoned chicken thighs. They are incredibly tender and loaded with flavor, thanks to our homemade seasoning.
A frozen product that cooks great in the air fryer is frozen chicken tenders. In less than twenty minutes, you will have some crisp chicken tenders that taste delicious. I highly recommend giving it a try if you want an easy meal.
I hope that the frozen chicken wings cook to be as delicious as they did for me. If you have any feedback, then be sure to leave a comment below.