This easy chicken a la king is the perfect way to use up some leftover chicken while at the same time making an incredibly good tasting dinner.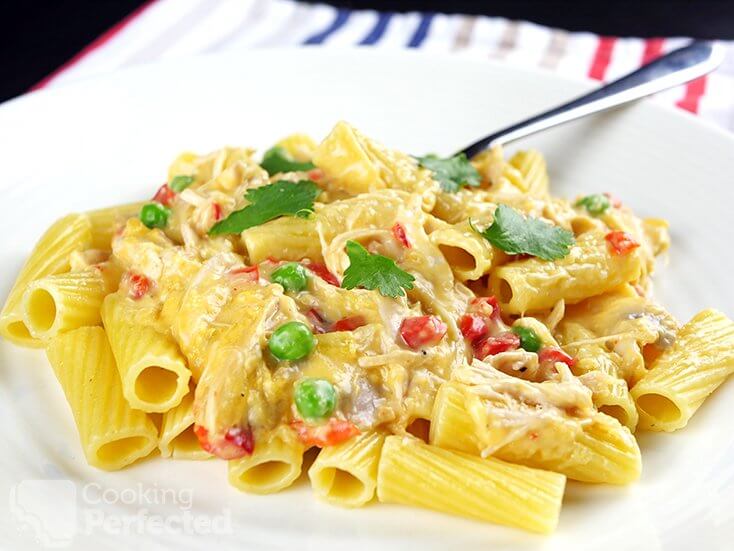 Chicken al a king is also known as king style chicken and has a disputed origin. Traditionally it has chicken, vegetables, and a delicious creamy sauce. You will typically serve this dish with rice, noodles, or even some bread.
By the time you're ready to serve this dish, the sauce will be deliciously creamy and packed with a ton of flavor. The peas, carrots, and bell pepper add vibrant colors to help make this easy recipe visually appealing.
What to Serve with Chicken A La King
This dish is best served on the top of another dish, such as pasta, rice, bread, or even egg noodles. Whatever you decide essentially comes down to your own personal preference.
The easiest side dish is to toast some bread, but my favorite is some freshly cooked pasta. Also, some garlic bread goes great on the side of this recipe, so if you have the time, I highly recommend making it.
For something a little different, you can try making mashed potatoes, or polenta to go with this easy meal. Both require a bit of extra time in the kitchen but are totally worth it.
Tweaking the Recipe
If you don't have any leftover chicken, then you can just cook some chicken from scratch. I recommend dicing the chicken and adding it at the same time as the onion if you're cooking it from raw.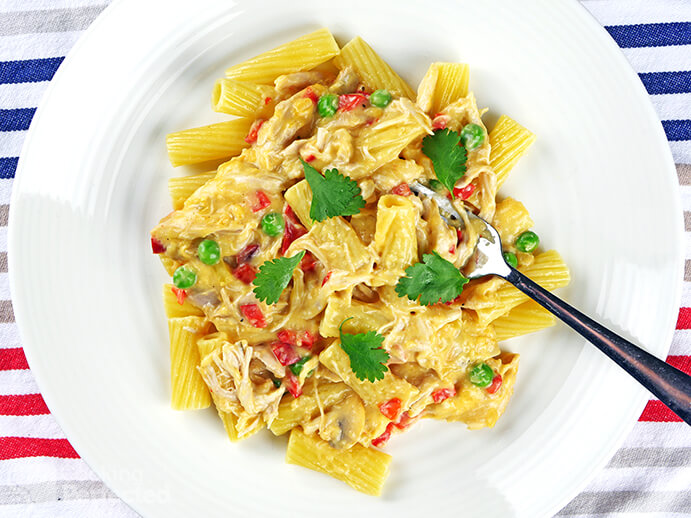 Using gluten-free cornstarch will make this dish suitable for anyone who is following a diet that prohibits gluten. Obviously, if you're having extras, you will need to look at some gluten-free pasta, gluten-free bread, or rice.
Remember, this dish is meant to be easy, so don't try to over-complicate it by adding more ingredients.
Leftovers and Dessert
There are lots of desserts that go great after this delicious pasta dish. If I were to recommend one, it would be an easy tiramisu. It's rich and has a fantastic coffee flavor.
The leftovers should keep for a few days in the fridge. Since this dish contains cream, it may not reheat the best. Personally, I find the sauce tends to split, especially when cooking in the microwave.
If you want to see how to do this chicken a la king recipe, then be sure to check out the video below. Alternatively, you can find the full recipe that takes you through all the steps right below.
Easy Chicken A la King Recipe
Ingredients
3 Tbsp unsalted butter
3 Tbsp cornstarch
1 onion, diced
5 button mushrooms, sliced
1 red bell pepper, diced
1/2 cup frozen peas
2 cups cooked chicken, shredded
2 cups chicken broth
½ cup cream
Instructions
First, shred the cooked chicken and place to the side.
In a frying pan, over medium heat, add the butter.
Once melted, add the onions, bell pepper, mushrooms, and cook until the onion is translucent.
Now add the cornstarch and cook for 2-3 minutes.
Add the chicken broth and stir until combined.
Finally, add the peas, leftover chicken, and cook for 5 minutes.
Finish by mixing in the cream and season with salt & pepper.
Serve & Enjoy.
Recipe Tips
To ensure that this recipe is gluten-free, simply make sure you use gluten-free cornstarch.
You can use either fresh or canned mushrooms. Your choice will likely depend on what you prefer and how much prep time you have. Personally, I prefer fresh since the texture and flavor tend to be a lot better. Adding fresh mushrooms shouldn't add any more time to preparing this delicious chicken a la king.
A little bit of sherry will help add even more flavor to this wonderful dish. Just add a splash before you add the cornstarch.
You can use plain flour in place of the cornstarch. However, you may notice the sauce won't thicken up as nicely, so it might be worth adding one tablespoon more if you're using plain flour.
If the result is looking a bit too thick, then simply add some more cream until you get the consistency you want. Try not to add too much too fast, otherwise, it might go too runny.
You can dice some chicken breasts or thigh if you don't have any leftover pre-cooked chicken to shred. Alternatively, buy a pre-cooked rotisserie chicken from a nearby deli.
Nutrition Information
Serving Size: 487g (1.1 lb)
Servings Per Recipe: 6
Calories Per Serving: 483
Amount Per Serving
Saturated Fat: 8.2g
Trans Fat: 0.2g
Dietary Fiber: 1g
Sugars: 3g
Cholesterol: 237mg
Sodium: 603mg
Protein: 67g
The information above is an estimate generated by an online nutrition calculator.
More Delicious Recipes
If you're not really feeling like eating some chicken a la king, then there are plenty of alternative dishes that you should try out. For example, the deliciously creamy easy carbonara is certainly worth checking out and is as easy as this dish.
I always like cooking something like a roast chicken in a slow cooker then using the leftover chicken in this dish or another dish where leftover chicken works great.
I hope that you enjoy this deliciously easy chicken a la king. So, if you have any feedback, tips, variations, or anything else that you would like to say, then please leave a comment below.