This easy tiramisu is one of the easiest desserts that you can make. It is the perfect dessert for feeding a hungry crowd.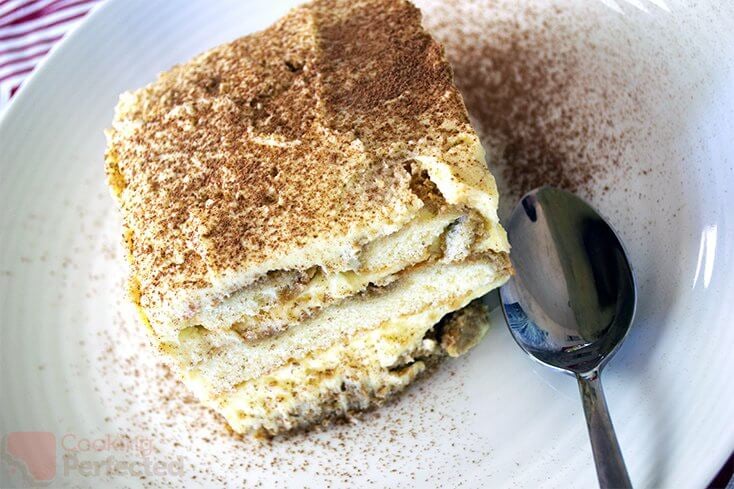 When you bite into this dessert, you will be greeted with a delightful sweet cream and a soft sponge that is loaded with coffee flavors. It is the perfect blend of flavors that will have you going back for seconds.
Tiramisu is a popular coffee-flavored dessert that originated out of Italy. The traditional recipe uses whipped eggs, sugar, and mascarpone cheese. In this recipe, I have removed the eggs, which saves a fair bit of time. To help make the cheese nice and creamy, we make use of double cream.
Much like all tiramisus, this will need to sit for about two hours before you can eat it. I found that by leaving it for at least twelve hours made it a lot more enjoyable. However, if you are super hungry, you can eat it straight away, but it might not taste as good.
Tweaking the Recipe
I kept the recipe alcohol free, but if you want to put a bit of alcohol into the dish, then I recommend adding a roughly half cup of marsala or Kahlua. Add the alcohol into the coffee before dipping the sponge fingers into it.
You may prefer your cream mixture to be runnier, if this is the case, then simply add a bit more cream. Another 200ml (7 fl oz) of double cream should be more than enough.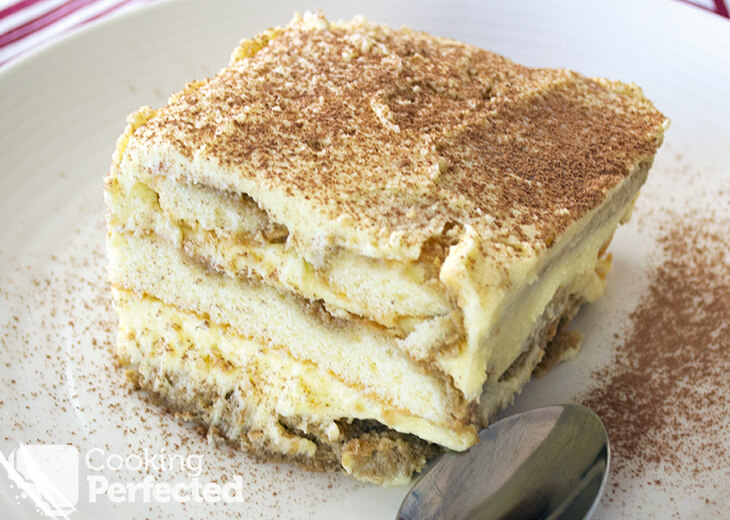 Chocolate and coffee match perfectly, so I highly recommend adding some to this dessert. You can mix some shaved dark chocolate in with the mascarpone cheese and cream mixture. It is an easy tweak but will add even more flavor.
If you want to see how to make this easy tiramisu, then be sure to check out the video below. Alternatively, there is a very handy written recipe underneath the video.
Easy Tiramisu Recipe
Ingredients
300 ml (10.1 fl oz) double cream
500 g (1.1 lb) mascarpone
1/3 cup caster sugar
1 tsp vanilla essence
packet of sponge fingers (Savoiardi)
2 cups of strong black coffee
Instructions
In a bowl, whisk the double cream, mascarpone, caster sugar, and vanilla. Whisk until it has the consistency of thick whipped cream.
In a different bowl, add the strong black coffee.
One by one, dip the sponge fingers into the coffee and then place them into an 8×8 serving dish. Once you have one layer of sponge fingers, add about 1/3 of the cream mixture on top. Repeat this process for about another two layers finishing with cream on the top.
Cover with cling wrap (plastic wrap) and then place it in a fridge for at least 2 hours. However, the longer you leave it, the better it will be.
Serve & Enjoy.
Recipe Tips
Having the coffee cold will help reduce the amount of time you need to refrigerate. I would still aim for about at least an hour in the fridge.
You can make this in smaller individual serves, but it will take a bit longer to assemble each tiramisu.
Try not to dip the sponge fingers into the coffee for too long; otherwise, they will soak up too much coffee and become a bit too mushy. Alternatively, if you do not soak them for long enough, they will not absorb enough coffee and might be a bit tasteless.
Caster sugar is also known as superfine sugar or bakers' sugar. I do not recommend using regular sugar as it may cause your cream mixture to be gritty.
Since we are making this tiramisu without eggs, we do not need to do any cooking.
Nutrition Information
Serving Size: 214g (7.5 oz)
Servings Per Recipe: 8
Calories Per Serving: 618
Amount Per Serving
Saturated Fat: 8.8g
Trans Fat: 0g
Dietary Fiber: 0g
Sugars: 20.4g
Cholesterol: 82mg
Sodium: 121mg
Protein: 7g
The information above is an estimate generated by an online nutrition calculator.
More Coffee Flavored Desserts
There are plenty of easy dessert recipes that you should check out if you're looking for something sweet.
If you love coffee, then be sure to check out our espresso mug cake recipe. This mug cake is a moist cake that combines coffee and chocolate and is super easy to make quickly.
The chocolate fudge cake is an absolute must-try if you love chocolate. It is not coffee-flavored, but it certainly goes great with a nice hot cup of coffee.
I hope you have been able to make a delicious easy tiramisu. If you have feedback, trouble, or anything you would like to share, then please leave a comment below.