This trifle recipe is perfect if you want a delicious cold dessert that can easily feed a crowd.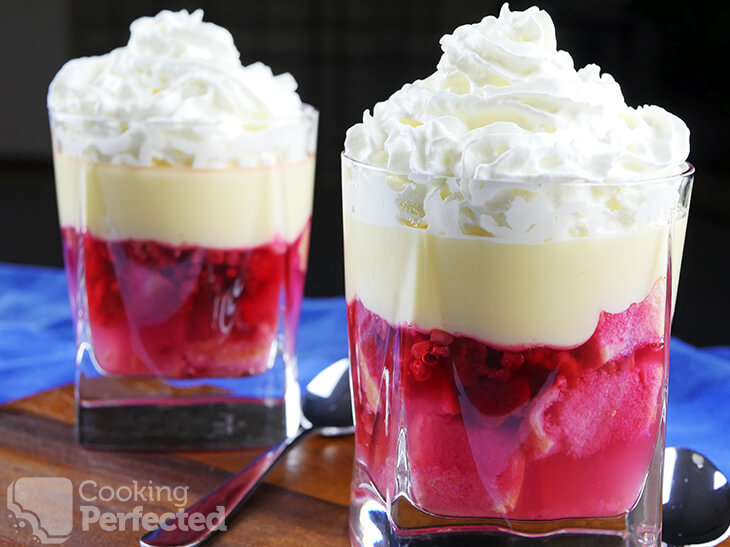 Once this trifle is ready to eat, you will have three delicious layers. The first layer consists of fruit, jelly, and some sponge cake. The second layer is a nice thick layer of custard. Lastly is some whipped cream. It is one delicious combination that will have you coming back for seconds.
A single batch of this recipe will produce enough trifle to feed roughly eight people. The recipe can easily be tweaked to feed more people. If you are cooking for a crowd, it might be easier to make the trifle in a large bowl rather than individual serves.
You can keep the trifle in the fridge for a few days. If you want it to last longer, I recommend not adding the cream until you serve the dessert. I do not recommend freezing the trifle.
Personalizing the Trifle
There are a few ways that you can tinker with this recipe to make it more to your liking. Below are a couple of my favorite changes.
You can swap some of the water out for some fruit juice for even more flavor. Alternatively, an alcohol such as sherry will work nicely with the flavors of the trifle. Make sure you do not use pineapple juice as it will stop the jelly from setting.
For the custard, you have three options. The first option is to make custard from a powder, which I think produces the nicest custard without too much hassle. The second option is to make it from complete scratch. The third option is to simply buy some premade custard from the supermarket.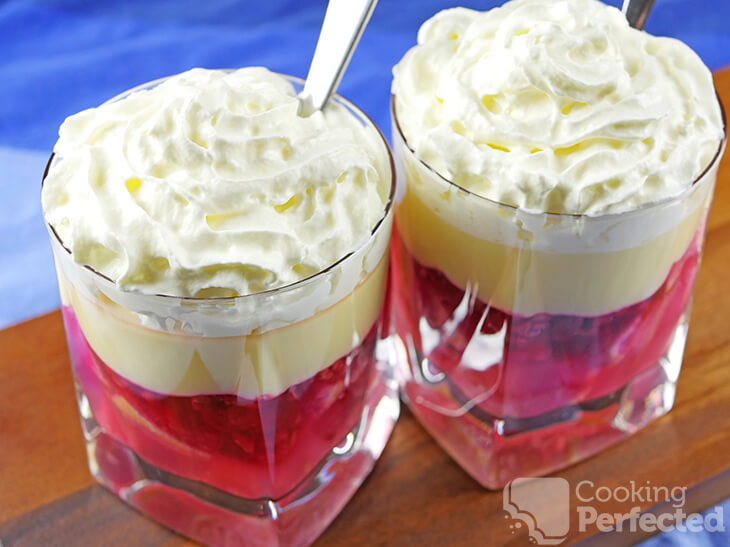 The type of cake that you use in the trifle is entirely up to you. I find I get the best results with sponge fingers or sponge cake. However, a swiss roll will work nicely and add even more flavor to the trifle.
Chocolate is an excellent addition to the trifle. You can add a layer of chocolate between the jelly and custard or simply grate some over the finished dessert. I recommend using milk or dark chocolate for the best result.
The recipe below will take you through all the steps to making this deliciously easy trifle. There are also some cooking tips that will help you get the best tasting dessert possible.
Easy Trifle Recipe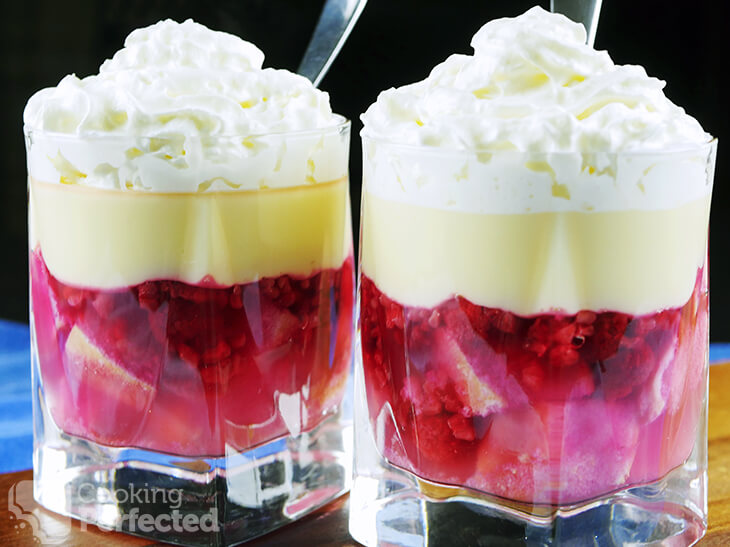 Ingredients
Cake and Fruit Mixture
12 sponge fingers, cut into 2cm (1 inch) squares
250 g (8.8 oz) raspberries
Jelly (Jello) Mixture
85 g (3 oz) packet fruit-flavored jelly
250 ml (8.5 fl oz) boiling water
250 ml (8.5 fl oz) cold water
Custard
2 Tbsp custard powder
1 Tbsp sugar
250 ml (8.5 fl oz) milk
Cream
125 ml (4.2 fl oz) whipped cream
Instructions
Layer the sponge and fruit in a large bowl or trifle dish.
Dissolve the jelly crystals in the boiling water. Once the crystals are dissolved, mix in the cold water. Pour the jelly mix over the sponge and fruit.
Place in the fridge and allow to set. Roughly six to twelve hours.
In a deep saucepan, mix the custard powder and sugar with 2 Tbsp of milk.
Turn on the stove to medium and slowly mix in the rest of the milk.
Keep heating until the milk reaches a boil, reduce to a simmer, and cook for 2-3 minutes. Allow to cool. The custard should be nice and thick.
Pour the custard over the top of the set jelly and allow it to cool completely.
Top with whipped cream.
Serve & Enjoy.
Recipe Tips
Using a premade custard will help speed things up, but it can be very hit and miss. It is often best made fresh. Custard powder is also much cheaper as you can make quite a few batches from one box.
Slivered almonds go amazing on top of this dessert. They also add a bit of crunch.
The fruit is optional and can be left out, but it does add lots of flavor to the dish.
You can use either fresh or frozen fruit in this recipe. I recommend fresh if you can get it at a reasonable price. Otherwise, frozen fruit will work perfectly.
Nutrition Information
Serving Size: 198g (7 oz)
Servings Per Recipe: 8
Calories Per Serving: 309
Amount Per Serving
Saturated Fat: 4.5g
Trans Fat: 0g
Dietary Fiber: 2g
Sugars: 37g
Cholesterol: 102mg
Sodium: 391mg
Protein: 5g
The information above is an estimate generated by an online nutrition calculator.
More Dessert Recipes
There are so many desserts that are super easy to prepare and are great cold. Below are a couple of my favorite dessert ideas that I reckon you will love.
A cold dessert that I love to have during summer is a deliciously creamy tiramisu. It has a hint of coffee, so it is perfect for anyone who loves coffee and cream.
The homemade gluten-free key lime pie is another cold dessert that I recommend making. It features a delicious creamy lime filling and a gluten-free pie crust. I highly recommend giving it a try.
I hope this deliciously easy trifle recipe works out for you as well as it did for me. If you have some feedback, then please feel free to leave a comment below.