This delicious bread and butter pudding is packed full of flavor and is incredibly easy to prepare. It will need about thirty to forty minutes in the oven, but making it is dead easy.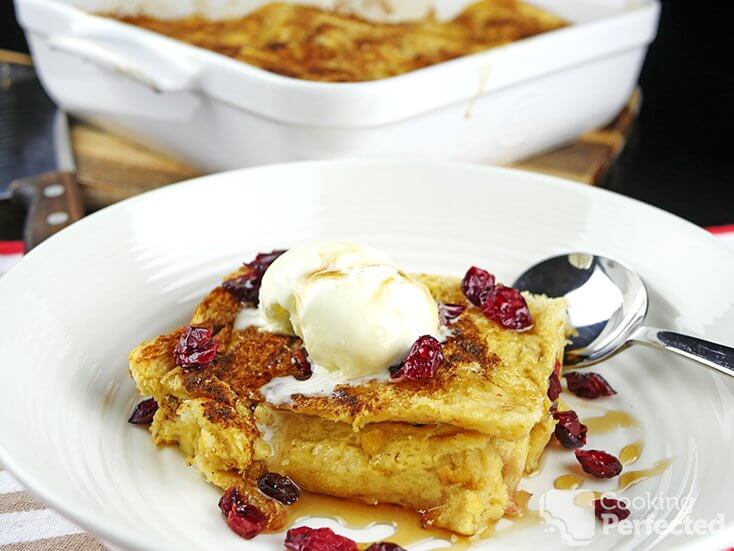 At the end of baking, you will have a delicious pudding that's loaded with flavor from the juicy raisins, cinnamon, and milk. It's a delightful classic dessert that you should try one day.
Bread pudding originated in the United Kingdom and is a staple of British cuisine. It is now very popular in other countries such as the USA and Australia. There are also lots of different variations on the traditional recipe.
This pudding is great as an easy dessert, and it's also excellent for breakfast. You can simply prepare this the night before so that all you need to do in the morning is pop it in the oven.
What to Serve with Bread Pudding
Bread pudding goes excellent with so many different accompaniments. Below are just a couple of ideas on how you can serve this pudding.
As you can tell in the photos, I love to have this pudding with a scoop of vanilla ice-cream and a drizzle of honey or maple syrup. This combination is an absolute delight that I highly recommend trying.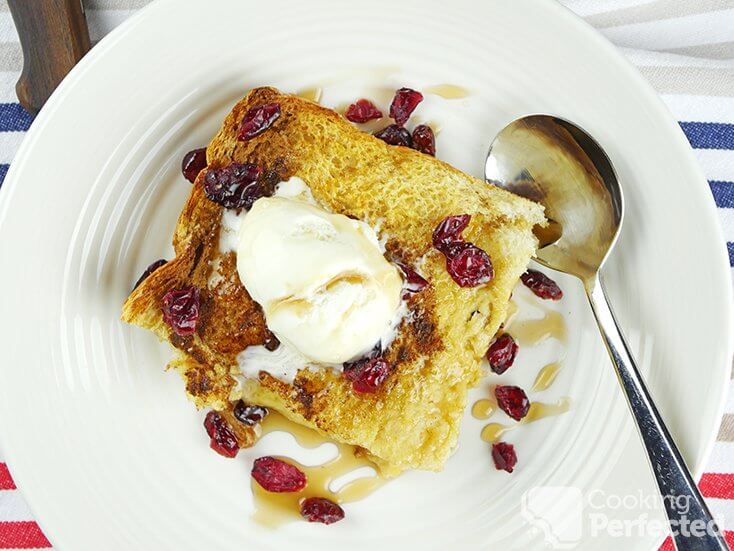 A delicious homemade custard is perfect drizzled over the top of this pudding. If you don't have the time, then you can buy some premade custard from the supermarket, it will work just as well.
Of course, there is lots more that goes great with this delicious dessert. So, if you have any suggestions, we will love to hear them.
Tweaking the Recipe
I believe this pudding is perfect without any changes, but below are a couple of ideas on what you can do to alter this recipe.
To add even more flavor to this pudding, you can spread the bread with some jam. My favorite jam to use is apricot, but any flavor will be delicious.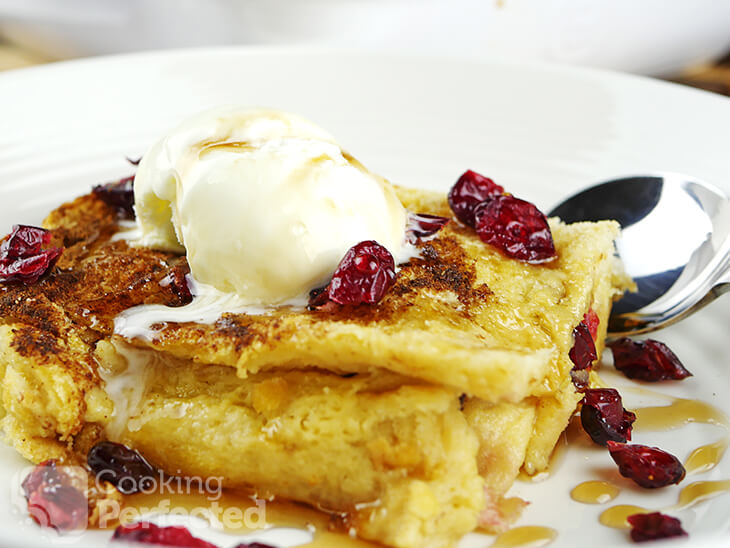 The type of bread you use is entirely up to you. I used plain white bread, but fruit bread, croissants, or brioche will work very nicely as a replacement.
It would be best if you kept the leftovers for this pudding as they will reheat well. The leftovers are perfect if you need a quick and easy breakfast or even just a snack.
If you want to see how to make this bread pudding, then be sure to check out the video below. It will take you through everything there is to know for getting this prepared and baked.
Bread and Butter Pudding Recipe
Ingredients
8 slices of bread, buttered
1/4 cup brown sugar
500 ml (16.9 fl oz) milk
2 eggs
1 tsp vanilla essence
½ cup raisins or dried cranberries
½ tsp cinnamon, ground
Instructions
Preheat an oven to 170°C (350°F).
Layer the bread and raisins in a greased 8×8 baking dish.
Beat together the milk, eggs, sugar, and vanilla until well combined.
Pour the egg mixture into the baking dish.
Push the bread down into the egg to help it absorb the egg mixture. (Optional: Allow to sit for 10 minutes)
Lightly sprinkle with the cinnamon.
Bake for 35-45 minutes or until set in the middle.
Serve & Enjoy.
Recipe Tips
You can use any type of bread in this dish. If you're looking to add more flavor, then I highly recommend using fruit loaf instead of white or wholemeal. If you're looking for something slightly healthier, then grain or brown bread would be the way to go.
If you're finding the outside is starting to burn, but the middle is still runny, then try covering the dish with foil. This method should help slow down the browning on the outside, giving the middle of the pudding time to cook.
The bread can sit in the egg mixture for ten minutes or a few hours. Long soak times will allow the egg mixture to penetrate deep into the bread.
Older bread will work a lot better than fresh as it will absorb the egg mixture a lot easier and faster.
You can add even more flavor to this easy bread and butter pudding by using jams or marmalade. You could also swap the cranberries out for chocolate chips.
This recipe uses no cream so you can easily replace the dairy with a lactose-free variety. For example, the milk can be substituted with almond milk, coconut milk, or even soy milk.
Nutrition Information
Serving Size: 243g (8.6 oz)
Servings Per Recipe: 4
Calories Per Serving: 315
Amount Per Serving
Saturated Fat: 3.8g
Trans Fat: 0g
Dietary Fiber: 1g
Sugars: 25g
Cholesterol: 322mg
Sodium: 301mg
Protein: 12g
The information above is an estimate generated by an online nutrition calculator.
More Dessert Recipes
This dish is very similar to a yummy French toast casserole. However, you will find that unlike the casserole, this dish uses fewer eggs and is sweeter.
If you want to get this cooking hours ahead of when you need it, then you can always do a delicious bread pudding in the slow cooker. It doesn't get that nice crisp top but still tastes just as good.
If you have made this easy bread and butter pudding and would like to leave some feedback, then be sure to leave a comment below. Also, feel free to mention any variations, tips, or anything else that you might want to share.