This Instant Pot rice pudding is an absolute classic and loaded with flavor. It is perfect if you love rich creamy desserts.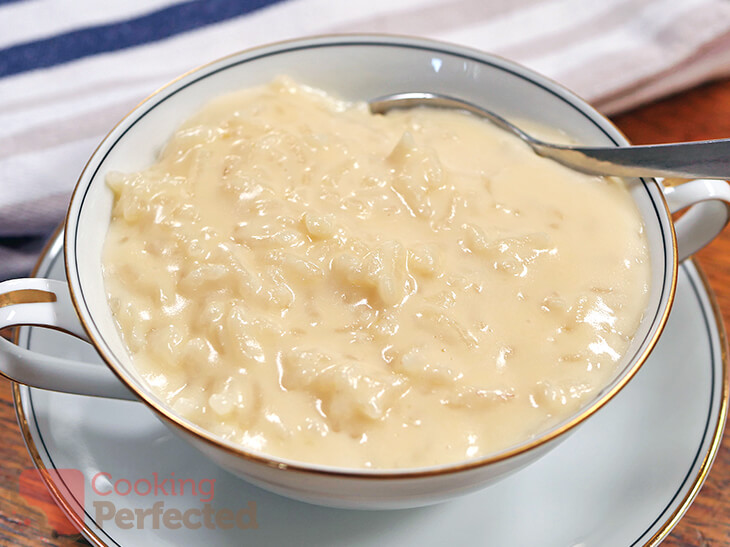 By the time this pudding is ready, it will be thick, sweet, creamy, and have a slight hint of cinnamon and vanilla. It is excellent both hot and cold, but I recommend eating it while it is still lovely and warm.
A single batch of this pudding should feed about four to six people. It will heavily depend on how hungry everyone is. You can double the recipe, but you may need a bigger Instant Pot.
This pudding is excellent even without any additions. However, it does go great with a scoop of ice cream and a sprinkle of cinnamon.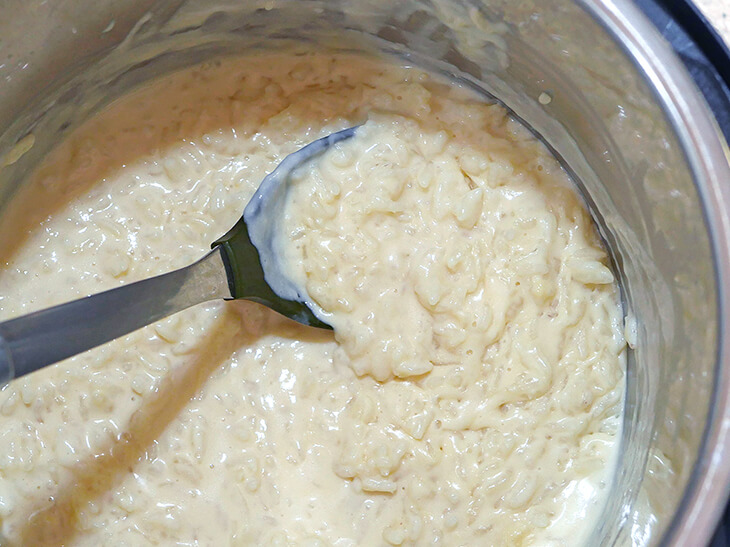 You can also cook a rice pudding in the slow cooker. Most Instant Pots have a slow cooker function that you can use. It is ideal if you want to have the pudding slowly cook while you go do other things. Alternatively, you can oven bake the rice pudding.
The leftovers can be kept in the fridge for a few days. You can also freeze the pudding if you want it to last for even longer. However, expect the quality of the pudding to degrade quite a bit once you have frozen it.
Adding more Flavor to the Rice Pudding
I think this recipe is great and does not require any changes. However, below are some ideas on how you can make this pudding even more delicious.
Dried fruit is a popular addition to have in your rice pudding. Raisins, currants, cranberries, or even chopped apricots will work very nicely in this pudding. I prefer to add the dried fruit after the pudding is cooked.
Do not be afraid to add some liquor to the rice pudding for a bit of extra flavor. Alcohols such as rum, brandy, or even amaretto will work nicely. Feel free to be a little creative.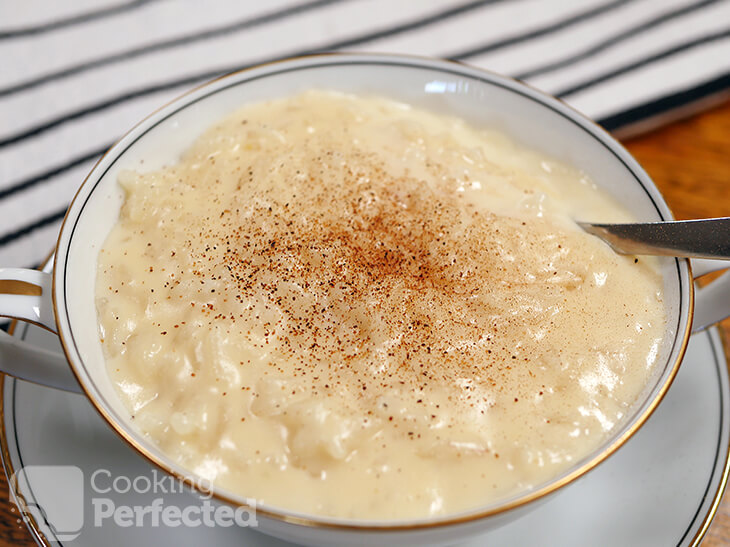 There are loads of essences that are great for adding a unique flavor to this pudding. I recommend swapping the vanilla essence for the type that you want to use. For example, rosewater, peppermint, or even caramel essence will work nicely.
To make this friendlier to lactose-intolerant people, you can use almond milk or something similar instead. You may also want to leave the butter out entirely. I have not tested it with almond milk so try at your own risk.
Tinkering with the spices you use in the pudding is a great way to change the pudding flavor. For example, instead of the cinnamon stick, you could use powdered cinnamon and maybe a little nutmeg.
Right below is the recipe that will take you through all the steps of making rice pudding in the Instant Pot. Please let us know what you think if you end up giving it a try.
Instant Pot Rice Pudding Recipe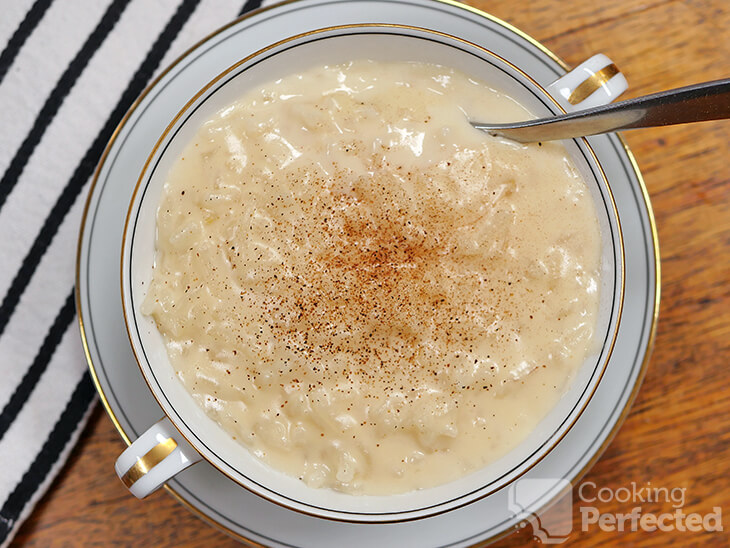 Ingredients
1 cup Arborio rice, rinsed
4 cups milk
½ cup sugar
1 cinnamon stick
1 tsp vanilla extract
40 g (1.4 oz) unsalted butter
Instructions
There is a risk of overflowing and extra mess with making rice pudding in the Instant Pot. Please read the recipe tips for additional advice.
Place the rice, milk, sugar, cinnamon, and vanilla into the Instant Pot. Stir to mix everything together.
Seal the pressure cooker and set it to pressure cook on high for 15 minutes.
Allow to sit for 10 minutes before manually releasing the pressure.
Remove the cinnamon stick.
Mix the butter into the pudding.
Serve & Enjoy.
Recipe Tips
You can use most types of rice and still get a great result. Short grain rice such as Arborio will work best. However, medium-grain and long-grain rice will both work fine.
Make sure your Instant Pot or pressure cooker can hold at least 6 quart/6 liters.
The instructions may vary slightly depending on the type of pressure cooker you are using.
Rinsing the rice removes excess starch and may help improve the final dish.
When you release the pressure, a small amount of milk might be released through the relief valve. If you do not want to make a mess, you can wait a further ten minutes for the pressure to subside.
The pudding might appear runny at first but will thicken quite quickly after you add the butter. To thicken it even more, simply switch the pressure cooker to sauté and cook for five minutes.
Nutrition Information
Serving Size: 336g (11.9 oz)
Servings Per Recipe: 4
Calories Per Serving: 420
Amount Per Serving
Saturated Fat: 8.1g
Trans Fat: 0g
Dietary Fiber: 2g
Sugars: 22g
Cholesterol: 35mg
Sodium: 110mg
Protein: 11g
The information above is an estimate generated by an online nutrition calculator.
More Dessert Recipes
There are loads more delicious desserts that you should check out. Below is a couple of my favorites.
I highly recommend giving our key lime pie a try. It is gluten-free and features a delicious creamy citrus filling that will have you going back for more. I always get great reviews whenever I make it.
For something a bit heartier, then I recommend giving our apple crisp recipe a go. It is the perfect dessert to have on a cold winter's day and can easily feed a few people. I am a massive fan of the recipe.
I hope that you love this Instant Pot rice pudding as much as I do. If you have some feedback, please do not hesitate to leave a comment at the bottom of this page.