This overnight French toast casserole is one of the tastiest cooked breakfasts and is actually really simple to make.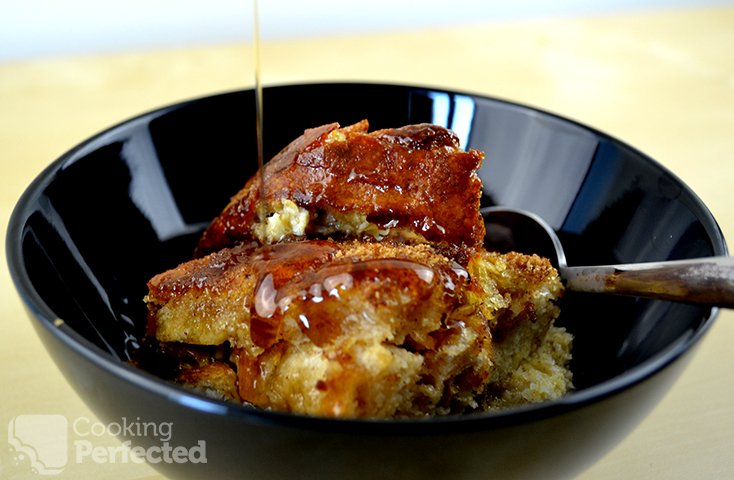 This recipe takes the classic French toast recipe and turns it into a casserole. The actual French name for this dish is pain perdu or lost bread and refers to the use of stale bread. I recommend for the best results that you do make use of some stale bread.
It's an excellent casserole that you can make ahead of when you need it. Whenever you're ready simply bake in the oven for roughly forty minutes.
At the end of cooking, you will have a delicious casserole that's got all the flavors you know and love about French toast. The edges will be nice and crisp, so if you like a bit of crunch make you get an edge piece.
If you're a bit of sweet tooth, then you're going to love this recipe. The brown sugar and cinnamon topping is so delicious it's worth wait.
Why Make this Casserole Overnight
This delicious casserole can be easily prepared the night before then baked in the morning. The downside is it does require about thirty to forty minutes in the oven. It's perfect if you want a cooked breakfast that you can quickly throw in the oven.
Another reason I love this recipe is that you can easily feed a crowd with a single casserole. For example, this will feed at least four to six people. If only need to feed one then you might want to check out the French toast in a mug recipe.
Making this French Toast Casserole the Best
As you can see in the photo below, I love to drizzle the casserole with a bit of maple syrup. Just like the traditional French toast, it really helps take the dish to the next level.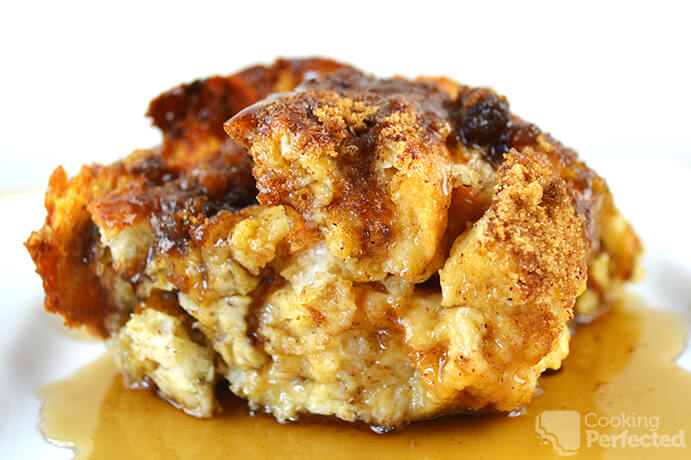 You can play around with different types of bread. For this recipe, I just made use of regular white bread, but something like brioche or fruit bread will be delicious.
If you have the time, then some bacon goes amazing on the side of this French toast casserole. You can just fry the bacon, or oven bake it when you're cooking the casserole in the morning.
What to do with the Leftovers
The leftovers of this dish are delicious the next day, so make sure you don't throw them out. It lasts for a few days in the fridge before needing to be discarded. Just reheat in the microwave whenever you need something to eat.
Sometimes if you're running low on time this dish will take way too long, if this is the case, then you should take a look at making some regular French toast. It's still delicious but it is harder to feed a crowd as you will need to cook the slices of bread individually.
Assuming you would prefer to watch a video on how to make this amazing French toast Casserole, be sure to check out the video I have prepared below. Alternatively, we have a full written recipe right underneath the video.
Overnight French Toast Casserole Recipe
Ingredients
1 loaf of bread, sliced
8 eggs
1 tsp cinnamon, ground
2 tsp vanilla essence
320 ml (10.8 fl oz) heavy cream
Bottom
60 g (2.1 oz) butter, melted
¼ cup brown sugar
Topping
½ cup brown sugar
2 tsp cinnamon, ground
Instructions
In a large mixing bowl, add the eggs, cinnamon, vanilla essence, and the cream.
In a deep oven dish, add the melted butter and coat the sides with it. There should be an excess amount in the bottom of the oven dish.
Scatter 1/4 cup of brown sugar to the bottom of the pan.
Layer the bread evenly in the pan.
Add the egg mix over the top and push down on the bread to encourage it to soak up the mix.
Cover and place in a fridge overnight. (optional)
In the morning preheat the oven to 180 °C (350 °F). Meanwhile, combine ½ cup brown sugar and one teaspoon cinnamon and sprinkle on top of the French toast.
Place into the preheated oven and cook for 30-40 minutes or until the egg is cooked and the top is golden brown.
Serve and Enjoy.
Recipe Tips
If you have the time, bacon goes great with the casserole. Serve a couple of rashers with each serving of the oven-baked French toast.
An overnight French toast casserole is great as you do almost all the work night before. If you have anything else to go with it see if you can prepare this, so all you have to do is bake and serve.
If you don't have 6-8 hours to wait for the egg mixture to soak in, then you can encourage it to soak in by pushing down on bread. This method will help the bread absorb the mix faster and should be ready not long after.
Experiment with the topping, the topping in this recipe is very basic you can try something like a praline topping if you have the time to do it.
You can add extras such as blueberries or sliced apple to this casserole. It's a great way to inject tons more flavor easily.
Nutrition Information
Serving Size: 288g (10.2 oz)
Servings Per Recipe: 4
Calories Per Serving: 699
Amount Per Serving
Saturated Fat: 29.3g
Trans Fat: 0g
Total Carbohydrate: 44.9g
Dietary Fiber: 1.6g
Sugars: 28.6g
Cholesterol: 471mg
Sodium: 432mg
Protein: 15g
The information above is an estimate generated by an online nutrition calculator.
Other Breakfasts Worth Trying
A different variation on this recipe is something like a slow cooker French toast casserole. This slow cooker version is very similar to this recipe but is instead cook over the course of 8 hours. The most significant difference between the two is the oven version will give you a crispier casserole, and the slow cooker provide you with a softer casserole.
Another cooked breakfast that I highly recommend that you try is the eggy breakfast casserole. It's very different to this recipe but is certainly a undoubtedly dish.
If you have anything to share, variations or anything else about this French toast casserole then feel free to drop me a comment below.