The air fryer is a great way to quickly cook some French Toast without the need for a frying pan.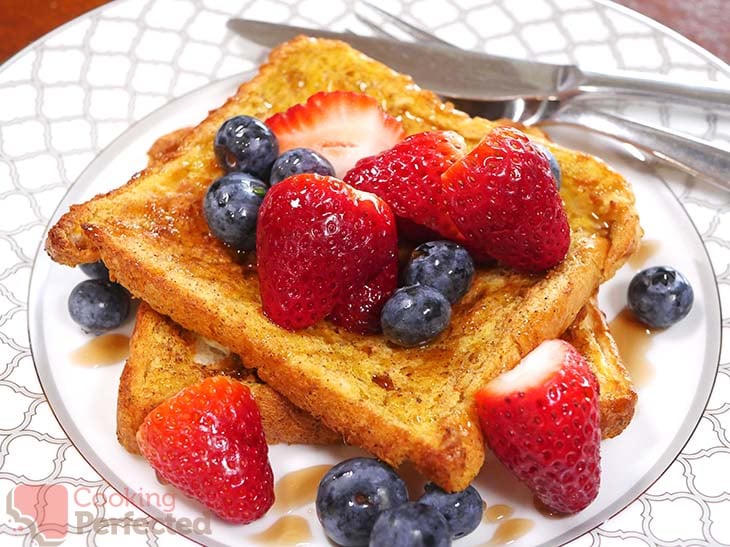 French toast is a dish made up of slices of bread soaked in an egg mixture. The eggy bread is typically cooked in a frying pan until crispy. Typically, you use stale bread, but fresh bread will also work. You might also know this dish as eggy bread, pain perdu (lost bread), or even poor knights of Windsor,
Our French toast recipe will produce some delicious eggy bread with a hint of cinnamon. However, for the best tasting French toast, I recommend serving it with a few extra ingredients such as fresh fruit.
A single batch of this recipe will only feed a couple of people. To feed more, simply double or triple the recipe. You will likely need to cook in batches unless you have a big air fryer.
While I love using my air fryer, you can instead cook the French toast in a frying pan. Both are super easy methods, so pick whatever you feel most comfortable cooking with.
French Toast Serving Ideas
My favorite way to serve French toast is with some strawberries, blueberries, raspberries, and other summer fruits. Another delicious fruit that is worth trying is sliced bananas. Whatever you decide, I find fresh fruits work the best.
Some extra sweeteners such as maple syrup, honey, or icing sugar go great over the top of the French Toast. My personal favorite is a drizzle of maple syrup, but the other choices are still pretty good.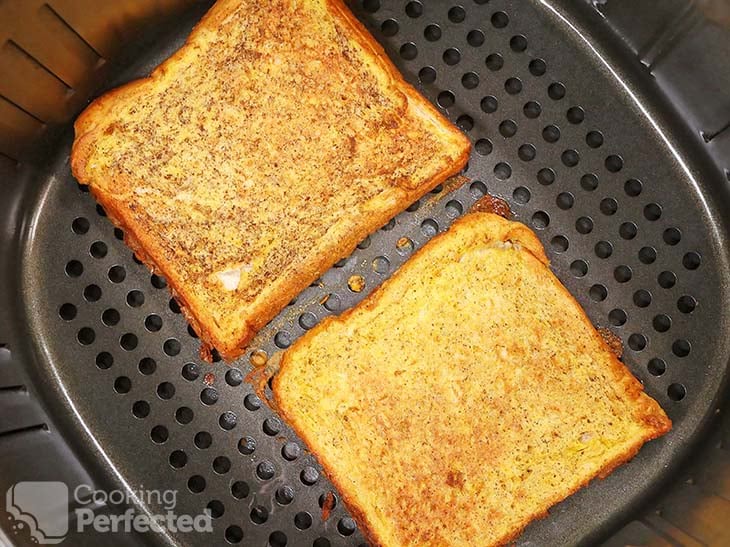 A popular savory topping for French toast is some delicious fried bacon. Some people may pair the bacon with roasted tomatoes, avocado, or even banana. Feel free to get a little creative.
My last serving idea is a scoop of vanilla bean ice cream and a good drizzle of chocolate syrup over the top of the French toast. But, of course, you can use a different type of ice cream and syrup.
Tweaking the Recipe
I simply use cinnamon to help flavor the French toast, but plenty of other spices will help add even more flavor. For example, nutmeg, ground ginger, or even five-spice powder will help elevate the flavors in your French toast.
To add some sweetness to the French toast, you can add some sugar to the egg mixture. Alternatively, you can sprinkle some sugar onto the bread after dipping the bread into the egg. Most types of sugar will work great. However, I prefer to use brown sugar.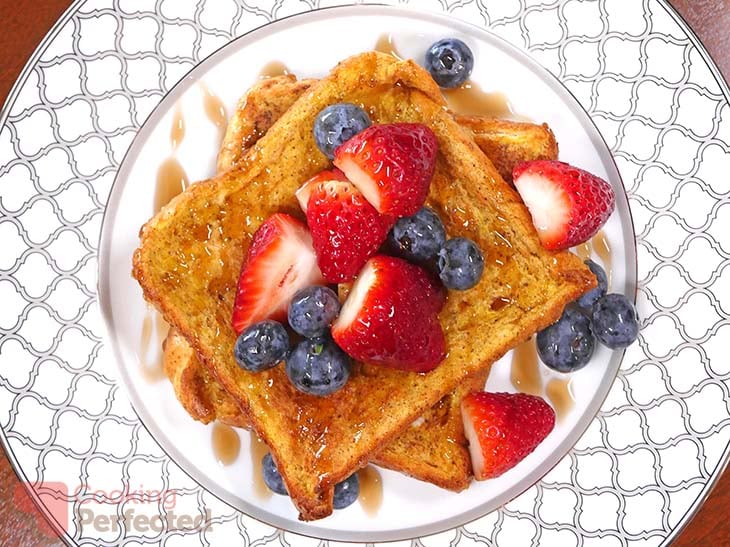 You can drastically change the flavor of the French toast by using a different type of bread. For example, fruit bread or brioche is an excellent sweet option. Alternatively, wholemeal is a healthier option. However, I prefer to keep it simple and use white bread.
Cutting the bread into sticks is a great way to fit more French toast into your air fryer at once. I recommend cutting each slice of bread into roughly three sticks.
The recipe below will take you through all the steps to cooking French Toast in the air fryer. If you have any feedback about the recipe, please do not hesitate to leave a comment below.
Air Fryer French Toast Recipe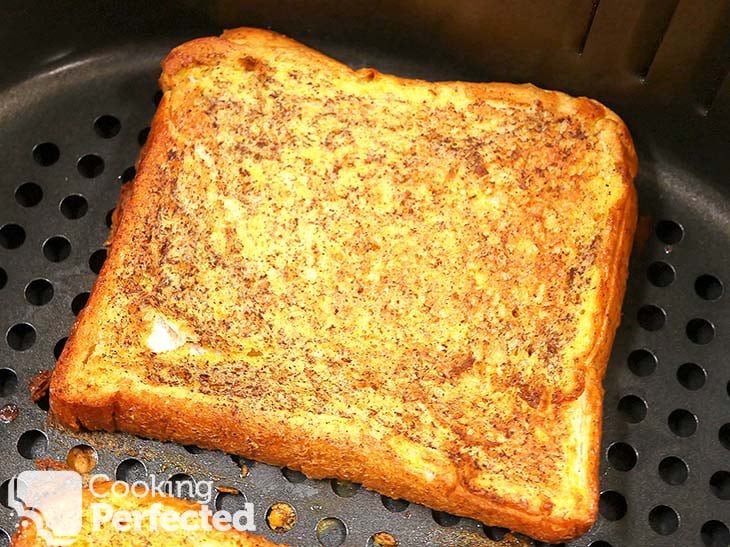 Ingredients
2 eggs
1 tsp vanilla essence
1/2 tsp cinnamon, ground
125 ml (4.2 fl oz) milk
4 thick slices of bread
Instructions
Preheat the air fryer to 180°C (350°F). It will take roughly five minutes to heat up.
In a bowl, beat the eggs, vanilla, and cinnamon together.
Once beaten, whisk in the milk until combined.
Lightly grease the air fryer basket with oil or butter.
Dip a piece of bread into the egg and allow to soak for a few seconds. Place into the air fryer basket. Repeat until the air fryer basket is full, do not allow pieces of bread to overlap. You will likely need to cook in batches.
Cook for 8 minutes. Flip halfway through cooking.
Serve & Enjoy.
Recipe Tips
Stale bread works best in this recipe as it will soak up more of the egg mixture. Alternatively, fresh bread will work just fine.
You can cut the bread into smaller pieces so they will fit better in the air fryer basket.
I sometimes like to swap the milk for cream when I want a creamier slightly less healthy French Toast.
You are able to use cinnamon sugar instead of regular ground cinnamon.
Do not stack the French toast as it will stop the air fryer from cooking and crisping correctly. Try to keep it all as a single layer.
You can use parchment paper (baking paper) to help stop the bread from sticking to the air fryer basket.
Nutrition Information
Serving Size: 177g (6.2 oz)
Servings Per Recipe: 2
Calories Per Serving: 278
Saturated Fat: 3.2g
Trans Fat: 0g
Dietary Fiber: 2g
Sugars: 7g
Cholesterol: 192mg
Sodium: 393mg
Protein: 14g
The information above is an estimate generated by an online nutrition calculator.
More Air Fryer Breakfast Recipes
There are loads of different breakfast dishes that you can cook in the air fryer. Below are a couple of my favorite recipes that I highly recommend giving a try.
Halloumi cheese is one of my favorite cheeses to eat for breakfast, and you can easily cook it in the air fryer. It is the perfect cheese to pair with some hash browns, bacon, baked beans, and some delicious poached eggs.
Using the air fryer to cook bacon is the perfect way to achieve the crispiest and most delicious result. Much like the halloumi cheese, it goes great with a delicious range of other breakfast foods such as baked beans and eggs.
I hope that you love the air-fried French Toast as much as I do. If you have some feedback, please do not hesitate to leave a comment below.