The air fryer is great for cooking a delicious loaf of banana bread that will have everyone going back for more.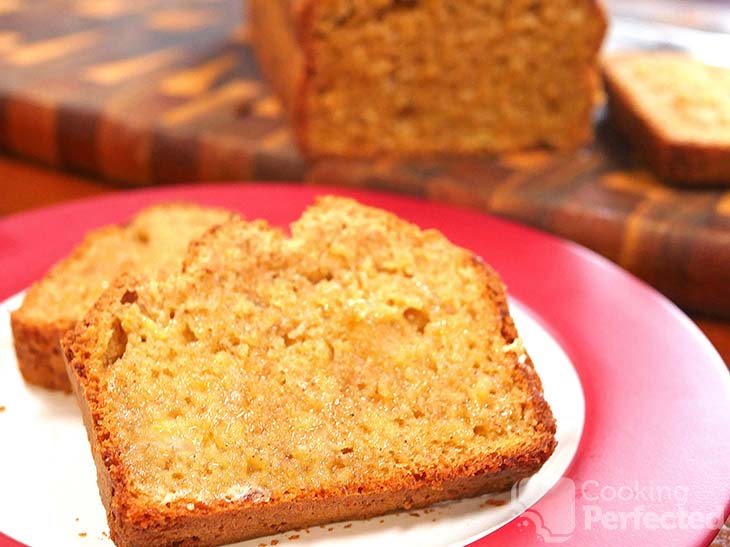 Once baked, the banana bread will be fluffy and moist. It will also have intense banana flavors with a slight hint of cinnamon. You will be surprised just how good it cooks in the air fryer compared to a traditional oven.
This recipe will make a standard-sized loaf of banana bread which should roughly feed four to six people. Depending on the size of your air fryer, you may need to cook multiple smaller loaves in batches.
The banana bread will keep fine at room temperature for roughly three days. Placing it in the fridge will help it last for approximately a week. Alternatively, you can place the banana bread in the freezer and simply defrost it when you need it.
If using the air fryer to bake does not take your fancy, then I highly recommend that you check our oven-baked banana bread recipe. It is incredibly delicious.
Banana Bread Serving Ideas
My favorite way to serve banana bread is with a touch of butter. It helps moisten the bread and adds a slight bit of flavor. I use traditional butter, but alternatives such as nut butter will work just as well.
A popular way to serve this banana bread is by frying it until it is deliciously crisp. However, you can go one step further and turn it into French toast. Either option is delicious, and I highly recommend giving it a try.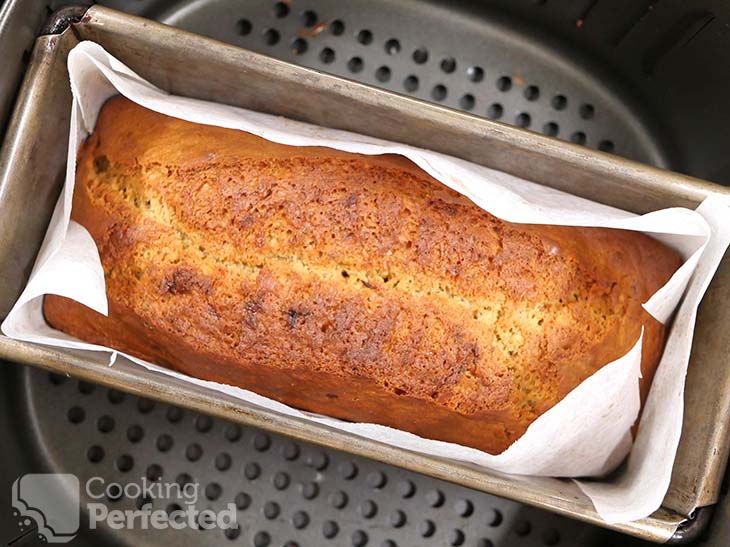 If you fry the banana bread, you can top it with extra fruits. For example, I love to top the bread with either sliced fresh banana or caramelized banana. In addition, summer fruits such as strawberries, raspberries, or blueberries are great choices.
You can use leftover banana bread in a bread pudding instead of regular plain bread. It is a great way to introduce a ton of flavor to the pudding. Of course, you can always add extra ingredients such as chocolate chips for even more flavor.
Tweaking the Banana Bread Batter
One of my favorite ways to change the banana bread is by adding some chocolate chips into the batter. I roughly add half a cup of chocolate chips but feel free to add more if you love chocolate. I usually use milk chocolate.
Another popular addition to banana bread is some chopped nuts. I recommend using walnuts for the best flavor profile. You should only require half a cup of chopped nuts for the best taste and texture. The nuts will match nicely with the chocolate.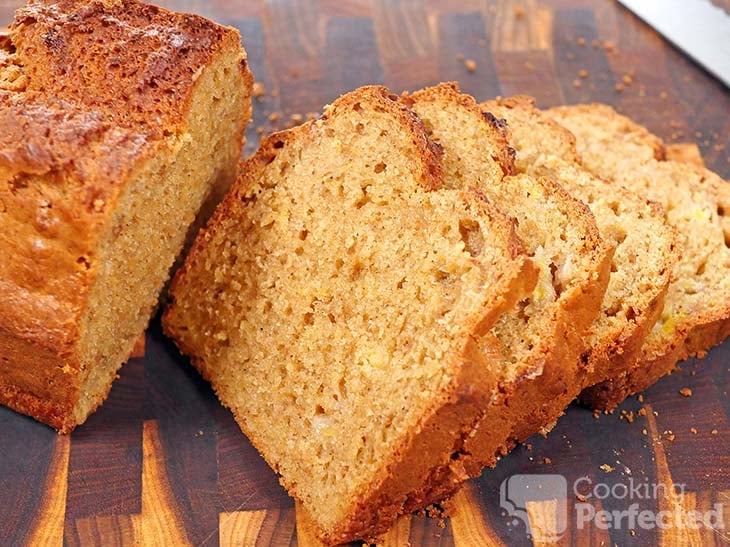 For even more flavor, you can add a touch of raspberry jam into the batter. I recommend replacing the honey with the jam to avoid making the bread too sweet. You can use other jams if you do not like raspberry jam.
I use regular self-rising flour, but if you are baking for people with special dietary requirements, you can replace it with gluten-free self-rising flour. You can also tweak other ingredients. For example, you can substitute olive oil with coconut oil.
The recipe below will take you through all the preparation steps and how long you need to bake the banana bread in the air fryer. Please let me know what you think if you give it a try.
Air Fryer Banana Bread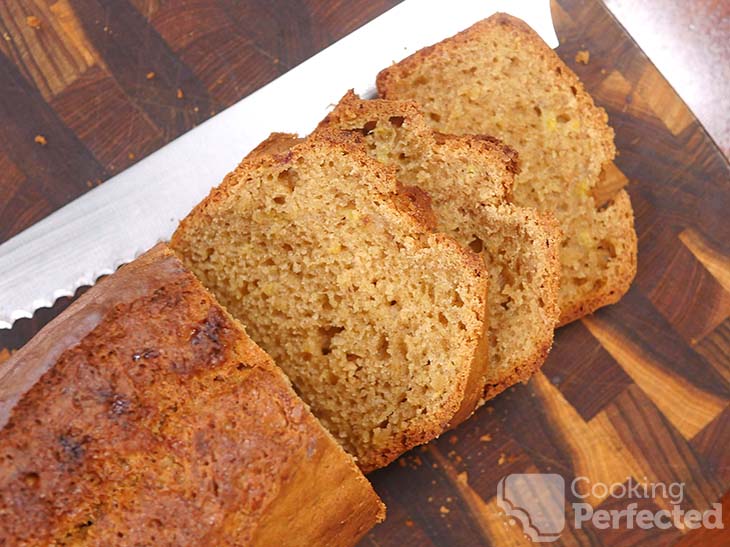 Ingredients
250 g (8.8 oz) self-rising flour
100 g (3.5 oz) brown sugar
1/2 tsp cinnamon, ground
250 g (8.8 oz) ripe bananas, mashed
150 ml (5.1 fl oz) olive oil
2 large eggs, lightly beaten
2 Tbsp honey
Instructions
Preheat the air fryer to 160°C (320°F). It will take roughly 5 minutes.
Grease and line a 11cm (4.3 in) x 20cm (7.9 in) loaf pan.
Combine the self-rising flour, brown sugar, and cinnamon in a large mixing bowl.
Beat together the banana, oil, eggs, and honey.
Stir the wet ingredients into the dry ingredients until well combined.
Pour the banana bread mixture into the loaf pan. Smooth the surface.
Place the loaf pan into the air fryer basket.
Air fry for 50 minutes or until a skewer comes out clean.
Cool for 5 minutes before turning out onto a wire rack.
Serve & Enjoy.
Recipe Tips
I recommend using overripe bananas for the best results as they will mash easily. They also tend to have a sweeter and more potent taste.
The honey is optional and can either be replaced or left out altogether. Maple syrup or regular sugar are great alternatives to honey.
If you want to make this recipe gluten-free, simply use self-rising gluten-free flour instead of regular self-rising flour.
Do not be afraid to add more flavors to the banana bread batter. For example, chocolate chips or raisins are great additions.
You will need a large air fryer to fit a loaf tin. Alternatively, you can use mini loaf pans, but you will need to reduce the cooking time. You could also try to use a round cake pan.
If you don't have self-rising flour, you can make some using regular plain flour and baking powder. Adding roughly two teaspoons of baking powder to the flour should get you the best result.
Nutrition Information
Serving Size: 147g (5.2 oz)
Servings Per Recipe: 6
Calories Per Serving: 496
Saturated Fat: 3.8g
Trans Fat: 0g
Dietary Fiber: 2g
Sugars: 27g
Cholesterol: 62mg
Sodium: 526mg
Protein: 7g
The information above is an estimate generated by an online nutrition calculator.
More Air Fryer Recipes
There are quite a few more sweet recipes that work perfectly in the air fryer. Below are a couple of my favorite recipes that I highly recommend trying.
If you want an absolute treat, I highly recommend giving our baked apples a try. They take roughly fifteen minutes to become tender and loaded with flavor. The nut and raisin filling is a must-try.
One of my favorite sweets to cook in the air fryer is chocolate brownies. Of course, you will need a larger air fryer, but it is well worth it. The brownies cook to be moist and loaded with delicious chocolate flavors.
I hope you love this homemade air-fried banana bread recipe as much as I do. If you have any feedback, please do not hesitate to leave a comment below.