The air fryer is great for cooking some baked apples until they are deliciously tender and packed with flavor.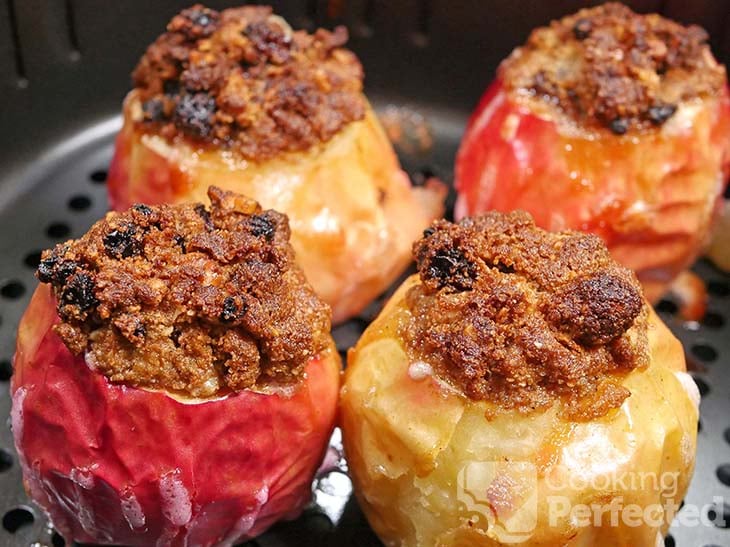 After fifteen minutes in the air fryer, the apples are deliciously tender and feature a filling that is full of flavor. The filling features spices, sugar, and some nuts for a bit of crunch. It is a combination that will please anyone who loves fruit and nuts.
This recipe will make roughly six baked apples which are usually enough to feed six people. However, it will heavily depend on the size of your apples and whether you are feeding big eaters.
I love eating the leftover apples for a quick and easy breakfast the next day. The baked apples will be fine in the refrigerator for roughly three days. You can freeze the apples, but I recommend eating them as soon as possible.
For the opposite of air frying, you can slow-cook some baked apples. The result is roughly the same, but the cooking time will be several hours rather than minutes. It is perfect if you want to get them cooking ahead of whenever you need them.
Serving Ideas For Baked Apples
These apples go great with a couple of scoops of vanilla ice cream. Other flavors of ice cream might also work, but I recommend sticking to good ole vanilla for the best result.
Homemade custard is an excellent addition to some delicious baked apples. I love to pour it over the apples once they are ready to eat. But, of course, if you do not have time, you can always use store-bought custard instead.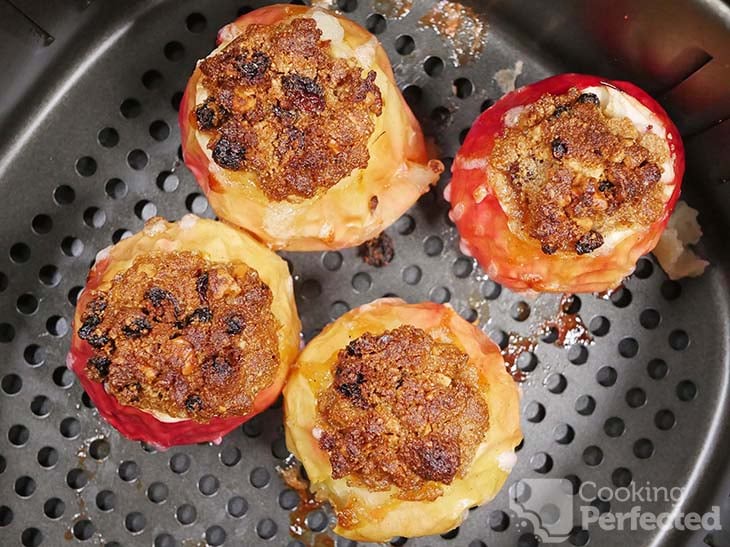 For a little bit of extra sweetness, you can drizzle some honey, maple syrup, or caramel over the top of the apples. However, try not to go overboard as these can all overpower the flavors of the apple very quickly.
You can combine two desserts into one. For example, these baked apples will match perfectly with a delicious rice pudding. Spoon the rice pudding into a bowl and place the apple in the middle. It is a simple combination but is truly delicious.
Ideas for Adjusting the Recipe
You can easily swap the walnuts for a different type of nut. For example, slivered almonds, hazelnuts, pecans, or even macadamias will work nicely in the filling. You can also swap the almond flour for coconut flour or something similar.
We use raisins, but other dried fruits will work great in the filling. For example, dried cranberries, dates, figs, or even dried apricots are great replacements. You could do a combination of fruits if you want a ton of different flavors.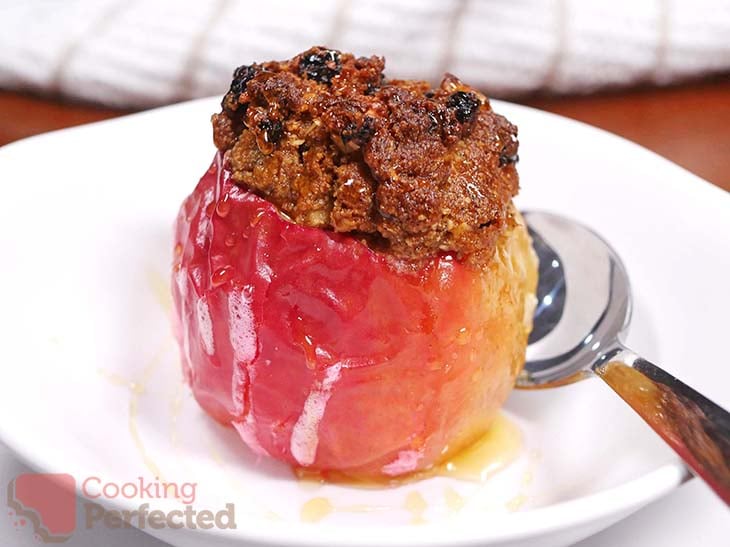 Oats are a common ingredient in baked apples, and you can easily add them into the filling. However, oats are usually not considered gluten-free so keep this in mind if you plan on cooking for people who cannot eat gluten.
My last idea is to cut the apples in half vertically. You will need to lay the apples down, but they will be easier to top with the filling and should cook a bit faster. I recommend giving this a try if you are struggling with coring the apples.
The recipe below will take you through all the steps to cooking some baked apples in the air fryer. Please leave us a comment at the bottom of this page if you have some feedback.
Air Fryer Baked Apples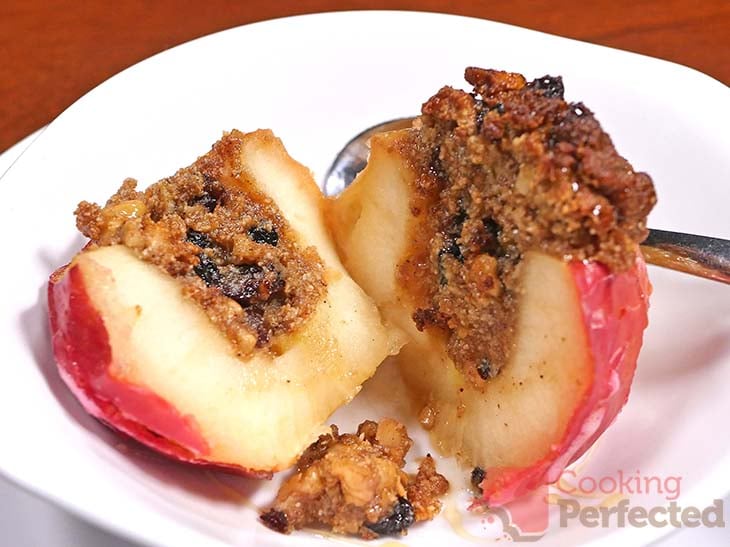 Ingredients
6 large apples
30 g (1.1 oz) unsalted butter, softened
50 g (1.8 oz) brown sugar
40 g (1.4 oz) walnuts, chopped
50 g (1.8 oz) almond flour
80 g (2.8 oz) raisins
1/2 tsp cinnamon, ground
1/2 tsp nutmeg, ground
Instructions
Core the apples and leave 1cm (1 inch) at the bottom so the filling will not fall out.
Prick the outside of the apple with a skewer. It will help prevent the apple from exploding.
Combine the butter, brown sugar, walnuts, almond flour, raisins, cinnamon, and nutmeg in a bowl.
Fill the center of the apples with the filling mixture.
Preheat the air fryer to 180°C (360°F). It should take roughly 5 minutes.
Place the apples into the air fryer so the filling is facing upright.
Cook for 15 minutes or until the apple is tender.
Serve & Enjoy.
Recipe Tips
Use an apple corer for the best results. Alternatively, a paring knife will work just as well. Be careful not to cut yourself.
Piercing the apple skin with a skewer will help stop the apple from exploding.
You can use a skewer to check if the apple is tender. Depending on the size of the apple, you may need to cook it for longer than the specified time.
Cover the apples with foil if the filling is cooking too fast and the apples are not tender.
Nutrition Information
Serving Size: 265g (9.3 oz)
Servings Per Recipe: 6
Calories Per Serving: 307
Saturated Fat: 2.6g
Trans Fat: 0g
Dietary Fiber: 8g
Sugars: 40g
Cholesterol: 5mg
Sodium: 6mg
Protein: 4g
The information above is an estimate generated by an online nutrition calculator.
More Dessert Recipes
Below are a couple of my favorite dessert recipes that I highly recommend giving a try.
Another air fryer dessert recipe that I reckon you will love is the air fryer brownies. It features a deliciously rich chocolate brownie that will please even the fussiest of eaters. I highly recommend making them if you love a sweet dessert.
If you rather oven-bake the apples, then you should give our oven-baked apples a try. It is very similar to this recipe but is instead cooked in the oven. I recommend giving it a try if you love desserts that feature apple as the main ingredient.
I hope that these baked apples cook perfectly in the air fryer as they did for me. If you have some feedback, then please do not hesitate to leave a comment below.