You can easily make some delicious chocolate brownies in the air fryer. It is the perfect recipe if you do not have access to a regular oven.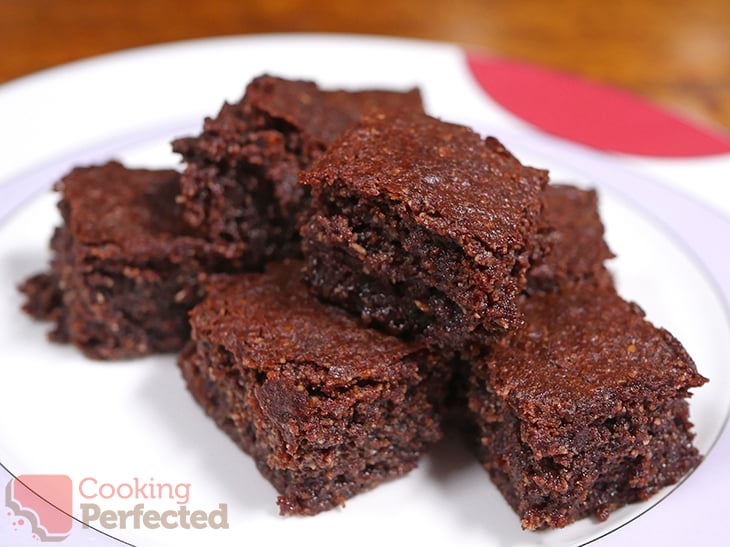 These brownies cook to be incredibly moist and loaded with chocolate. They are perfect on their own, but if you want to take them to the next level, some ice cream or whipped cream works perfectly.
One of the best things about this recipe is that they are entirely gluten-free. So, they are perfect if you need to cater for friends or family who cannot eat gluten products. Also, we have an oven-baked version of this recipe that is perfect if you do not have an air fryer.
A single batch of these should feed roughly six people, but it heavily depends on how hungry everyone is. I got roughly thirty bite-sized pieces out of a single batch.
If you really feel like experimenting, you can make brownies in the slow cooker. It is an ideal solution if you want to go do other things while your brownies slowly cook. I highly recommend giving it a go.
Adjusting the Brownie Recipe
Adding nuts into the brownie mixture is a great way to add both flavor and a bit of extra crunch. Nuts such as peanuts, walnuts, or even macadamias will work nicely with the other flavors in this recipe.
There is no such thing as too much chocolate, so do not be afraid to add some chocolate chips into the brownie mixture. White chocolate chips will be a great choice.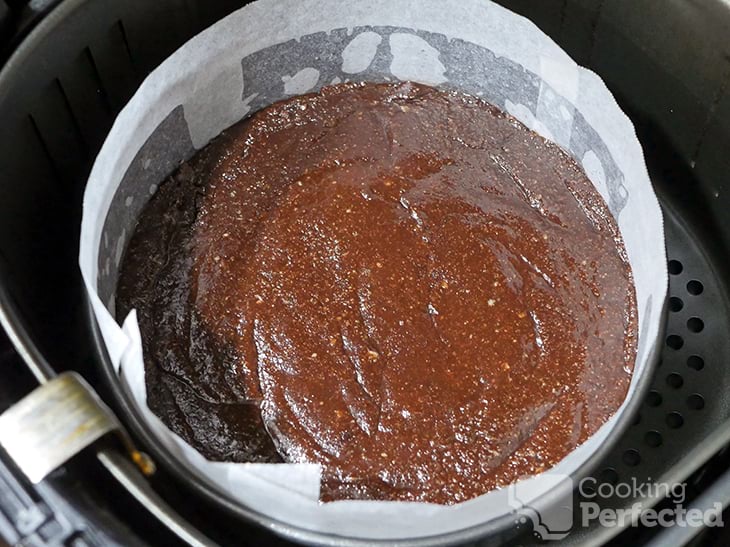 Halve the recipe if you want to make fewer brownies or your air fryer is not quite big enough. For example, halving the recipe will only make fifteen brownie squares but will take up much less room in the air fryer.
You can easily change this recipe, so you get white chocolate brownies instead. Simply replacing the baking chocolate with the same amount of white chocolate will achieve some great white chocolate brownies. Alternatively, you can mix and match different types of chocolate. For example, a great combination is half dark chocolate and half milk chocolate.
How to Store the Brownies
These brownies are best kept in the fridge until you need them, and they should last for roughly a week if you store them correctly. You can also keep them at room temperature on the bench, but make sure you cover them with plastic wrap.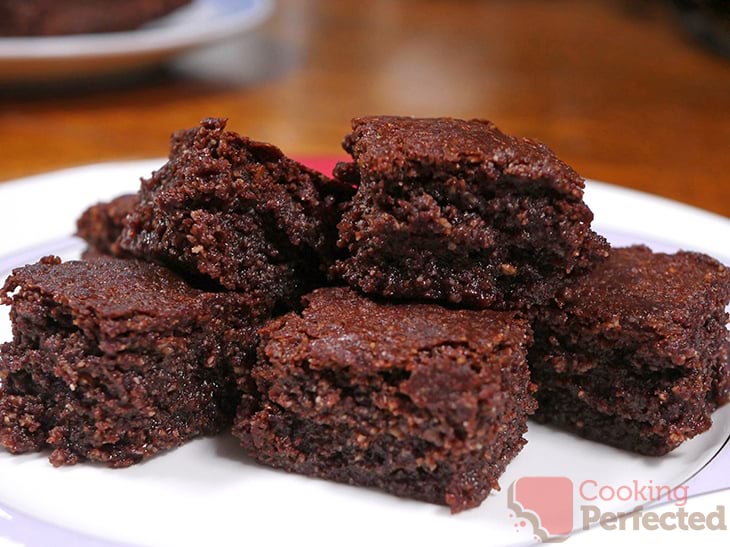 Freezing the brownies is also an option if you want them to last even longer. They should last for roughly six months in the freezer. Personally, I prefer the brownies as fresh as possible.
Below is the recipe that will take you through the process of making and cooking these brownies in the air fryer. Please let us know what you think of the recipe.
Air Fryer Brownies Recipe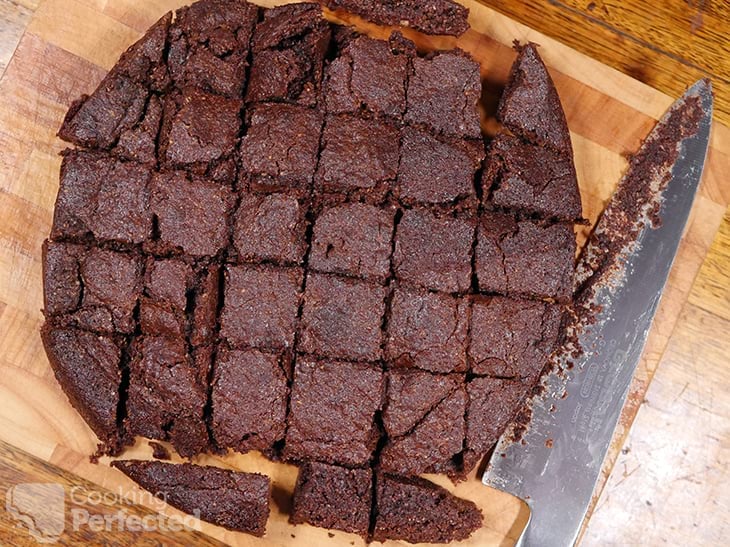 Ingredients
125 g (4.4 oz) unsalted butter, chopped
150 g (5.3 oz) baking chocolate, chopped
75 g (2.6 oz) brown sugar
75 g (2.6 oz) sugar
1 egg, lightly beaten
200 g (7.1 oz) almond flour
30 g (1.1 oz) unsweetened cocoa powder
1 tsp vanilla extract
1/4 tsp salt
Instructions
Preheat the Air Fryer to 160°C (320°F). Grease and line a 20cm (8 inch) baking tin, make sure it will fit in your air fryer.
Place a bowl over a saucepan of simmering water. In the bowl, add the butter and chocolate. Cook until melted, stirring constantly.
Remove the chocolate mixture from the heat and quickly stir in the sugars, egg, almond flour, cocoa powder, vanilla, and salt. Stir until combined.
Pour into the prepared baking tin.
Place into the preheated air fryer and bake for 30 minutes or until a skewer comes out with moist crumbs.
Allow to cool completely before cutting into squares.
Serve & Enjoy.
Recipe Tips
Make sure your baking dish will fit into the air fryer. I had to use a round cake tin.
If your brownie is starting to burn on top, cover it with aluminum foil. The foil will prevent the top from overcooking while allowing the brownie to cook correctly.
I found the baking parchment around the sides of the cake tin easily gets blown into the brownie mixture while cooking. Try to keep the baking parchment as minimal as possible, or simply do not place it around the sides of the tin.
The cake skewer will likely never come out clean, so aim for moist crumbs and no wet batter.
You can serve the brownie before it cools completely, but it may fall apart and not keep its shape.
Almond flour is also known as almond meal or ground almonds.
Nutrition Information
Serving Size: 23g (0.8 oz)
Servings Per Recipe: 30
Calories Per Serving: 110
Amount Per Serving
Saturated Fat: 2.7g
Trans Fat: 0g
Dietary Fiber: 1g
Sugars: 8g
Cholesterol: 10mg
Sodium: 34mg
Protein: 2g
The information above is an estimate generated by an online nutrition calculator.
More Air Fryer Recipes
Below are even more great meals that you can cook in the air fryer. They are all easy to prepare and even easier to cook to perfection.
Our air-fried pork roast is delicious, and I highly recommend giving it a try. The crackling cooks to be perfectly crunchy, and the meat is juicy. It is one of my all-time favorite air fryer recipes.
The air fryer is also perfect for cooking our homemade seasoned chicken breasts. They cook perfectly and stay moist. The seasoning helps add a ton of flavor to the chicken. I do recommend making some side dishes to go with the chicken.
I hope that you enjoy these air fryer brownies as much as I did. If you have some feedback, please do not hesitate to leave a comment below.