These gluten-free brownies are the ideal sweet treat to snack on. They're super easy to make and taste amazing, it's a pretty dangerous combination.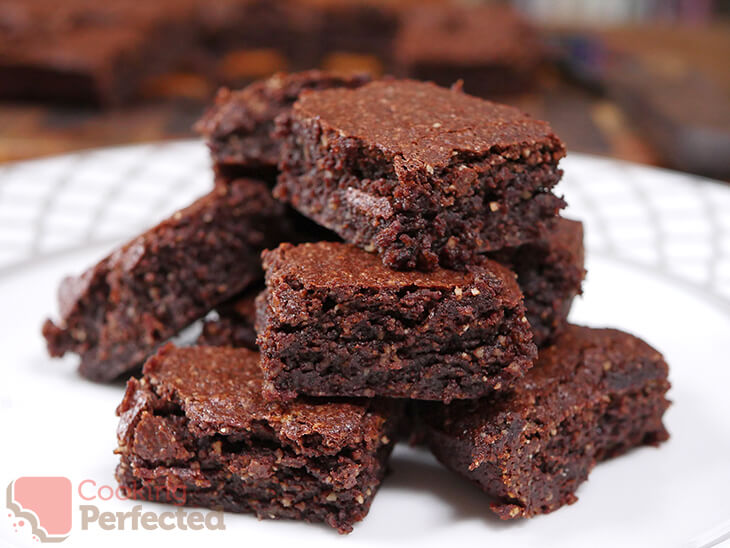 These brownies are so good you won't even be able to tell that they're gluten-free. They're gooey on the inside but crisp on the outside. It's the ideal sweet treat that everyone will love.
A single batch of this recipe should feed roughly six to eight people. However, once you get started, it's very hard to stop eating these incredible chocolate brownies. They match perfectly with a homemade warm chai tea.
If you need to cook for someone who is coeliac, then this recipe is perfect. None of the ingredients will contain gluten, but it's always best to double-check packaging.
Assuming you have a bit of spare time, then the gluten-free chocolate fudge cake is also worth making. It's very similar to these brownies, but it is a cake. Both have that lovely gooey chocolate center.
Personalizing this Chocolate Brownie Recipe
There are lots of different ways you can customize this brownie recipe, so that it's better suited for your taste buds. Below are just a couple of ideas on what you can do.
Adding some chopped nuts is an excellent way of adding both flavor and a bit of crunch to your brownies. I recommend doing a combination of chopped walnuts, almonds, and even some hazelnuts.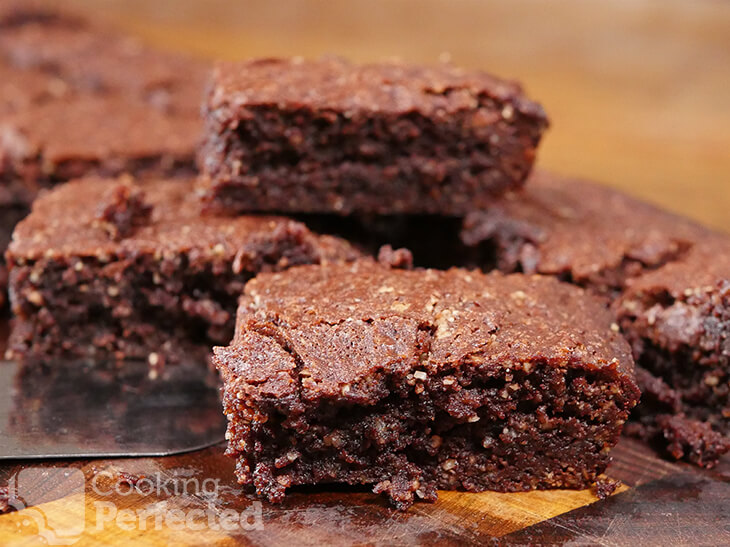 Some additional chocolate chips can be mixed into the brownie mixture for even more of that chocolate goodness. You can use regular chocolate, or you can use some white chocolate. I highly recommend giving the white chocolate a go as it looks incredible and tastes even better.
If you have any changes to this recipe that you would love to share, then please don't hesitate to leave a comment at the bottom of this page.
What to Serve with this Brownie
While these brownies are perfect on their own, there is a couple of extras that match perfectly with them.
Much like the self-saucing chocolate pudding, a scoop or two of vanilla ice cream is an excellent way to take this dessert to the next level. For something a little lighter, you can use some regular cream instead.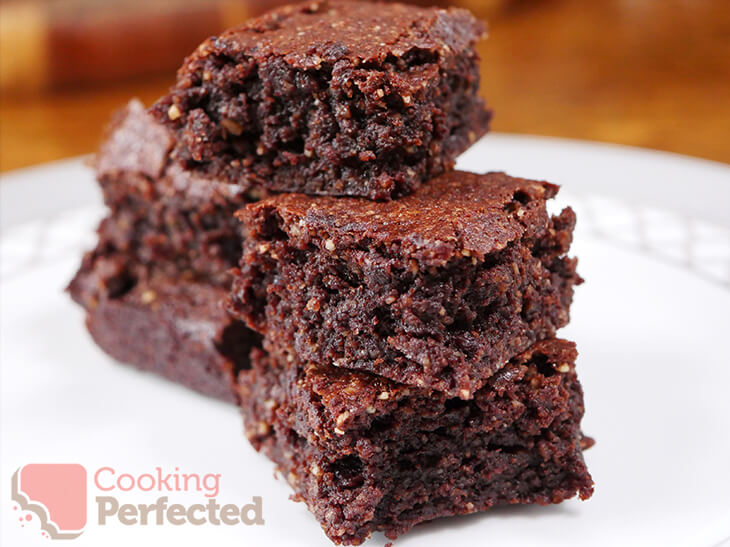 Some fruit matches perfectly with the brownie. For example, strawberries, banana, cherries, or raspberries all match perfectly with chocolate. You can do a combination of fruit and ice-cream for the ultimate brownie dessert.
A video that will take you through the steps on how to make this gluten-free brownie is right below. If you prefer a written recipe, then that's immediately below the video.
Gluten-Free Brownie Recipe
Ingredients
125 g (4.4 oz) unsalted butter, chopped
150 g (5.3 oz)   baking chocolate, chopped
100 g (3.5 oz) brown sugar
100 g (3.5 oz) sugar
3 eggs, lightly beaten
150 g (5.3 oz) almond flour
30 g (1.1 oz) cocoa powder
1 tsp vanilla extract
¼ tsp salt
Instructions
Preheat the oven to 180°C (350°F). Grease and line a 20cm (8 inch) baking tin.
Place a bowl over a saucepan of simmering water. In the bowl, add the butter and chocolate. Cook until melted, stir constantly.
Remove the chocolate mixture from the heat and quickly stir in the sugar, eggs, almond flour, cocoa powder, vanilla, and the salt. Stir until combined.
Pour into the prepared baking tin.
Bake for 35 minutes or until a skewer comes out with moist crumbs.
Allow to cool completely.
Cut into squares.
Serve & Enjoy.
Recipe Tips
Almond flour can go by different names such as almond meal or ground almonds. Any of these will work fine with this recipe.
Make sure you use unsweetened cocoa powder for the best results.
If you think your brownies are starting to burn around the edges, cover them with foil.
Lining your tin is very important as it helps prevent the brownie from sticking to the side.
You can melt your chocolate and butter in the microwave instead of over the stove. Make sure you're checking the mixture as chocolate will still burn quite easily.
Ovens can vary quite heavily in cooking time, so you may need to cook the brownies for longer or shorter.
Allow the chocolate brownies to cool before cutting; otherwise, they may fall to bits. They will firm after an hour or two of cooling.
Nutrition Information
Serving Size: 101g (3.6 oz)
Servings Per Recipe: 8
Calories Per Serving: 437
Amount Per Serving
Saturated Fat: 11.3g
Trans Fat: 0g
Dietary Fiber: 5g
Sugars: 31g
Cholesterol: 87mg
Sodium: 145mg
Protein: 9g
The information above is an estimate generated by an online nutrition calculator.
More Chocolate Recipes
There are plenty more chocolate-based recipes that you need to give a try.
One of my favorites is a chocolate brownie in a mug. It's also very easy to make and the perfect snack for one. I highly recommend making it if you're feeling a little peckish.
For something a little healthier than this recipe, you should try the paleo-friendly version of this brownie. It's sweet, delicious, and the perfect healthy snack.
That's all I have to say regarding this delicious gluten-free chocolate brownie recipe. If you have any thoughts or suggestions that you would like to share, then please don't hesitate to leave a comment below.