This deliciously easy coconut cake takes just minutes to prepare and you can make it with just four simple ingredients.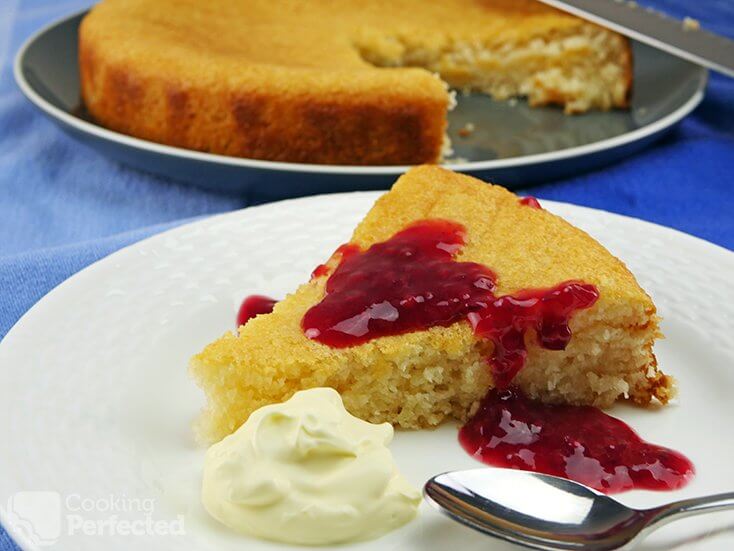 This cake bakes to be fluffy, moist, and loaded with coconut flavor. It is super simple, so it is perfect for when you are running low on time and ingredients.
If you are not a coconut fan, then it is probably best to give this cake a miss because that is what it is going to taste like. Something like the three-ingredient pineapple cake might take your fancy instead. It tastes absolutely amazing once it has finished baking.
I would make sure the cake is covered and stored in the refrigerator if you do not plan on using it immediately. It should be fine left on the bench, but the fridge is usually better if you have some spare room.
Decorating the Coconut Cake
I recommend serving this cake with some fresh berries and whipped cream for the best tasting combination. Even something like a raspberry coulis would work incredibly well.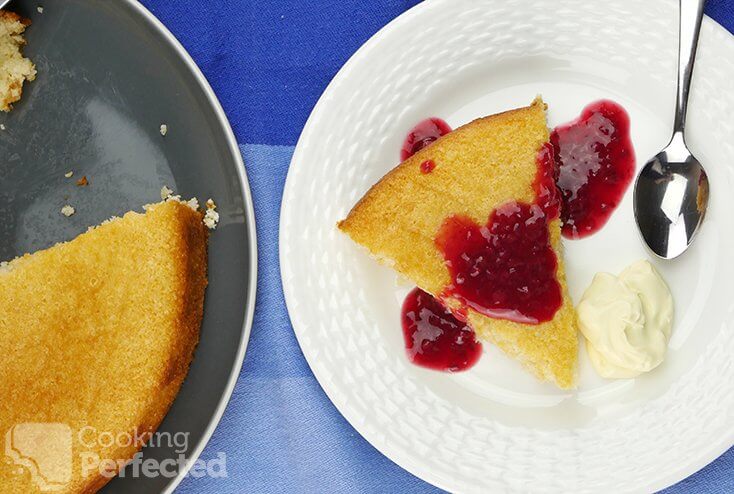 You can also spend a bit of extra time in the kitchen and top the cake with a delicious cream cheese frosting. It will add yet another layer of flavor and help keep it moist. Remember to only put the frosting on after the cake has cooled.
Adjusting the Cake Mixture
There are a ton of simple variations that you can do with this coconut cake. For example, you can add some chocolate chips into the cake mix for chocolate and coconut cake.
You can also make these into muffins rather than a full cake. Simply prepare the recipe as usual but instead divide amongst a muffin tin. Perfect for when you want a delicious snack to have over the next few days.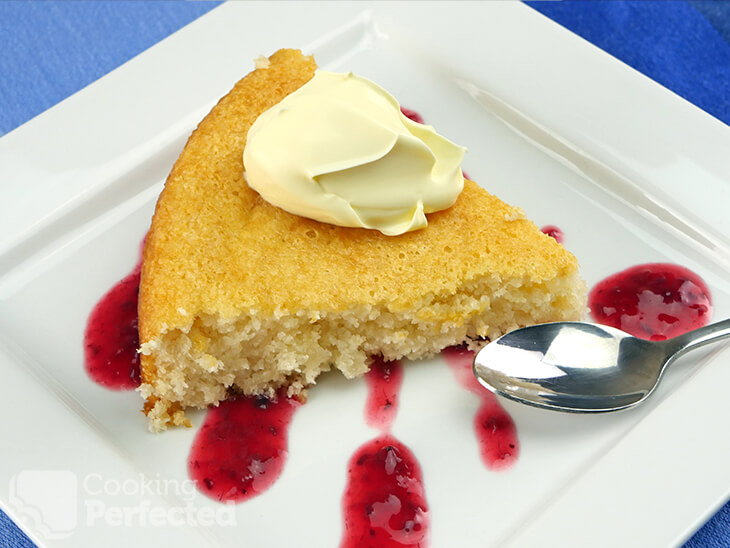 Another option is to add some fruit to the cake batter. Summer fruits such as raspberries, blueberries, and strawberries will all work nicely in this cake. Half a cup of fruit should be more than enough. Too much fruit might affect the cakes baking time.
If you have any adjustments that you would love to share, then feel to leave a comment at the bottom of this page.
To see how to make this easy coconut cake, be sure to check out the video below. Alternatively, you can find the full written recipe right under the video.
Easy Coconut Cake Recipe
Ingredients
1 cup desiccated coconut
1 cup caster sugar
1 cup milk
1 cup self-rising flour
Instructions
Preheat an oven to 160°C (320°F).
In a bowl, combine all the ingredients.
Once combined, pour the cake batter into a lined cake tin (22cm/9 in) and bake for 40 minutes.
Cool for 5 minutes in the pan. Turn out onto a wire rack and allow to cool completely.
Serve & Enjoy.
Recipe Tips
If you want to make this vegan-friendly, you can swap the dairy milk for soy milk, almond milk, or coconut milk.
Adding some cocoa will turn this cake into a chocolate coconut cake. I would add about one tablespoon, but you can add more or less depending on how rich in chocolate you want it to be.
If you do not have any self-rising flour, then you can easily make some with the addition of baking powder. Add two teaspoons of baking powder to one cup of plain flour.
Depending on where you live, caster sugar might also be called baker's sugar or superfine sugar.
Nutrition Information
Serving Size: 112g (4 oz)
Servings Per Recipe: 6
Calories Per Serving: 327
Amount Per Serving
Saturated Fat: 9.4g
Trans Fat: 0g
Total Carbohydrate: 54.6g
Dietary Fiber: 2.8g
Sugars: 36.3g
Cholesterol: 3mg
Sodium: 26mg
Protein: 4.4g
The information above is an estimate generated by an online nutrition calculator.
More Delicious Desserts
There are a ton of super-easy desserts that you can make. There are plenty of puddings, cakes, custards, and much more to make.
One of my personal favorite desserts is self-saucing chocolate pudding. It is a decadent chocolate dessert that produces its own sauce, certainly worth trying out.
The homemade chocolate fudge cake is one of my favorite desserts. It is very moist and loaded with delicious chocolate flavors. I find it very easy to get right every time I make it.
I hope that this easy coconut cake bakes to be as great as it did for me. If you have any feedback, variations, tips, or anything else, then be sure to leave a comment below.