This easy pineapple cake requires three very basic ingredients and bakes to be incredibly moist and delicious.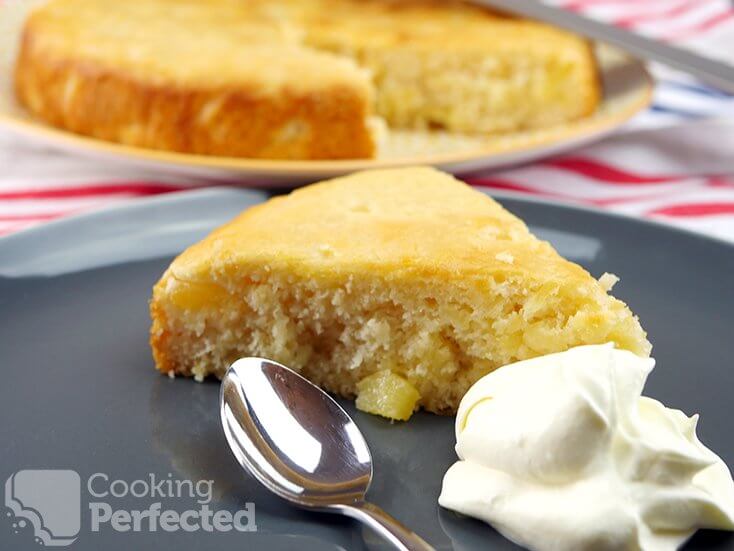 When you pull this cake out of the oven, it will be a lovely golden color and have a delicious pineapple aroma. The cake itself will be moist, fluffy, and loaded with flavor. It's perfect on its own, or you can serve it with some cream.
You will find that this cake is perfect for basically any type of event, whether it's for a kid's birthday party or just as an afternoon treat. You can always adjust this recipe to suit your needs. For example, you can easily make muffins with this cake mixture.
One of the best things about this cake is that it takes just minutes to prepare. This cake is a perfect easy dessert if you have other things to get done, or you want to sit back and relax.
Personalizing the Pineapple Cake
If you have the time, then some pineapple icing will go perfectly with this cake. Otherwise, just some plain whipped cream is perfect.
Another variation that you're able to do with this cake is to lay out some pineapple rings on the bottom of the cake tin. Top the pineapple rings with the cake mix, and then bake. You will have a super easy upside-down pineapple cake made very quickly.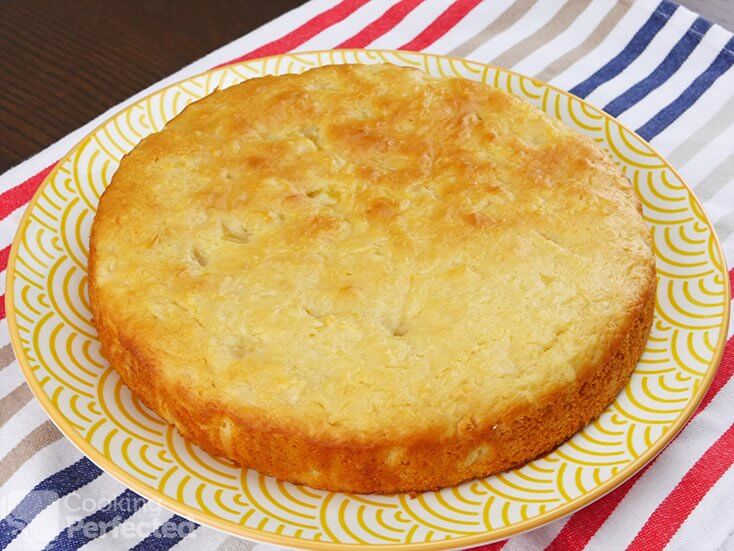 A cream cheese frosting will work nicely alongside the flavors of this cake. You could add a little bit of pineapple essence to the frosting for even more pineapple flavor.
This cake can be frozen for a few months. However, since it is so easy, it might just be best to make it fresh. As with most baked goods, it tastes best when it's freshly baked.
You can check out how to make this three-ingredient pineapple cake by watching the video below. The video takes you through everything you need to know for getting this cake baked and ready for eating.
If you prefer a written recipe, then you can find it right underneath the video.
Easy Pineapple Cake Recipe
Ingredients
2 cups self-rising flour
1 cup caster sugar
450 g (15.9 oz) crushed pineapple with the juice
Instructions
First, preheat an oven to 180°C (350°F). Also, grease and line a 26cm (10.2 in) cake tin.
In a bowl, mix together all the ingredients.
Pour into the prepared cake tin and bake in the oven for 45 minutes.
Allow to cool in the cake tin for 5 minutes before transferring to a wire rack to completely cool.
Serve & Enjoy.
Recipe Tips
If you find that the mix feels a bit too dry, then you can add a tablespoon or two of milk to help wet the mix.
You can use either fresh or canned pineapple in this recipe and get almost the same result. You will need to blitz the fresh pineapple in a blender before using it in this recipe. If you're using canned fruit, then make sure you use the juice as well.
If you don't have any self-rising flour, then you can make some with just plain flour and baking powder. Simply mix in one teaspoon of baking powder for every cup of flour you use. Mix this into the flour before adding to the recipe to ensure that you distribute the baking powder evenly.
Caster sugar is also known as superfine sugar or baker's sugar.
Nutrition Information
Serving Size: 133g (4.7 oz)
Servings Per Recipe: 6
Calories Per Serving: 314
Amount Per Serving
Saturated Fat: 0.1g
Trans Fat: 0g
Dietary Fiber: 2.2g
Sugars: 40.8g
Cholesterol: 0mg
Sodium: 2mg
Protein: 4.7g
The information above is an estimate generated by an online nutrition calculator.
More Cake Recipes
There are tons of other easy cakes that you're able to make in the oven or even in a mug.
The 4-ingredient coconut cake is undoubtedly another cake that you should try. However, if you don't like coconut you might want to give it a miss.
Another cake that I highly recommend is the upside-down pear cake. The cake is flavored with a delicious range of spices and topped with pears and caramel. It's as good as it sounds.
This easy pineapple cake is delicious and incredibly easy to make quickly. If you have a variation or something else that you would like to share, then be sure to leave a comment below.