This cream cheese frosting is incredibly easy to make and is perfect for use on your baked goods.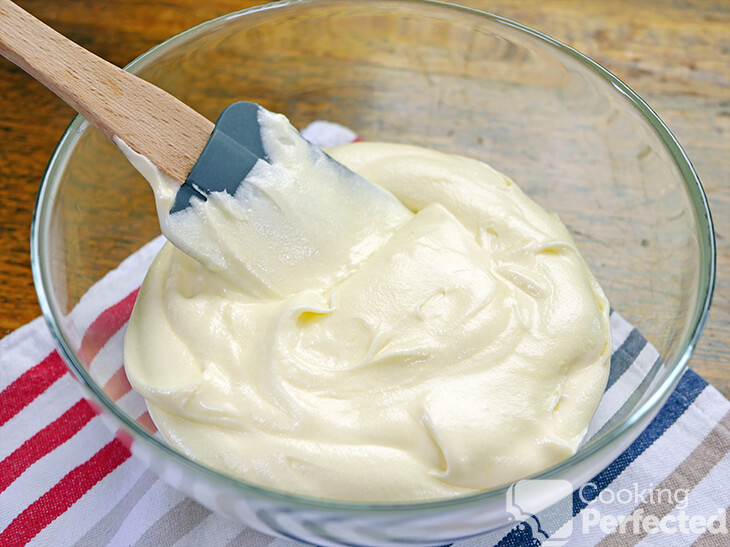 If you're looking for something to top your baked goods with, then this frosting is ideal. It's sweet, soft, creamy, and will match nicely with so many different cakes and muffins. You can also easily add your own flavoring to the frosting.
This frosting can be piped, but it can be difficult as it is creamier than other types of icing such as buttercream. You will need to refrigerate the frosting for at least thirty minutes before piping onto your baked goods.
You can keep unused frosting in the fridge for roughly five days before it will need to be used. Make sure you bring it to room temperature before attempting to spread or pipe it.
Baked Goods that go great with Frosting
Below are a couple of delicious baked goods that will go great with this frosting. Of course, there are lots more, but these are a couple of my favorites.
A carrot cake is never complete without a cream cheese frosting. I love to top a carrot cake with a combination of this frosting and some chopped walnuts. Make sure you cool the cake before adding the icing on top.
Muffins are always best topped with frosting or buttercream. I love to divide the frosting and use it to make a variety of different flavors. There are suggestions further down the page that details some of the flavors that you can make.
We have a delicious gluten-free chocolate cake that you should give a try. We use some whipped cream in between the cake layers, but that can easily be replaced with some frosting instead. Both options are delicious, so I recommend giving either a try.
The last suggestion is a flourless orange cake. The orange cake is always a little bitter, so this sweet frosting is an excellent pairing. It certainly creates a delicious combination that's very hard to resist going back for seconds or thirds.
There are lots more baked goods that go great with this frosting, so feel free to get creative. It's a super versatile frosting and so easy to get right.
Flavors to add to the Cream Cheese Frosting
There are so many different flavors that you can do with a cream cheese frosting. Below are just a couple of ideas on what you can make.
A chocolate cream cheese frosting is one of the more popular variations. To turn this into a chocolate frosting, simply add about 50g (1.8 oz) of cocoa powder in with the powdered sugar.
Lemon or lime are both popular flavors and can easily be added to this frosting. Roughly one teaspoon of your chosen flavor should be more than enough. I added some lemon juice when I made use of this frosting for the carrot cake, and it turned out delicious.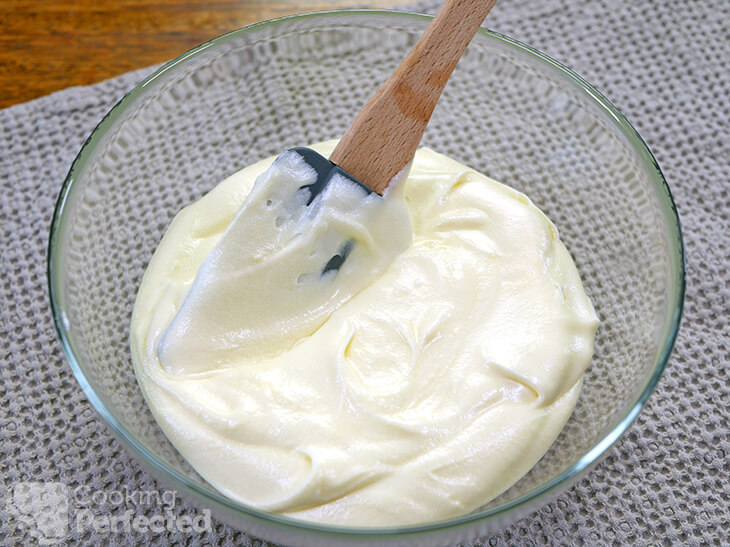 Half a teaspoon of chai spice or cinnamon can be added into the icing mixture for some spiced cream cheese frosting. You might need to taste and adjust to get the perfect balance of flavors.
If you have a flavor combination that you love and would like to share, then please don't hesitate to leave a comment at the bottom of this page.
The video below will take you through all the steps to making this cream cheese frosting. Alternatively, the written recipe is immediately beneath the video.
Cream Cheese Frosting Recipe
Ingredients
240 g (8.5 oz) cream cheese, softened
120 g (4.2 oz) unsalted butter, softened
½ tsp vanilla extract
350 g (12.3 oz) powdered sugar
Instructions
In a bowl, beat the cream cheese and butter until smooth. Scrape down the sides of the bowl.
Slowly beat in the sugar and vanilla extract. Slowly increase the speed as it combines. Continue to beat until the mixture is smooth.
Spread or pipe onto your cooled baked goods.
Recipe Tips
Powdered sugar is also known as icing sugar or confectioners' sugar.
Add more powdered sugar to increase the thickness of the frosting. The amount used in this recipe should give you soft peaks. If you want stiff peaks, add another 110g (3.9 oz) of sugar.
If you're making this recipe on a hot day, then it might be runnier than usual. I recommend placing it in the fridge for an hour or two to help thicken it slightly before using it.
The vanilla extract can be left out of the recipe if you're adding additional flavoring.
Food coloring can be added if you wish for the icing to be a color other than white.
Make sure you use a block of cream cheese and not cream cheese spread. The spread will not work, and it will likely result in a frosting that is super runny.
Nutrition Information
Serving Size: 25g (0.9 oz)
Servings Per Recipe: 28
Calories Per Serving: 99
Amount Per Serving
Saturated Fat: 3.1g
Trans Fat: 0g
Dietary Fiber: 0g
Sugars: 13g
Cholesterol: 14mg
Sodium: 33mg
Protein: 1g
The information above is an estimate generated by an online nutrition calculator.
More Delicious Baking Recipes
If you love to bake, then below are a couple of other recipes that I highly recommend giving a try.
A dessert that I love to make with some leftover bread is the bread n butter pudding. It's super easy to make and can easily feed a crowd. It has lovely flavors from the egg, sugar, vanilla, and raisins. I highly recommend giving it a try.
I didn't mention this one earlier, but banana bread will also work nicely with this frosting. Banana bread will last for a few days, so it's great if you want something to snack on or you need something easy for breakfast.
I hope that this cream cheese frosting turns out as good as it did for me. If you have any feedback, then please don't hesitate to leave a comment below.