These gluten-free blueberry muffins are the perfect delicious easy snack. They're great for afternoon tea, morning tea, or even as a dessert.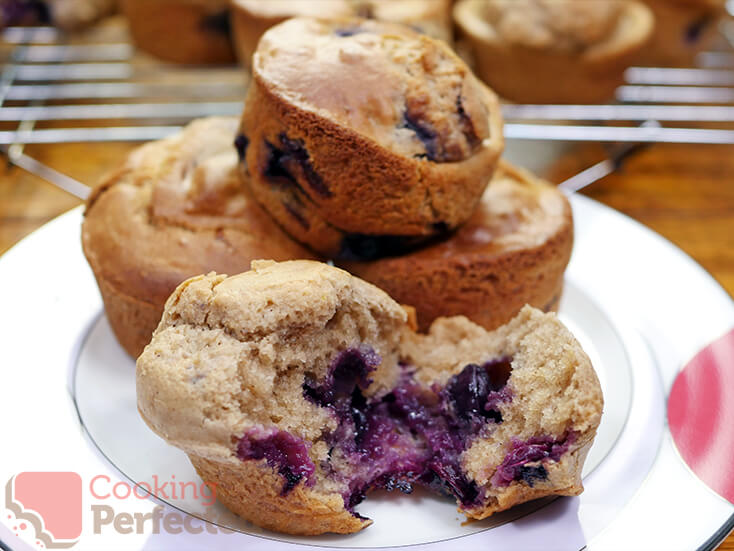 These muffins bake to be fluffy, moist, and loaded with lovely juicy blueberries. The muffin batter has a slight hint of cinnamon and isn't overly sweet. It's the perfect snack or dessert that you can easily get prepared and baking quickly.
A single batch of this recipe should make roughly twelve muffins. Depending on how hungry people are, you should be able to feed roughly six to twelve people. You can easily double or triple the recipe if required.
Personalizing the Recipe
There are lots of ways that you can tweak this recipe to make it better suit your taste buds. Below are a couple of suggestions on what you can do.
Chocolate is always an excellent addition to your muffins. If you're looking to turn this recipe into blueberry and choc chip muffins, then simply add roughly half a cup of chocolate chips to the muffin mixture. You can use milk chocolate or white chocolate.
You can top the muffins with a little bit of sugar for a deliciously sweet crunchy top. I recommend using demerara sugar, turbinado sugar, or brown sugar. They will all produce an excellent result.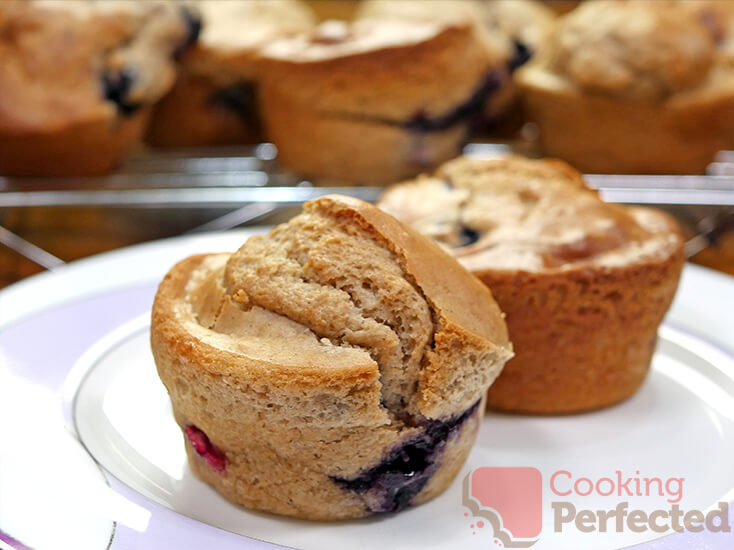 A popular topping for muffins is some cream cheese frosting. It's sweet and is usually a pretty good addition to any muffin. For something slightly healthier, you can try some whipped coconut cream.
Chopped nuts are a great way of adding a bit of crunch to your muffins. You can add them into the muffin batter or just sprinkle them over the top. Walnuts, almonds, or pecans will work very nicely with the flavors of the blueberry muffin.
If you have any adjustments that you would like to share, then please don't hesitate to leave a comment below.
What to Serve with these Muffins
In my opinion, these muffins are perfect by themselves without any extras, but with that said, there is plenty that goes great with them.
Muffins always go great with a nice cup of tea or coffee. If you're looking for something different to try, then you should check out the homemade chai tea or the cinnamon latte. Both are incredibly delicious and well worth making.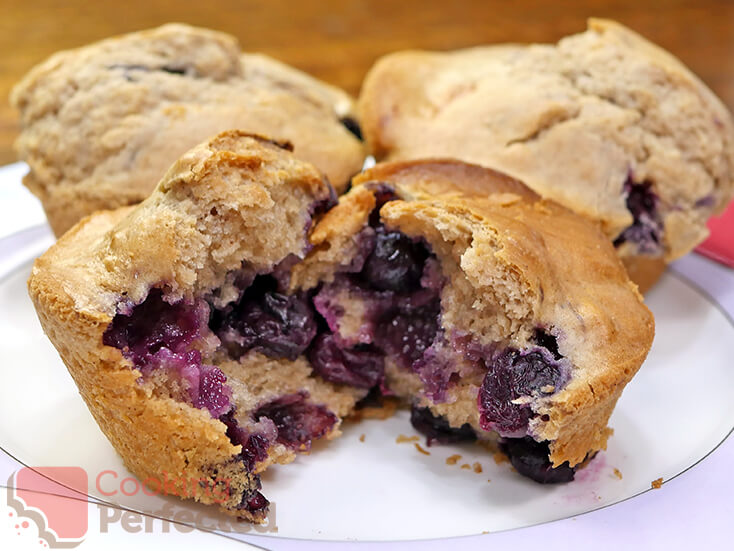 Of course, you can make some other baked goods to go alongside these muffins. For example, gluten-free brownies are rich in chocolate and are very addictive. I highly recommend making the brownies if you need to feed a crowd.
The video below will take you through all the steps on how to make these gluten-free blueberry muffins. If you prefer written recipes, then you can find one immediately below the video.
Gluten-free Blueberry Muffins
Ingredients
340 g (12 oz) gluten-free self-rising flour
1 tsp cinnamon, ground
130 g (4.6 oz) brown sugar
250 ml (8.5 fl oz) milk
125 ml (4.2 fl oz) vegetable oil
1 egg, lightly beaten
1 cup blueberries
Instructions
Preheat an oven to 180°C (350°F). Also, grease a 12 cup muffin pan.
Combine the self-rising flour, cinnamon, and brown sugar in a bowl.
Make a well in the center, and add the milk, oil, and egg. Using a wooden spoon, gently stir until combined.
Add the blueberries and gently fold through the muffin mixture.
Spoon the mixture into the prepared muffin pan.
Bake for 20 to 25 minutes or until a cake skewer comes out clean.
Allow to cool for 5 minutes in the pan.
Transfer to a wire rack to cool completely.
Serve & Enjoy.
Recipe Tips
Make sure you use a flavorless oil such as vegetable oil unless you don't mind introducing new flavors. For example, coconut oil will add coconut flavors to your muffins.
Try hard to not overmix the muffin batter; otherwise, the muffins can become chewy, tough, and not rise as well as they should. I recommend hand mixing rather than using an electric beater.
You can use cupcake liners if you want to ensure that the muffins don't stick to the tray.
Frozen or fresh blueberries will work fine in this recipe. Alternatively, you can use dehydrated blueberries.
Nutrition Information
Serving Size: 84g (3 oz)
Servings Per Recipe: 12
Calories Per Serving: 244
Amount Per Serving
Saturated Fat: 7.9g
Trans Fat: 0g
Dietary Fiber: 1g
Sugars: 12g
Cholesterol: 16mg
Sodium: 355mg
Protein: 4g
The information above is an estimate generated by an online nutrition calculator.
More Gluten-Free Recipes
There are lots of gluten-free baked goods that you can make. Below are just a couple of my favorite recipes.
The chocolate fudge cake is an absolute must-try. It's moist, loaded with chocolate, and will please anyone who is a massive chocolate connoisseur.
If you want a dessert that's rich in citrus, then you have got to give the key lime pie a try. The pie filling is creamy and has a lovely rich lime flavor. There is also a couple of options for when it comes to the pie crust.
I hope that these gluten-free blueberry muffins cooked to be as delicious as they were for me. If you have any feedback on these muffins, then please don't hesitate to leave a comment below.