If you're after a great way to start the day or want something to warm you up in the afternoon, then this Homemade Chai tea is perfect.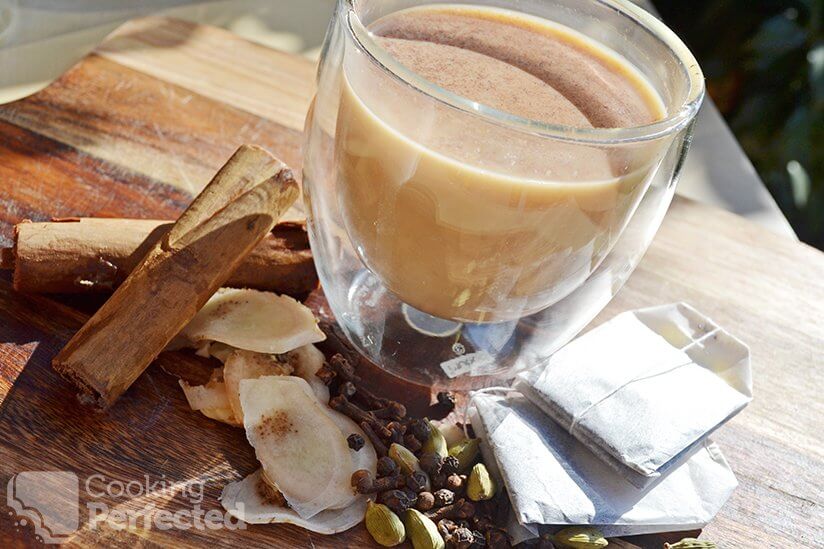 This tea has a lovely fragrance thanks to the combination of the black tea, cloves, cinnamon, and cardamom pods. The taste is as good as the fragrance, so it's very easy to get addicted to this lovely tea.
Personally, chai tea is one of my favorite types of tea due to the excellent blend of spices while still having that slight bit of caffeine to keep you awake.
If the process of making your own chai tea mixture sounds too time-consuming, then you can buy some lovely chai mixes. These are great if you want some good quality tea but don't have the time to make it at home.
What to Serve with this Tea
There are lots of different foods that go great with this tea, so I am just going to mention a couple that's worth making.
If you feel like spending a bit of time in the kitchen, then I highly recommend making some delicious apple muffins. They're moist and have delicious bits of apple throughout them. It's one of my favorite muffin recipes.
Another great snack that you can make is some paleo-friendly brownies. They're great if you're cooking for people who have strict dietary restrictions. Personally, I love the flavor of them and find them just as good as regular brownies.
The last baked good I want to recommend is a loaf of super easy banana bread. It's perfect if you're running low on time but want a delicious sweet bread to go alongside this homemade chai tea.
Tweaking the Chai Tea Recipe
If you love your tea being a bit sweeter, then you can add some sugar to help bring out those amazing flavors of Chai.
You can turn this into a chai tea latte with the simple addition of some milk and brown sugar. If you prefer yours not to be milky, then this is still a good drink even without the milk.
The best thing about making chai tea from scratch is that you can tinker with the ingredients. For example, you can add more spices, such as cardamom, cinnamon, peppercorns, and more. It's a great way to get this tea perfect for you.
You can add sugar to the regular tea if you prefer a sweeter tea. On the flip side, if you don't like sweet tea, then you don't need to add the sugar to the latte.
If you want to see how to make this recipe, then check out my video below for making homemade chai tea. If you're a fan of the video, then please make sure you subscribe so you stay up to date with all the latest recipes and much more.
Homemade Chai Tea Recipe
Ingredients
5 g (0.2 oz) ginger, sliced
3 cinnamon sticks
1 tsp black peppercorns
10 cloves, slightly crushed
5 cardamom pods, crushed
5 black tea bags
1 l (1.1 qt) water
For a Homemade Chai Tea Latte
1/3 cup brown sugar
375 ml (12.7 fl oz) milk
Instructions
Add the ginger, cinnamon sticks, peppercorns, cloves, and cardamom pods into a pot.
Add the water and bring to the boil.
Once boiling, reduce the heat and simmer for 10 minutes.
After 10 minutes, remove from heat and add the tea bags for 2-3 minutes.
Discard the tea bags.
Now, if you just want regular chai tea, you are done. The tea is ready to strain and drink.
If you want a chai latte, add the milk, brown sugar, and return to the stove.
Over high heat, whisk until all the sugar is dissolved.
Once the sugar is dissolved, strain the liquid.
Serve and Enjoy.
Recipe Tips
If you don't drink all of the Chai tea, then you can store it in the fridge for a few days. I would probably discard after a week of it sitting in the refrigerator. The milk might cause it to spoil faster.
If you're after a lactose-free tea, then you can use soy milk or almond milk instead of regular dairy milk. This tweak is perfect for a delicious lactose-free homemade Chai tea latte.
Doubling the recipe or even tripling the recipe won't cause any issues, so if you need to make a significant batch, then you should go for it. Just make sure you have a large enough pot to hold all the ingredients.
You can adjust the ingredients in this homemade chai tea mix to suit your preference. Some people like more cinnamon, cardamon, or more pepper, it is entirely up to you.
The ability to tweak is one of the best things about making your own homemade tea mix, and you know the exact ingredients that have gone into it.
While this tea recipe is amazing, you might be feeling a bit more like coffee for that extra caffeine hit. If so you should check out my Vietnamese iced coffee recipe, this coffee is great for any sweet tooth.
Nutrition Information
Serving Size: 352g (12.4 oz)
Servings Per Recipe: 4
Calories Per Serving: 137
Amount Per Serving
Saturated Fat: 1.7g
Trans Fat: 0g
Dietary Fiber: 1g
Sugars: 22g
Cholesterol: 9mg
Sodium: 51mg
Protein: 3g
The information above is an estimate generated by an online nutrition calculator.
Other Delicious Drinks
We have lots of other drink recipes that you might also want to make. I mention a couple of my favorites below, but we do have lots more recipes.
If you're a massive fan of sweet milky drinks, then you should try the cinnamon latte. It's a deliciously strong coffee mixed with cinnamon-infused milk. You should give it a try as it's super delicious.
A refreshing tea that is perfect for a warm summer day is a hibiscus tea. It's simple to make and tastes absolutely amazing. I highly recommend making it if you love refreshing teas.
If you have made this homemade chai tea recipe and would love to share your thoughts, then please feel free to leave a comment below.