Back to Recipe
Print Recipe
Homemade Chai Tea Recipe
---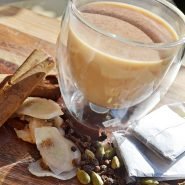 Prep time: 5 Minutes
Cook time: 15 Minutes
Total time: 20 Minutes
Serves: 4
Ingredients
5 g (0.2 oz) ginger, sliced
3 cinnamon sticks
1 tsp black peppercorns
10 cloves, slightly crushed
5 cardamom pods, crushed
5 black tea bags
1 l (1.1 qt) water
For a Homemade Chai Tea Latte
1/3 cup brown sugar
375 ml (12.7 fl oz) milk
---
Instructions
Add the ginger, cinnamon sticks, peppercorns, cloves, and cardamom pods into a pot.
Add the water and bring to the boil.
Once boiling, reduce the heat and simmer for 10 minutes.
After 10 minutes, remove from heat and add the tea bags for 2-3 minutes.
Discard the tea bags.
Now, if you just want regular chai tea, you are done. The tea is ready to strain and drink.
If you want a chai latte, add the milk, brown sugar, and return to the stove.
Over high heat, whisk until all the sugar is dissolved.
Once the sugar is dissolved, strain the liquid.
Serve and Enjoy.
---
Recipe Tips
If you don't drink all of the Chai tea, then you can store it in the fridge for a few days. I would probably discard after a week of it sitting in the refrigerator. The milk might cause it to spoil faster.
If you're after a lactose-free tea, then you can use soy milk or almond milk instead of regular dairy milk. This tweak is perfect for a delicious lactose-free homemade Chai tea latte.
Doubling the recipe or even tripling the recipe won't cause any issues, so if you need to make a significant batch, then you should go for it. Just make sure you have a large enough pot to hold all the ingredients.
You can adjust the ingredients in this homemade chai tea mix to suit your preference. Some people like more cinnamon, cardamon, or more pepper, it is entirely up to you.
The ability to tweak is one of the best things about making your own homemade tea mix, and you know the exact ingredients that have gone into it.
While this tea recipe is amazing, you might be feeling a bit more like coffee for that extra caffeine hit. If so you should check out my Vietnamese iced coffee recipe, this coffee is great for any sweet tooth.
Did you make this recipe?
We want to see! Tag
@cookingperfected
on Instagram or use the hashtag
#cookingperfected
so we can find you!
---