This gluten-free apple cake is fluffy, moist, and loaded with flavor. It is one of my favorite fruity cakes.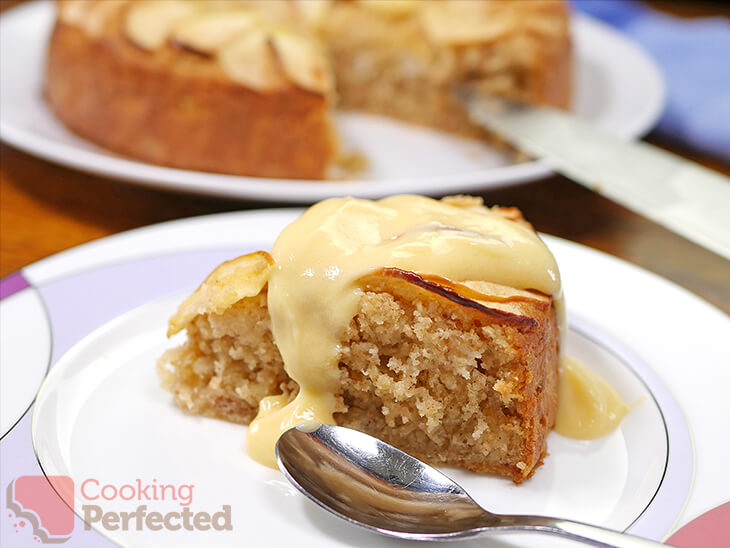 If you love apple, then you are going to love this cake. It has some lovely apple flavors backed by a hint of cinnamon and nutmeg. It is moist and goes great with a drizzle of custard over the top.
You will get roughly eight servings out of this recipe. If you need to feed a crowd, you will likely need to make multiple cakes. Alternatively, you could try making a large apple crisp.
I recommend eating this gluten-free apple cake as fresh as possible as it will go dense and dry quite fast. It will last for about a day or two in the refrigerator. Freezing the cake is also a possibility, but I have not tried it.
What to Serve with this Apple Cake
There are lots of extras that will go great with a delicious cake. Below are some of my absolute favorites.
Some delicious custard works great with apple cake. You can make it at home, or you can buy some from the supermarket. Either type will work excellently with the flavors of this delicious cake.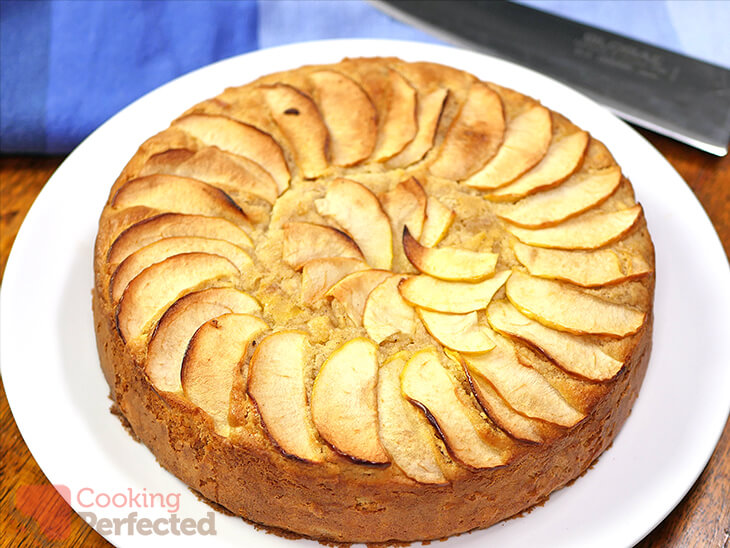 Creamy vanilla bean ice cream works great as a delicious extra. It works best when the cake is still hot as you can cool the cake with a bit of the ice cream. It is a deliciously creamy combination that I guarantee you will love.
The easiest accompaniment is a drizzle of cream over the top of the cake. If you prefer whipped cream, then that too will work quite nicely. You could even try making coconut whipped cream.
Be sure to let us know if you have any delicious combinations that will work great with this apple cake.
Personalizing the Cake
Below are a few ideas on how you can alter this gluten-free apple cake recipe so that it is more to your liking.
More fruits can be added into the cake batter for more flavors. For example, summer fruits such as blueberries, strawberries, or raspberries will work very nicely in the cake. You could also do a mixture of apple and pear rather than just using apple.
The shredded apple can be replaced with some applesauce instead. It is an excellent substitution if you do not have any fresh apples around.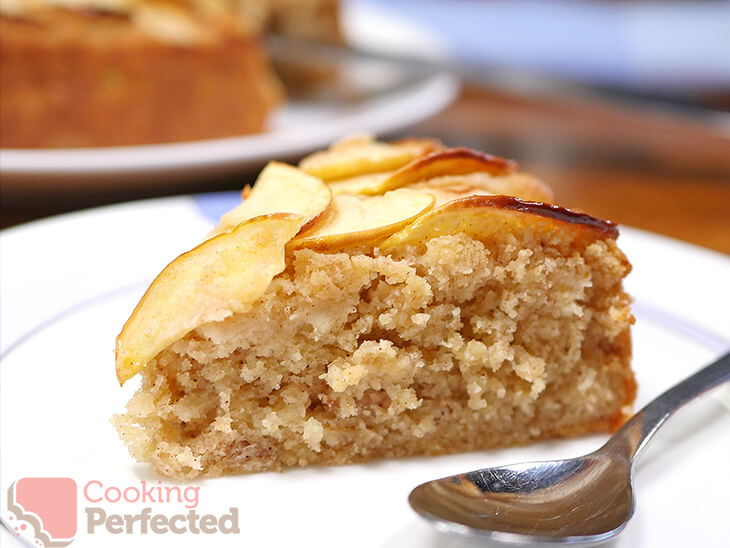 Instead of the apple slices, you can do a cinnamon crumb topping similar to the one we use in the mug coffee cake. Essentially it is a mixture of butter, cinnamon, brown sugar, and plain flour. Simply follow the topping instructions in the mug coffee cake recipe. You will likely need to double or triple the ingredients.
The video below will take you through all the steps to making this gluten-free apple cake. Alternatively, there is a full written recipe right underneath the video.
Gluten-Free Apple Cake Recipe
Ingredients
125 g (4.4 oz) unsalted butter, chopped
125 g (4.4 oz) caster sugar
1 tsp vanilla essence
2 eggs, at room temperature
300 g (10.6 oz) gluten-free self-rising flour
1 tsp cinnamon, ground
½ tsp nutmeg, ground
1 apple, shredded
200 ml (6.8 fl oz) milk
1 apple, cored and sliced
Instructions
Preheat an oven to 180°C (360°F). Also, grease and line a 20cm (7.9 in) round cake tin.
Place the butter, sugar, and vanilla into a bowl. Beat with an electric mixer until light and creamy.
Add the eggs, one at a time, and beat until combined.
Add the dry ingredients, shredded apple, milk, and gently mix until combined.
Spoon the cake batter into the prepared cake tin.
Top the cake with the slices of apple.
Bake for 45 minutes or until a skewer comes out clean.
Remove from the oven and allow to sit for 5 minutes before placing the cake onto a wire rack. Allow to cool completely.
Serve & Enjoy.
Recipe Tips
If the cake is not cooked, but the top is starting to burn, then place a piece of foil over the top. The foil will allow the cake to continue to cook while preventing the top from burning.
An electric mixer is recommended to produce the best results. Either a stand mixer or hand mixer will suffice.
Sifting the dry ingredients is not compulsory but will help reduce the number of lumps and help make the cake fluffy.
Caster sugar is also known as superfine sugar or baker's sugar.
Spread some butter over the apple slices to help prevent them from burning. I also like to sprinkle a little bit of sugar.
Nutrition Information
Serving Size: 152g (5.4 oz)
Servings Per Recipe: 8
Calories Per Serving: 330
Amount Per Serving
Saturated Fat: 6.3g
Trans Fat: 0g
Dietary Fiber: 2g
Sugars: 22g
Cholesterol: 60mg
Sodium: 481mg
Protein: 7g
The information above is an estimate generated by an online nutrition calculator.
More Gluten-Free Cakes
There are many more cakes that you need to try.
If you like fruity cakes, then you should give the upside-down pear cake a try. It is somewhat like this cake but has caramelized pears and a very fluffy cake. It is undoubtedly delicious, so I highly recommend giving it a try.
One of my favorite chocolate cakes has got to be the chocolate fudge cake. The cake is very moist and has a strong chocolate flavor that will please anyone who is a fan of chocolate. It really is as good as it sounds.
I hope that you enjoy this gluten-free apple cake as much as I did. If you have any thoughts, tips, or anything else, then please do not hesitate to leave a comment below.