These super easy Nutella scrolls will please anyone who loves Nutella. The crunch of the puff pastry along with the chopped hazelnuts make these scrolls mouth-watering.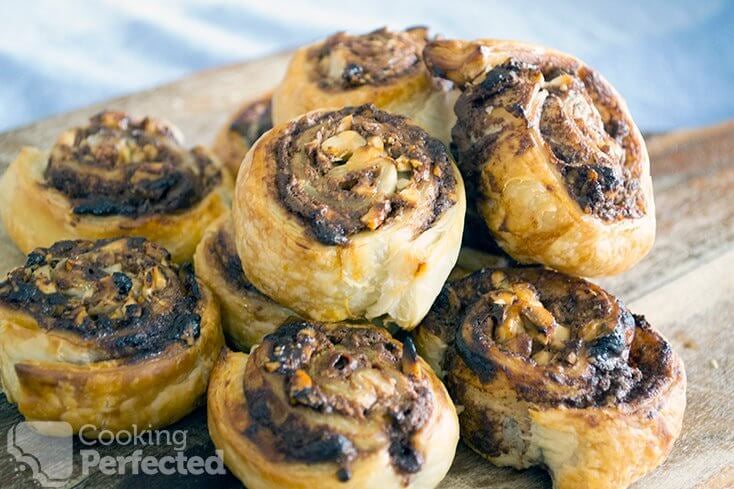 These crunchy scrolls are great as a snack, as part of a platter, or as a delicious dessert. You can quickly cook up lots of these, and they will keep in a container for a day or two.
Do not be put off by the number of steps in this recipe. It is incredibly easy and will not take you long at all to get the scrolls baked and ready to eat.
If you have never had Nutella before, then you will either love or hate it. To quickly describe it, Nutella combines hazelnuts and cocoa in a sweetened spread. Depending on where you live, you should be able to buy this at your local supermarket or online from places such as Amazon.
Adjusting the Nutella Filling
There are plenty of extra ingredients that you can add in with Nutella. My favorite is chopped hazelnuts, but below are some other alternatives.
Raspberries go very nicely with the flavors of Nutella. Add roughly half a cup of raspberries over the top of the Nutella. Be careful as it will add a bit more fluid to the scrolls, which might cause them to go slightly soggy.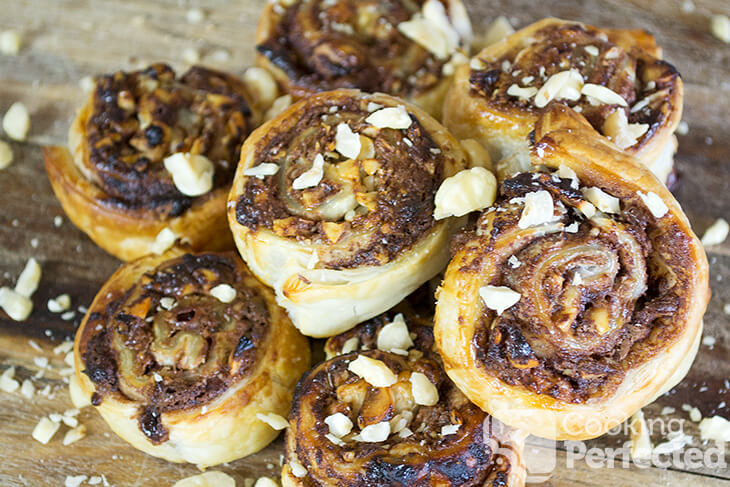 Another fruit that goes excellent with Nutella is banana. Simply add some slices of banana to the scrolls before you roll them. Alternatively, you can mash the banana and spread it over the puff pastry.
If you want to see exactly how to make these delicious Nutella scrolls, then just watch the video below. It is short and will show you exactly what you will need to do to get this recipe done.
Nutella Scrolls Recipe
Ingredients
1 sheet puff pastry, defrosted
½ cup Nutella
½ cup hazelnuts, chopped
1 egg, beaten
Instructions
Before we get started, preheat an oven to 220°C (425°F).
Spread the Nutella across the puff pastry, leave roughly a 1 cm (0.4 inch) gap at one end of the pastry.
Sprinkle the hazelnuts across the Nutella.
Now using a pastry brush, brush some egg across the gap that we left on the pastry.
Roll the pastry up, starting from the end opposite to the egg. Try and get it as tight as possible without forcing the filling out of the sides.
Now slice the roll into about ten pieces.
Next, place the scrolls onto a lined oven tray.
Place into the preheated oven and cook for 20-30 minutes or until golden brown.
Remove from the oven and place onto a cooling rack.
Serve & Enjoy.
Recipe Tips
When it comes to cutting the roll into slices, try not to push down hard as this will deform the roll. Using a super sharp knife will help prevent the need to push down on the roll too much.
If you clean your knife after every cut, this will prevent dirty cuts as Nutella tends to stick to the knife easily.
An important thing to remember is if you are using frozen puff pastry, make sure you get it out of the freezer ahead of time. Allow the pastry to completely defrost before trying to roll it up. Otherwise, you may find it will crack and break.
Nutrition Information
Serving Size: 26g (0.9 oz)
Servings Per Recipe: 12
Calories Per Serving: 124
Amount Per Serving
Saturated Fat: 3.8g
Trans Fat: 0g
Dietary Fiber: 1g
Sugars: 6g
Cholesterol: 52mg
Sodium: 23mg
Protein: 2g
The information above is an estimate generated by an online nutrition calculator.
More Tasty Puff Pastry Recipes
If you want a bit more of a savory scroll, then be sure to check out the cheese and vegemite scrolls. These are tasty and like this recipe are super easy to cook up.
If you're feeling like pizza, then be sure to check out the puff pastry pizza scrolls. These cheesy tomato and ham scrolls are fantastic, and kids absolutely love them.
If you have made this Nutella scrolls recipe and would like to leave feedback, have a variation, question, or anything else, then please feel free to leave a comment below.