Back to Recipe
Print Recipe
Nutella Scrolls Recipe
---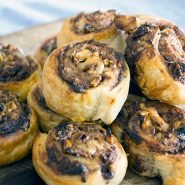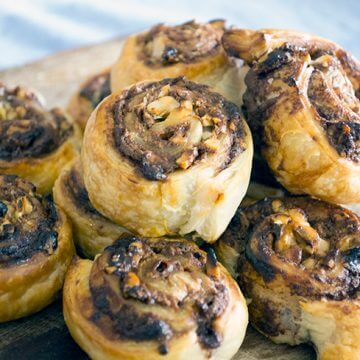 Prep time: 10 Minutes
Cook time: 20 Minutes
Total time: 30 Minutes
Makes: 12
Ingredients
1 sheet puff pastry, defrosted
½ cup Nutella
½ cup hazelnuts, chopped
1 egg, beaten
---
Instructions
Before we get started, preheat an oven to 220°C (425°F).
Spread the Nutella across the puff pastry, leave roughly a 1 cm (0.4 inch) gap at one end of the pastry.
Sprinkle the hazelnuts across the Nutella.
Now using a pastry brush, brush some egg across the gap that we left on the pastry.
Roll the pastry up, starting from the end opposite to the egg. Try and get it as tight as possible without forcing the filling out of the sides.
Now slice the roll into about ten pieces.
Next, place the scrolls onto a lined oven tray.
Place into the preheated oven and cook for 20-30 minutes or until golden brown.
Remove from the oven and place onto a cooling rack.
Serve & Enjoy.
---
Recipe Tips
When it comes to cutting the roll into slices, try not to push down hard as this will deform the roll. Using a super sharp knife will help prevent the need to push down on the roll too much.
If you clean your knife after every cut, this will prevent dirty cuts as Nutella tends to stick to the knife easily.
An important thing to remember is if you are using frozen puff pastry, make sure you get it out of the freezer ahead of time. Allow the pastry to completely defrost before trying to roll it up. Otherwise, you may find it will crack and break.
Did you make this recipe?
We want to see! Tag
@cookingperfected
on Instagram or use the hashtag
#cookingperfected
so we can find you!
---