These cheese and vegemite scrolls are simply fantastic, and any fan of vegemite will love them.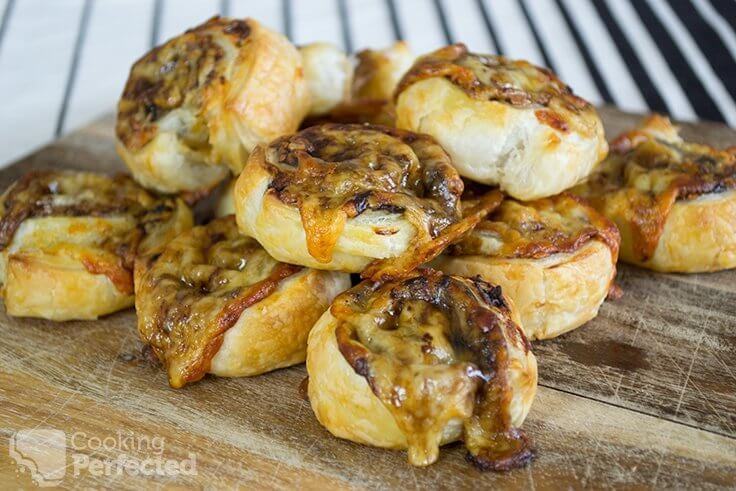 These scrolls cook to be crunchy and loaded with flavor. The filling is a delicious blend of vegemite and cheddar cheese. It is certainly a combination that will have you going back for seconds.
In this recipe, I use puff pastry rather than traditional dough. I prefer the crunchier and fluffier pastry, as I think it creates a delicious scroll.
If you have never heard of it, Vegemite is a spread that is made from yeast extract and a variety of spice and vegetable additives. It is hugely popular in Australia but may be hard to find in other countries.
As you can imagine, these scrolls are perfect for a party as you can quickly make lots of them. They still taste surprisingly good cold, so you can easily prepare them the day before you need them. However, they are usually best served warm.
Personalizing the Scroll Filling
You can use something other than cheddar cheese in the filling of these scrolls. A good blend is half cheddar cheese and half mozzarella cheese. You can experiment a little by using other cheese such as blue cheese or swiss cheese. Some flavors will work better than others.
If you want to go a little gourmet, add some smashed avocado on top of the vegemite. It is a weird combination, but it actually works very well. I highly recommend giving it a try.
You can find vegemite at your local supermarket if you live in Australia. Alternatively, you may be able to source vegemite at Amazon. You may find similar products for sale in your country, such as marmite.
Check out the video below if you want to see how you can make these cheese and vegemite scrolls. Alternatively, there is a written recipe immediately underneath the video.
Cheese and Vegemite Scrolls Recipe
Ingredients
1 puff pastry sheet, defrosted
1 cup cheddar cheese, shredded
¼ cup vegemite (Marmite)
1 egg, beaten
Instructions
Preheat an oven to 220°C (430°F).
Place the sheet of puff pastry onto a chopping board.
Spread the vegemite onto the puff pastry, leaving about a 1cm (0.4 in) gap on the end you will roll towards.
Sprinkle the cheese over the vegemite. You can add more depending on how cheesy you want your scrolls.
Using a pastry brush spread a little bit of the egg onto the gap.
Start rolling the pastry from the end opposite the gap. Try to keep it relatively tight without making the filling squeeze out the sides.
Now cut the roll into about roughly six pieces.
Lightly brush the scrolls with the egg.
Cook in the oven for about 20-30 minutes or until puffy and golden brown.
Remove from the oven and place onto a cooling rack.
Serve & Enjoy.
Recipe Tips
When it comes to cutting the roll, it is important not to push down on the roll itself as it may deform. If possible, try and use a super sharp knife to cut it. This will help prevent the roll from getting squished and keep the filling inside.
If you are using frozen puff pastry, make sure you get it out of the freezer ahead of time to allow it to defrost. Place it on the surface you will be assembling it on as it will be hard to move once defrosted.
Nutrition Information
Serving Size: 79g (2.8 oz)
Servings Per Recipe: 6
Calories Per Serving: 200
Amount Per Serving
Saturated Fat: 5.7g
Trans Fat: 0.2g
Dietary Fiber: 1g
Sugars: 0g
Cholesterol: 170mg
Sodium: 554mg
Protein: 13g
The information above is an estimate generated by an online nutrition calculator.
More Scroll Recipes
If you love these and want more, then be sure to check out the pizza scrolls. The pizza scrolls have all the fantastic flavors of pizza but in a nice compact tasty puff pastry scroll.
Also, if you love Nutella, then you will love our Nutella scrolls as these are super easy to quickly prepare. If you are interested, then be sure to check out our Nutella scroll recipe.
If you have made the cheese and vegemite scrolls and would love to share feedback, have a variation, then feel free to drop a comment below.