Back to Recipe
Print Recipe
Cheese and Vegemite Scrolls Recipe
---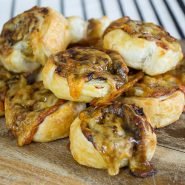 Prep time: 10 Minutes
Cook time: 25 Minutes
Total time: 35 Minutes
Serves: 6
Ingredients
1 puff pastry sheet, defrosted
1 cup cheddar cheese, shredded
¼ cup vegemite (Marmite)
1 egg, beaten
---
Instructions
Preheat an oven to 220°C (430°F).
Place the sheet of puff pastry onto a chopping board.
Spread the vegemite onto the puff pastry, leaving about a 1cm (0.4 in) gap on the end you will roll towards.
Sprinkle the cheese over the vegemite. You can add more depending on how cheesy you want your scrolls.
Using a pastry brush spread a little bit of the egg onto the gap.
Start rolling the pastry from the end opposite the gap. Try to keep it relatively tight without making the filling squeeze out the sides.
Now cut the roll into about roughly six pieces.
Lightly brush the scrolls with the egg.
Cook in the oven for about 20-30 minutes or until puffy and golden brown.
Remove from the oven and place onto a cooling rack.
Serve & Enjoy.
---
Recipe Tips
When it comes to cutting the roll, it is important not to push down on the roll itself as it may deform. If possible, try and use a super sharp knife to cut it. This will help prevent the roll from getting squished and keep the filling inside.
If you are using frozen puff pastry, make sure you get it out of the freezer ahead of time to allow it to defrost. Place it on the surface you will be assembling it on as it will be hard to move once defrosted.
Did you make this recipe?
We want to see! Tag
@cookingperfected
on Instagram or use the hashtag
#cookingperfected
so we can find you!
---