These puff pastry pizza scrolls are super easy to make and have a fantastic crunch. They are the perfect platter food for your next party.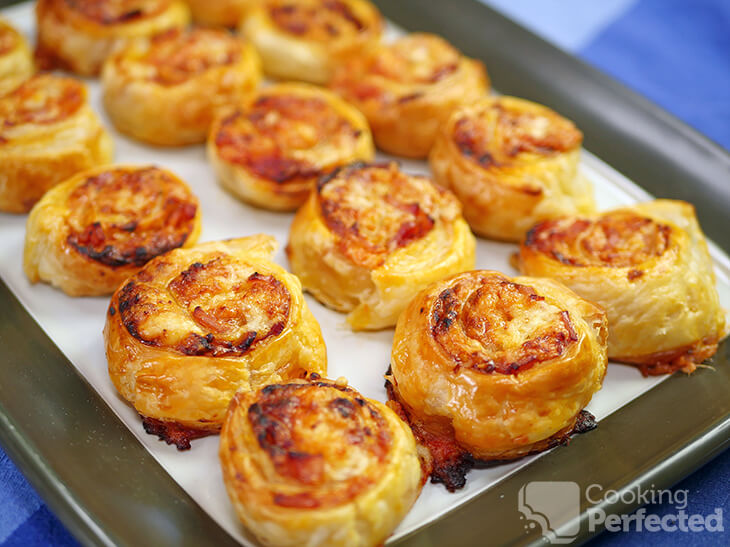 These scrolls cook to be golden brown, fluffy, and have a delicious soft crunch to them. The pizza filling is cheesy and loaded with flavor. The best thing is you can easily tweak the flavors, so they are perfect for your tastes.
Pizza scrolls are great as a meal, platter food, snack, and so much more. They also keep well in the fridge so you can have them ready for whenever you are feeling a little hungry.
While it appears this recipe is complicated due to the number of steps, it is actually straightforward. The steps have just been broken down, so it is super easy to follow. There are a ton of other puff pastry recipes that you are able to do, and they are all very easy and incredibly tasty.
You will get roughly six to eight pizza scrolls per piece of puff pastry. The basic recipe only uses one piece of puff pastry, so you may need to double or triple the recipe.
Different Pizza Scroll Fillings
Almost any regular pizza topping will work as a filling for these pizza scrolls. Below are a couple of my favorite combinations.
One of my favorite combinations is BBQ pulled pork. Essentially it is a combination of homemade pulled pork, BBQ sauce, bacon, and some sliced red onion. It is topped with a combination of cheddar and mozzarella cheese.
Chicken and pesto are another combination that will work nicely as a pizza scroll filling. Spread the pesto sauce over the puff pastry and top with sliced chicken, baby spinach, red onion, and some brie. Again, it is a delicious combination that I highly recommend.
A meat-lover combination will work very nicely in this recipe. Simply spread the puff pastry with the tomato sauce and top with pepperoni, cooked ground beef, bacon bits, and some delicious ham. I love to finish it with a generous amount of mozzarella cheese.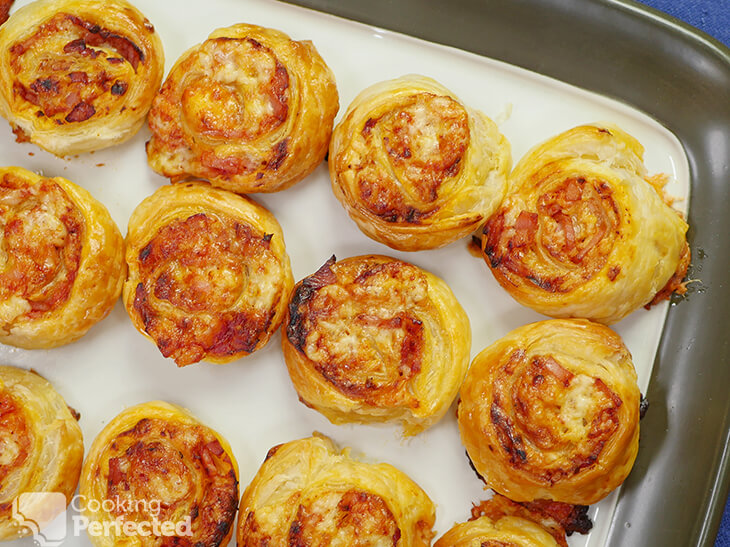 These are just a couple of my favorites, so if you have a favorite that you would love to share, then please don't hesitate to leave a comment at the bottom of this page.
If you want to see how to make these delicious pizza scrolls, then check out the video I have prepared below. Alternatively, there is a full written recipe underneath the video.
Puff Pastry Pizza Scrolls Recipe
Ingredients
1 sheet of puff pastry, defrosted
1 egg, beaten
Filling
2 Tbsp tomato paste
50 g (1.8 oz) cheddar cheese, shredded
50 g (1.8 oz) ham, sliced
50 g (1.8 oz) baby spinach leaves (optional)
Instructions
Prepare an oven tray by lining it with baking paper. Also, preheat an oven to 200°C (400°F).
Spread the tomato paste using the back of a spoon onto a piece of puff pastry. Leave a 1cm (0.4 in) gap along one edge.
Next, scatter the baby spinach and ham on top of the tomato paste. Finally, sprinkle the shredded cheese on top.
Using a pastry brush, spread a little bit of the beaten egg on the gap.
Begin rolling from the end without the gap and roll towards the gap. Try to roll it reasonably tight without making the toppings squeeze out of the sides.
Once rolled, cut into about six to eight even pieces.
Place each slice cut side down onto the prepared tray.
Bake in the preheated oven for 30 minutes or until golden brown.
Serve & Enjoy.
Recipe Tips
When cutting the roll, try not to push down hard as it will deform the roll. Having a sharp knife is an excellent way to avoid having this issue.
As I mentioned above, these are still great cold, so if you have leftovers, you can always throw them in the fridge. If you do go to reheat, then I recommend doing it in an oven to ensure that the scrolls remain crispy.
You can add the leftover egg into the topping mixture of the pizza scrolls.
I love to sometimes swap the ham for some crispy bacon.
Nutrition Information
Serving Size: 37g (1.3 oz)
Servings Per Recipe: 8
Calories Per Serving: 68
Amount Per Serving
Saturated Fat: 2.3g
Trans Fat: 0g
Dietary Fiber: 0.5g
Sugars: 0.7g
Cholesterol: 31mg
Sodium: 154mg
Protein: 4g
The information above is an estimate generated by an online nutrition calculator.
More Delicious Pizza Recipes
I hope that you enjoy these pizza scrolls. If you are looking for something similar, then be sure to check out the delicious pepperoni pizza casserole. It is perfect for feeding a crowd.
Puff pastry is much better than some of the pre-made pizza bases you can buy at the supermarkets. If you don't like puff pastry, then I recommend to take a look at our tortilla pizza recipe, it is super easy to make and tastes great.
If you want to leave some feedback regarding this pizza scrolls recipe, then please feel free to leave a comment below.