Back to Recipe
Print Recipe
Puff Pastry Pizza Scrolls Recipe
---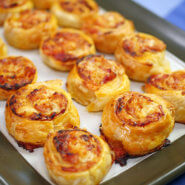 Prep time: 10 Minutes
Cook time: 30 Minutes
Total time: 40 Minutes
Makes: 8
Ingredients
1 sheet of puff pastry, defrosted
1 egg, beaten
Filling
2 Tbsp tomato paste
50 g (1.8 oz) cheddar cheese, shredded
50 g (1.8 oz) ham, sliced
50 g (1.8 oz) baby spinach leaves (optional)
---
Instructions
Prepare an oven tray by lining it with baking paper. Also, preheat an oven to 200°C (400°F).
Spread the tomato paste using the back of a spoon onto a piece of puff pastry. Leave a 1cm (0.4 in) gap along one edge.
Next, scatter the baby spinach and ham on top of the tomato paste. Finally, sprinkle the shredded cheese on top.
Using a pastry brush, spread a little bit of the beaten egg on the gap.
Begin rolling from the end without the gap and roll towards the gap. Try to roll it reasonably tight without making the toppings squeeze out of the sides.
Once rolled, cut into about six to eight even pieces.
Place each slice cut side down onto the prepared tray.
Bake in the preheated oven for 30 minutes or until golden brown.
Serve & Enjoy.
---
Recipe Tips
When cutting the roll, try not to push down hard as it will deform the roll. Having a sharp knife is an excellent way to avoid having this issue.
As I mentioned above, these are still great cold, so if you have leftovers, you can always throw them in the fridge. If you do go to reheat, then I recommend doing it in an oven to ensure that the scrolls remain crispy.
You can add the leftover egg into the topping mixture of the pizza scrolls.
I love to sometimes swap the ham for some crispy bacon.
Did you make this recipe?
We want to see! Tag
@cookingperfected
on Instagram or use the hashtag
#cookingperfected
so we can find you!
---