A tortilla pizza is a fantastic and easy way to prepare a pizza with minimal effort. They make small great crunchy pizzas and work great with any combination of toppings.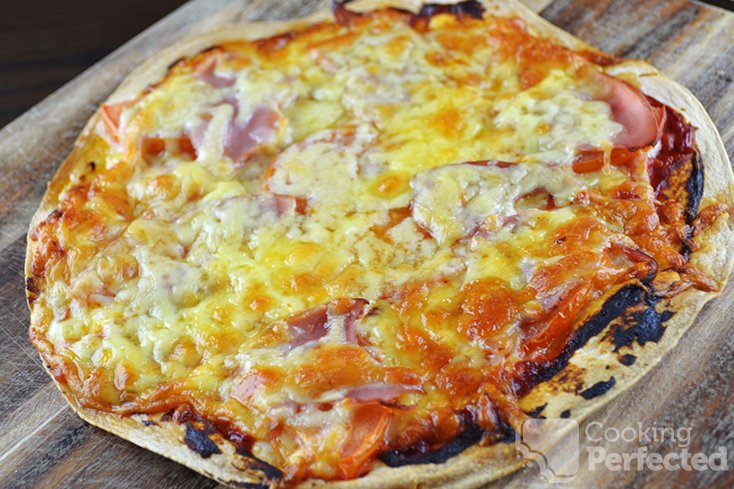 The tortilla crust bakes to be deliciously crunchy and matches perfectly with almost any combination of topping. My favorite topping is a basic combination of pizza sauce, ham, tomato, and cheese.
A single pizza should be roughly enough for one or two people. If you need to feed more, then you will need to double or triple this recipe. You could also make some garlic bread to go with the pizza.
It will be hard to make this tortilla pizza in bulk, so if you are cooking for a crowd, you might want to check out the pizza scroll recipe instead. It is perfect if you need some platter food for your next party.
Pizza Topping Ideas
There are so many different types of pizza toppings that you can do. Most toppings will work just fine with a tortilla base. Below are a couple of ideas on what you can do.
Ham, pineapple, and cheese is a classic combination and works very nicely on a tortilla pizza. If you do not like pineapple, then simply leave it off the pizza.
You have got to try a smoked salmon pizza. Use green pesto as the sauce and top it with baby spinach, smoked salmon, red onion, brie, and capers. It is one of my favorite non-traditional toppings.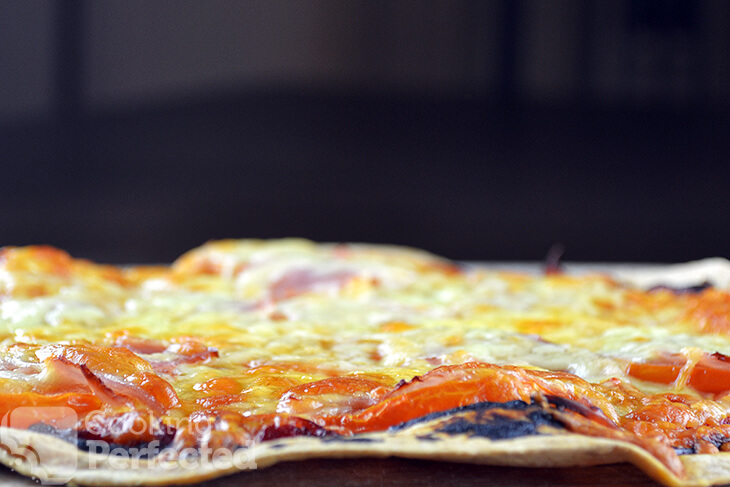 For something a little more extravagant, you can make a pulled pork pizza. Use some BBQ sauce for the base and top it with some pulled pork, red onion, and a generous amount of cheese.
You can vary the type of cheese for a unique texture and flavor. You can try different cheeses such as parmesan, brie, mozzarella, goats cheese, cheddar, and provolone.
There is one thing you will need to look out for, which is overloading the base with toppings. Too much topping will cause the tortilla crust to go soggy and can be hard to eat.
If you want to see how to make this easy tortilla pizza, you should check out the video below. If you like what you see, please subscribe, so you stay up to date with all the latest easy recipes.
Tortilla Pizza Recipe
Ingredients
1 large tortilla
2 Tbsp pizza sauce
½ cup mozzarella cheese, shredded
Optional Toppings
2 slices of ham
1/2 tomato, sliced
Instructions
Preheat the oven to 220°C (425°F)
Place the tortilla onto an oven tray.
Spread the pizza sauce evenly across the tortilla.
Sprinkle with cheese and any other toppings you would like.
Place in the oven and cook for 10-15 minutes.
Remove from the oven.
Serve & Enjoy.
Recipe Tips
Try not to overload the tortilla pizza with toppings. Otherwise the tortilla might become soggy.
Make sure the oven is at the required temperature before you put the pizza in; otherwise, it might not cook properly. For example, it might burn on the bottom, or come out soggy.
You can also baker this in a pizza maker or on a pizza stone. Using either of these will help for a crispier base.
Nutrition Information
Serving Size: 178g (6.3 oz)
Servings Per Recipe: 1
Calories Per Serving: 170
Amount Per Serving
Saturated Fat: 2.5g
Trans Fat: 0g
Total Carbohydrate: 19.5g
Dietary Fiber: 3.6g
Sugars: 4.9g
Cholesterol: 23mg
Sodium: 494mg
Protein: 11.7g
The information above is an estimate generated by an online nutrition calculator.
More Delicious Recipes
There are other great meals that you can make with tortillas such as amazingly easy nachos, chicken wraps, homemade tortilla chips, and much more.
If you feel like eating pizza but not too keen on the whole tortilla base, you can always try making a pepperoni pizza as a casserole. It features some pasta along with a delicious tomato and pork sausage sauce. It is all topped with a generous amount of mozzarella cheese.
If you have any topping variations for this delicious tortilla pizza recipe that you would love to share, then feel free to leave a comment below.