This creamy carbonara is so easy you can quickly prepare it from scratch and have a meal ready to eat in under fifteen minutes.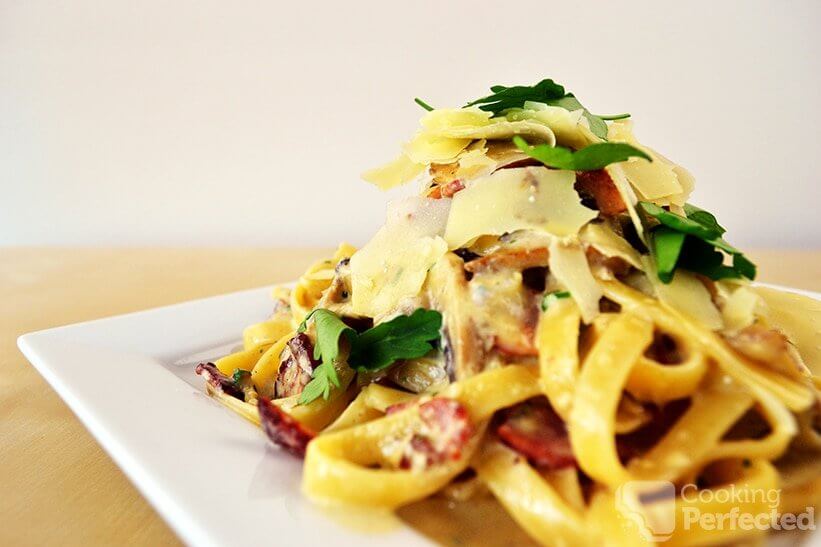 The sauce of this carbonara cooks to be incredibly creamy and is loaded with flavor. It goes great with a wide range of different kinds of pasta, such as spaghetti, fettuccine, rigatoni, and linguine.
This pasta is probably one of the easiest and fastest pasta dishes that you can do, you can easily have it ready in less than fifteen minutes. It will require a little bit of preparation, but it is certainly worth it.
The goal of this recipe is to make it as easy as possible to produce an incredibly delicious dish. This recipe isn't traditional, but it is very delicious.
Adjusting the Recipe
There are many variations that you can do to this classic dish. Variations typically involve adding more non-traditional ingredients. For example, cream and bacon are typically not found in a traditional carbonara recipe.
To complete this pasta dish, you can top it with some shaved Parmesan cheese and fresh parsley. These two ingredients add a bit of stylistic flair to the pasta and even more flavor.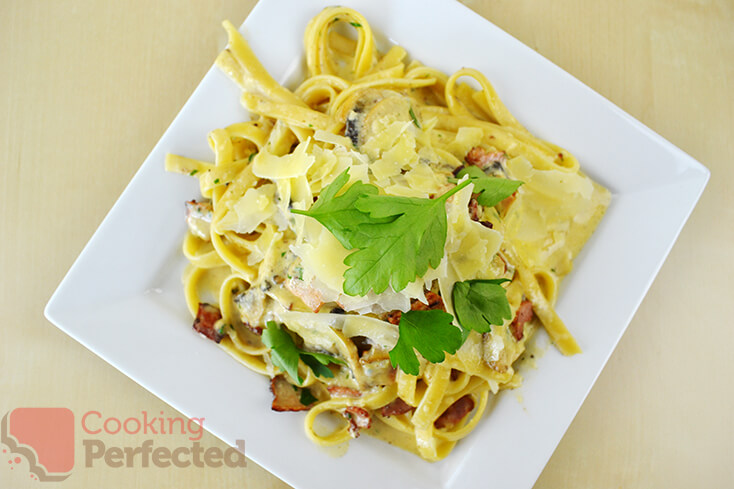 You can swap the bacon for something a little fancier such as prosciutto or salami. I recommend picking the best quality ingredients for the tastiest pasta sauce.
What to Serve with this Carbonara
Lots of side dishes go great with a carbonara pasta, and below are just a couple of my favorites.
A side dish that always goes great with pasta is some crunchy homemade garlic bread. It takes just minutes to prepare and only a little longer to cook in the oven. Alternatively, you can buy some garlic bread from the supermarket.
For something a little different, you can make a gluten-free cornbread. The cornbread is loaded with cheese, bacon, semi-dried tomatoes, and so much more. I highly recommend making it as it's so delicious.
The video below will take you through all the steps on how to make this easy carbonara. Alternatively, the full-text version of the recipe is right below the video and can be printed if required.
Easy Carbonara Recipe
Ingredients
1 egg
½ cup cream
2 tsp parsley, chopped
1 tsp garlic, crushed
100 g (3.5 oz) bacon cut into 1cm cubes
30 g (1.1 oz) butter
60 g (2.1 oz) mushrooms, sliced
3 Tbsp white wine
25 g (0.9 oz) parmesan
80 g (2.8 oz) pasta
Instructions
Heat a large pot of salted water until it is boiling. Add the pasta and boil for about 10 minutes (Refer to the package instructions to be sure).
Once the pasta is cooked, drain and add a splash of oil to stop it from sticking together.
Whisk the egg, cream, parsley, and garlic in a bowl until combined.
In a frying pan over medium-high heat, cook the bacon until crispy. Remove and put it to the side.
Add butter and mushrooms and cook for about 3-5 minutes.
Next, add the wine, lower the heat, and cook for about a minute.
Add the cooked pasta and also pour in the carbonara sauce.
Gently stir over low heat until the pasta is well coated in the sauce.
Season with salt and pepper.
Serve and Enjoy.
Recipe Tips
If you can afford it, then replace the bacon with pancetta as this is the original ingredient in an authentic carbonara.
Be careful of scrambling the eggs. If you think the pan is too hot, then let it cool a little before adding the egg mix.
If you don't like mushrooms, simply remove them from the recipe.
Nutrition Information
Serving Size: 277g (9.8 oz)
Servings Per Recipe: 2
Calories Per Serving: 633
Amount Per Serving
Saturated Fat: 19.3g
Trans Fat: 0g
Total Carbohydrate: 27.5g
Dietary Fiber: 0.7g
Sugars: 2.2g
Cholesterol: 219mg
Sodium: 1428mg
Protein: 31.8g
The information above is an estimate generated by an online nutrition calculator.
More Pasta Recipes
This pasta dish is pretty easy to cook up quickly, but if you would prefer a pasta bake dish, then be sure to check out the easy tuna casserole. The tuna casserole dish takes just minutes to prepare and then about twenty-five minutes in the oven.
Another recipe that you might like is the cajun chicken pasta. It features a deliciously creamy sauce, shredded chicken, and some lovely Cajun flavors. I highly recommend giving it a try if you want a delicious meal.
If you would like to leave feedback, improvements, or have a variation on this easy carbonara recipe, then please drop us a comment below.