This simple creamy cajun chicken pasta is packed full of flavor. In this dish, we use leftover roast chicken, and it works amazingly well.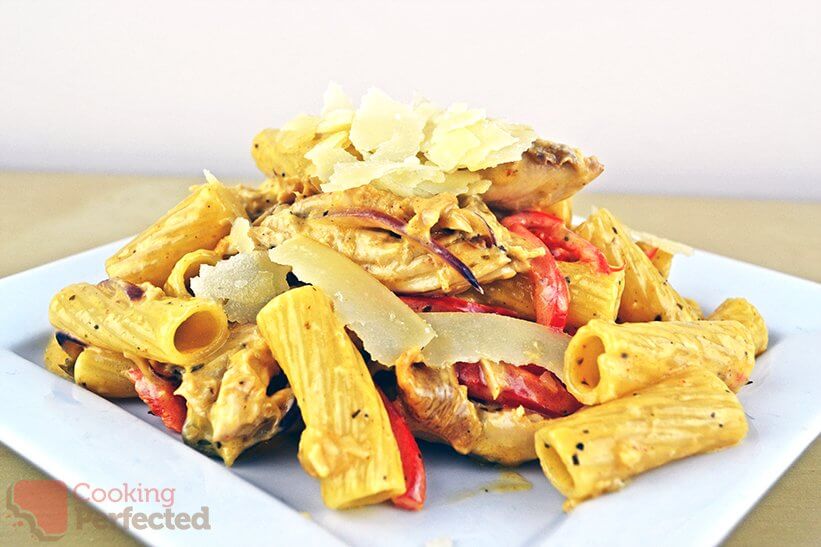 By the time you're ready to eat, you will have some delicious tender chicken that just melts in your mouth and a flavor-packed creamy cajun sauce.
This pasta is a fantastic easy dinner dish or even lunch if you're feeling like pasta in the middle of the day. It is also a great way to use up any of the leftover roast chicken from the day before.
Cajun Pasta Side Dishes
There are so many side dishes that go excellent with a delicious pasta like this one. I will just quickly list some sides that I think will go perfectly with this creamy cajun chicken pasta.
A loaf of good garlic bread will match perfectly as a side to this dish. It's typically an absolute classic must-have for when it comes to any pasta.
A simple green salad is usually nice and refreshing to eat after a heavy pasta like this one. I love just a plain green salad with some green spinach leaves, cherry tomatoes, red onion, olives, and a nice salad dressing.
Make it How you Like It
To make this more to your liking you can make a few changes to the recipe. I will just quickly mention some of the top variations.
You make the pasta sauce extra creamy by adding some cream cheese into it. Add the cream cheese at the same time as the cream and cook until the cheese has melted and the sauce is creamy and thick.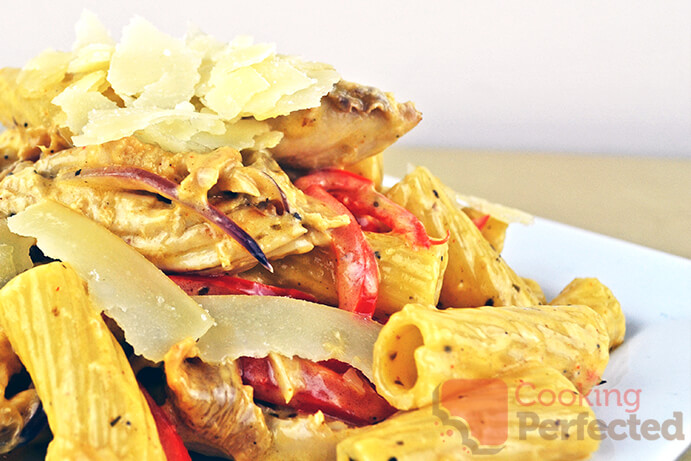 There are some extra vegetables that you can add to this dish. For example, some diced tomatoes work perfectly with the cajun spices. Some sliced mushrooms are also a great addition. I would add the mushroom at the same time as the onion and the tomatoes at the same time as the cream.
If you like a bit of spice, then some sliced red chili works surprisingly well in this recipe. It will add a fair bit of heat so only add it if you like spicy food.
While you can make your very own homemade cajun seasoning to keep things simple, I'm just using a basic store-bought version. These bought seasonings still taste pretty good but can contain quite a bit of added salt so you might want to taste the sauce before you decide to add more seasoning.
Like any pasta, this tastes even better when garnished with some freshly grated parmesan, so be sure to add some just before serving.
Leftovers
This recipe doesn't reheat very well because of the cream in it. You will most likely find heating the leftovers in a microwave will cause the cream to split. Once split, you will get a very oily pasta sauce that isn't very enjoyable.
You might be able to avoid the cream splitting by slowly heating the leftovers in a pan.
If you want to see how to make this cajun chicken pasta, then check out the video below. Alternatively, you can find the full recipe right underneath the video and will take you through all the steps to cooking this yummy pasta.
Creamy Cajun Chicken Pasta Recipe
Ingredients
½ red onion, sliced
1 tsp garlic, crushed
1 bell pepper, sliced
150 g (5.3 oz) shredded chicken
2 tsp Cajun seasoning
1 cup cream
250 g (8.8 oz) cooked pasta or noodles
Instructions
In a pan over medium heat, add 1 Tbsp butter
Add the red onion, garlic, and sliced bell pepper.
Cook until onion starts to go transparent.
Add Cajun seasoning, chicken and cook for another minute.
Add the cream and reduce to a simmer. Cook for about 5 minutes.
Season with salt and pepper.
Pour over hot cooked pasta.
Serve & Enjoy.
Recipe Tips
Adding a tiny bit of butter (roughly 1 Tbsp) to the sauce just before you go to serve will help the sauce have a bit more depth in both flavor and texture.
If you don't have cooked chicken, then you can simply just use your preferred cut of raw chicken. I would add this just before step four and cook for a few minutes, so it's fully cooked.
Most Cajun seasonings contain added salt so keep this in mind when you go to season the dish. I recommended tasting the sauce before you add any extra salt.
Depending on the type of Cajun spice you're using, you will not find this dish to be too spicy. If you like things spicy, then I recommend adding a bit more cajun or adding a sliced red chili at the same time you add the onion.
Nutrition Information
Serving Size: 187g (6.6 oz)
Servings Per Recipe: 4
Calories Per Serving: 291
Amount Per Serving
Saturated Fat: 2.6g
Trans Fat: 0g
Total Carbohydrate: 39.8g
Dietary Fiber: 0.7g
Sugars: 3.3g
Cholesterol: 86mg
Sodium: 86mg
Protein: 18.9g
The information above is an estimate generated by an online nutrition calculator.
Other Pasta Recipes worth Trying
If you're not feeling like chicken tonight, then the easy creamy bacon carbonara is also pretty good. It's super easy, so it's excellent if your cooking skills aren't the best.
Another delicious pasta recipe that you have to try is the super lazy lasagna. It's perfect if you're running low on time but want a delicious pasta dish fast.
If you have any feedback or a variation that you would love to share on this creamy Cajun chicken pasta recipe, then be sure to leave a comment below.