This simple paleo chicken soup is a fantastic light, healthy meal. This dish is great as an appetizer, dinner, or even as a paleo-friendly lunch.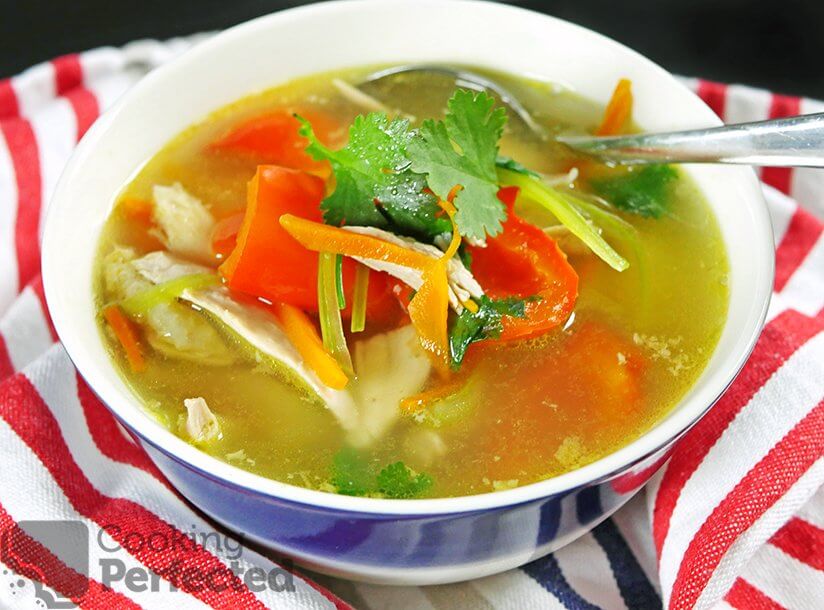 This soup is loaded with shredded chicken and chunky vegetables. The homemade chicken broth will guarantee a soup that will have you coming back for seconds or thirds.
Personally, I love having a nice warm soup when I have a cold or I am generally not feeling very well. This soup is pretty healthy thanks to a ton of vegetables and a chicken stock that is made from scratch. It is great for getting those vital nutrients.
A single batch of this soup will feed about six people, but this will heavily depend on whether they are big eaters. If you need to feed more people, then simply double or triple the recipe. Alternatively, you can make some side dishes such as sweet potato fries.
This chicken soup reheats pretty well, so if you like to make things in bulk and eat them over a few days, this recipe is perfect for that. You can also freeze it down if you want it to last more than a couple of days.
Adjusting the Chicken Soup Ingredients
I love this paleo chicken soup without any changes. However, if you feel like tweaking the soup, then below are a couple of suggestions.
One of the best things about this soup is that you can use leftover roast chicken, in place of the raw chicken. If you are using leftover chicken, add it at step seven instead of step one. You will also need to replace the water with chicken stock.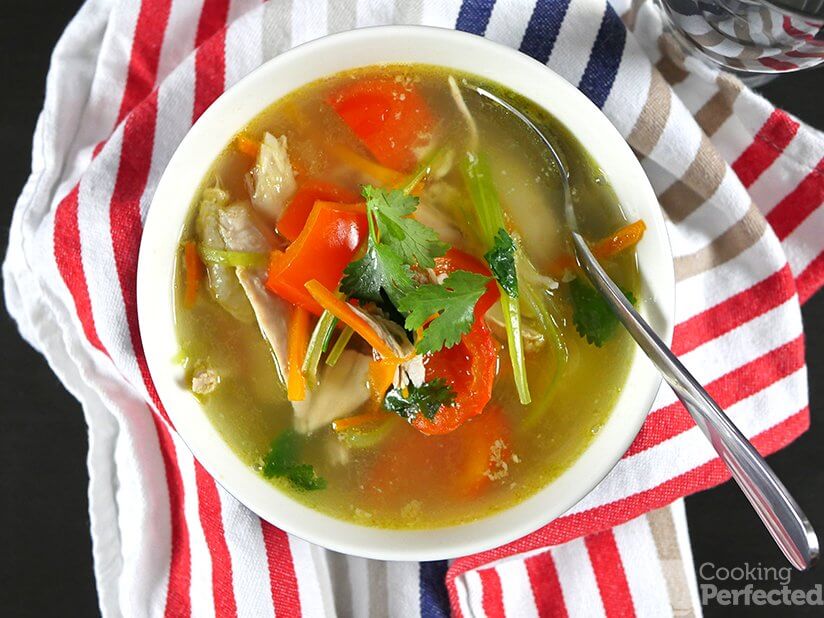 More vegetables can be added into the soup for more flavor and nutrients. For example, broccoli is an excellent addition and can be added alongside the cauliflower. Some sliced onions are also excellent at adding even more flavor to the soup.
The addition of herbs will also help boost the flavor and aroma of the soup. Bay leaves, thyme, rosemary, or even chives are excellent choices. Be careful to not go overboard with the herbs as they can overpower the rest of the ingredients.
If you want to see how to make this paleo chicken soup, then be sure to check out my video below. I go through all the steps on how to cook this paleo recipe correctly.
Paleo Chicken Soup Recipe
Ingredients
1 kg (2.2 lb) chicken pieces
2 carrots, julienned
2 celery stalks, julienned
2 garlic cloves, sliced
1 red bell pepper, cut into chunks
1 cup cauliflower florets
¼ bunches of cilantro
2 l (2.1 qt) water
Instructions
In a pot over medium-high heat, add the chicken pieces. Cook these until they are lightly browned.
Add 1.5 l (1.6 qt) of water and bring to a simmer. Cook for about an hour or until the chicken starts to fall off the bone.
Remove the chicken from out of the liquid. You can either strain the liquid or scoop the chicken out of the water. Make sure you keep the liquid as we will need this.
Once the chicken has cooled slightly, pick the chicken off of the bones.
Add the chicken back into the liquid and discard the bones.
Add 500ml (0.5 qt) water, carrots, celery, garlic, red bell pepper, cauliflower florets.
Bring to a light simmer and cook for 30 minutes.
Add the cilantro.
Season with salt and pepper.
Serve & Enjoy.
Recipe Tips
Skimming the scum off the top of the soup will help keep the broth clear. You will need to do this when you cook the chicken and when you cook the vegetables. If you do not do this, you will still have a great tasting soup, but the liquid will be cloudy.
As I mentioned above, you can use leftover chicken in place of the raw chicken. If you decide on this, then just shred it, and skip to step six. You will probably want to replace the water with some chicken stock, so you still get as much flavor as possible.
Other vegetables such as broccoli and Brussel sprouts also work well in this recipe. Add any extra vegetables at the same time you add the cauliflower.
An important thing to look out for when making soup is getting the seasoning right. If you put too much salt in, then it is almost impossible to fix the soup. To avoid doing this, taste as you season, you will eventually get the perfect balance of flavor.
You can also use a whole chicken instead of chicken pieces. For the best results, I recommend using a cut of chicken that still has the bone-in.
Nutrition Information
Serving Size: 428g (15.1 oz)
Servings Per Recipe: 6
Calories Per Serving: 273
Amount Per Serving
Saturated Fat: 1.4g
Trans Fat: 0g
Dietary Fiber: 1.5g
Sugars: 2.3g
Cholesterol: 128mg
Sodium: 136mg
Protein: 49.1g
The information above is an estimate generated by an online nutrition calculator.
More Paleo-Friendly Chicken recipes
This soup is just one simple paleo-friendly chicken recipe that is easy to prepare and cook.
You should also try something like the homemade butter chicken curry since it is a great dish. You make a curry paste from scratch, so it will have a ton of flavor, and you also know what is going into it.
I also highly recommend trying the paleo-friendly chicken parmesan recipe. It is a unique take on the classic chicken parmesan recipe and is entirely paleo-friendly. It does mean skipping on the cheese.
I hope that you enjoy this paleo-friendly chicken soup as much as I did. If you have any variations that you would like to share, please leave a comment below.