Back to Recipe
Print Recipe
Paleo Chicken Soup Recipe
---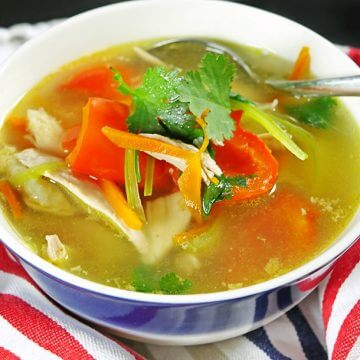 Prep time: 15 Minutes
Cook time: 1 Hour & 30 Minutes
Total time: 1 Hour & 45 Minutes
Serves: 6
Ingredients
1 kg (2.2 lb) chicken pieces
2 carrots, julienned
2 celery stalks, julienned
2 garlic cloves, sliced
1 red bell pepper, cut into chunks
1 cup cauliflower florets
¼ bunches of cilantro
2 l (2.1 qt) water
---
Instructions
In a pot over medium-high heat, add the chicken pieces. Cook these until they are lightly browned.
Add 1.5 l (1.6 qt) of water and bring to a simmer. Cook for about an hour or until the chicken starts to fall off the bone.
Remove the chicken from out of the liquid. You can either strain the liquid or scoop the chicken out of the water. Make sure you keep the liquid as we will need this.
Once the chicken has cooled slightly, pick the chicken off of the bones.
Add the chicken back into the liquid and discard the bones.
Add 500ml (0.5 qt) water, carrots, celery, garlic, red bell pepper, cauliflower florets.
Bring to a light simmer and cook for 30 minutes.
Add the cilantro.
Season with salt and pepper.
Serve & Enjoy.
---
Recipe Tips
Skimming the scum off the top of the soup will help keep the broth clear. You will need to do this when you cook the chicken and when you cook the vegetables. If you do not do this, you will still have a great tasting soup, but the liquid will be cloudy.
As I mentioned above, you can use leftover chicken in place of the raw chicken. If you decide on this, then just shred it, and skip to step six. You will probably want to replace the water with some chicken stock, so you still get as much flavor as possible.
Other vegetables such as broccoli and Brussel sprouts also work well in this recipe. Add any extra vegetables at the same time you add the cauliflower.
An important thing to look out for when making soup is getting the seasoning right. If you put too much salt in, then it is almost impossible to fix the soup. To avoid doing this, taste as you season, you will eventually get the perfect balance of flavor.
You can also use a whole chicken instead of chicken pieces. For the best results, I recommend using a cut of chicken that still has the bone-in.
Did you make this recipe?
We want to see! Tag
@cookingperfected
on Instagram or use the hashtag
#cookingperfected
so we can find you!
---