This tasty Instant Pot Korean beef is super easy to make and will please even the fussiest eaters.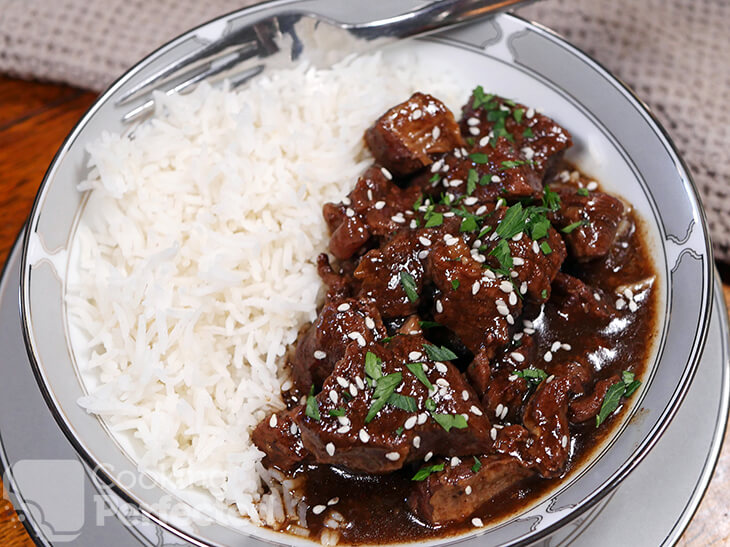 The beef cooks to be super tender and is loaded with flavor thanks to the beautiful sauce. You will get strong flavors from the soy sauce, onion, garlic, ginger, and brown sugar. There is a slight hint of chili, but you can leave that out if you do not like spicy food.
A single batch of this delicious recipe will easily feed four to six people. To get the most out of this dish, I recommend that you serve it with some extras such as steamed rice.
You can also make this delicious Korean beef dish in the slow cooker. In fact, you can even use your Instant Pot. Simply slow cook for six hours instead of pressure cooking it.
The leftovers are well worth keeping as they are delicious the next day. Leftovers should last for roughly three days in the refrigerator or three months in the freezer.
What to Serve with Korean Beef
There are plenty of ways that you can serve this delicious beef. Below are a few recommendations that are worth it.
Noodles work great with this style of dish and are super easy to prepare. The type of noodle that you use is entirely up to you. Some good noodles are udon noodle, soba noodle, or rice noodle.
Rice is an absolute classic and will work perfectly with all the flavors of the sauce and beef. I recommend cooking the rice in a rice cooker for the best results.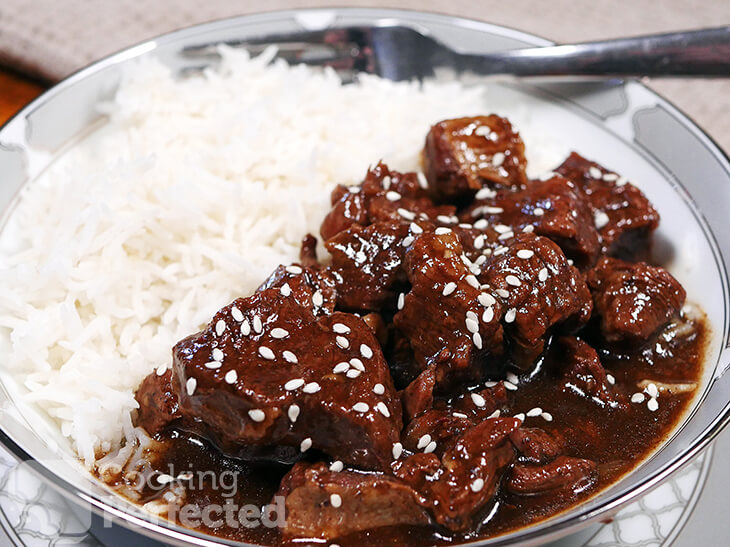 A good alternative to rice is cauliflower rice. Instead of being cooked in water, you typically cook it in a frypan and will only take a few minutes. It is a great healthy alternative that is just as easy to cook as regular rice.
For something completely different, you can try making some mashed potatoes. You will need to spend an extra bit of time in the kitchen to make it unless you use prepared mashed potatoes. Personally, I prefer them as fresh as possible.
Perfecting the Korean Beef
The type of beef that you use is entirely up to you. However, I recommend using a cheap cut of meat such as chuck, brisket, blade, rump, or even sirloin. Of course, the naming of these parts varies from country to country so check with your butcher for the best cut of meat.
You can use honey instead of brown sugar. Using honey will add a slightly different flavor but will still be very nice. You can also tweak other ingredients, such as the amount of chili you use.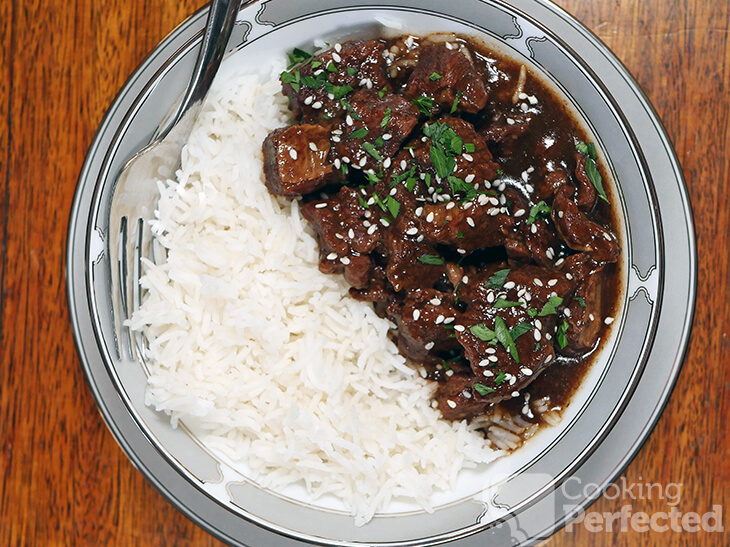 In the recipe, I recommend browning the meat, but if you are feeling lazy, you can simply skip this step. Instead, you can simply add all the ingredients into the pressure cooker and cook for twenty to thirty minutes.
The recipe below has all the information you need to make Korean Beef in the Instant Pot. Be sure to let us know what you think of the recipe.
Instant Pot Korean Beef Recipe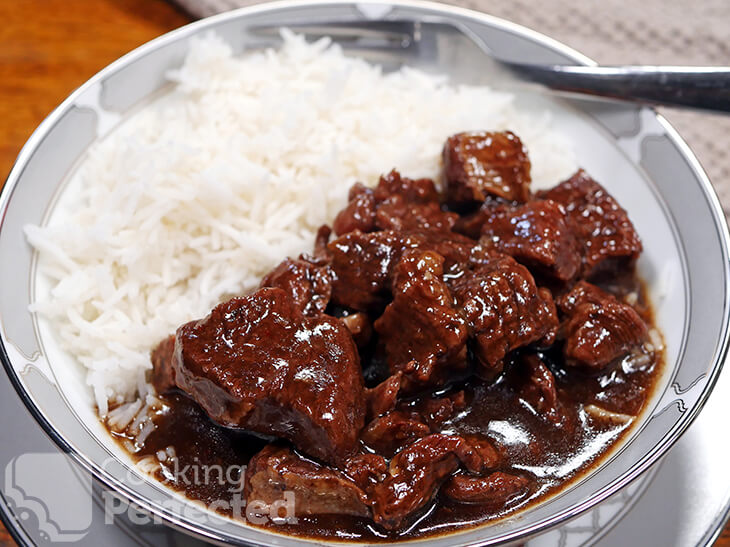 Ingredients
2 Tbsp sesame oil
1 kg (2.2 lb) chuck beef, cut into bite-sized cubes
1 onion, diced
3 tsp garlic, crushed
2 tsp ginger, minced
1 Tbsp rice wine vinegar
125 ml (4.2 fl oz) soy sauce
125 ml (4.2 fl oz) beef stock
½ tsp pepper
½ cup brown sugar
¼ tsp red chili flakes
Thickener
3 Tbsp cornstarch
3 Tbsp water
Instructions
Set the Instant Pot (5.7L/6 qt) to sauté and add the sesame oil.
Add the beef and cook until slightly browned.
Next add the onion, garlic, and ginger. Cook for 2-3 minutes. Switch the Instant Pot off.
Now, add the rice wine vinegar, soy sauce, beef stock, pepper, brown sugar, and chili flakes. Stir slightly.
Seal the pressure cooker and set to pressure cook for 15 minutes.
Allow to sit for 10 minutes before manually releasing the pressure.
Remove the lid and set the Instant Pot to sauté.
Combine the cornstarch and water until smooth. Pour into the Instant Pot and stir until thickened.
Serve & Enjoy.
Recipe Tips
The brown sugar can be replaced with honey.
You may want to skim any excess oil from the top of the sauce before completing step eight. I find it delicious either way.
Use a cheap cut of beef for the best results.
The chili flakes can be removed if you do not like spicy food.
Nutrition Information
Serving Size: 266g (9.4 oz)
Servings Per Recipe: 6
Calories Per Serving: 414
Amount Per Serving
Saturated Fat: 4g
Trans Fat: 0.6g
Dietary Fiber: 1g
Sugars: 22g
Cholesterol: 123mg
Sodium: 474mg
Protein: 36g
The information above is an estimate generated by an online nutrition calculator.
More Instant Pot Recipes
There are loads more Instant Pot recipes that are definitely worth trying. Below is a couple of recipes that I reckon you will like.
An absolute classic is Instant Pot pulled pork. Using the Instant Pot is a great way of making pulled pork as it quickly infuses flavor into the meat. It takes less than two hours which is way faster than eight hours in the slow cooker.
A dessert that I absolutely love is the Instant Pot rice pudding. In minutes you have a deliciously creamy rice pudding loaded with delicious flavors from the cinnamon and vanilla. It is a truly delicious dessert that I highly recommend giving a try.
I hope that you love this Instant Pot Korean beef recipe as much as I do. If you have some feedback, then please do not hesitate to leave a comment below.