The Instant Pot is the perfect appliance for cooking the most delicious beef stroganoff. It is super easy to get right and tastes absolutely delicious.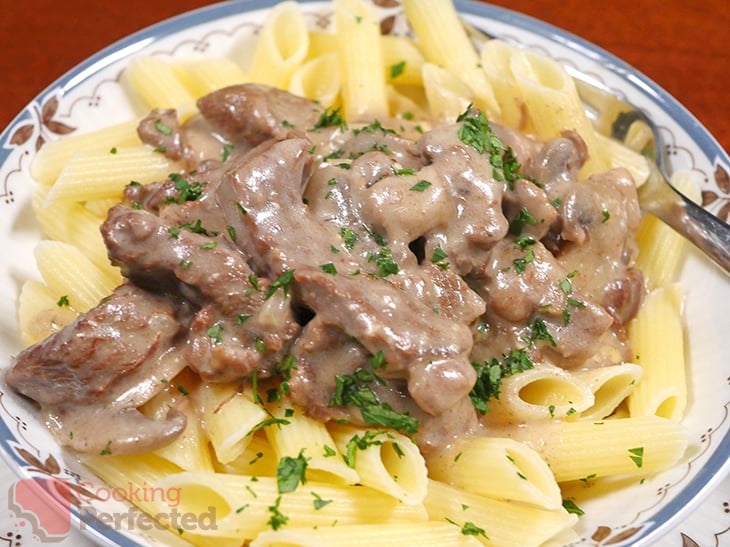 When the stroganoff is ready, the beef will be incredibly tender and the sauce loaded with flavor. I love to serve it with a generous serving of pasta and some homemade garlic bread on the side. It is a truly amazing meal.
A single batch of this delicious stroganoff should feed roughly four to six people. But, of course, it heavily depends on what you serve it with. You may be able to double the recipe, but it depends on the size of your Instant Pot.
Leftover stroganoff can be kept in the refrigerator for roughly three days. You can also freeze the leftovers for about three months. I love having the leftovers for a lazy lunch or dinner.
You can also slow-cook beef stroganoff if you want to get it cooking early on in the day. You can use the slow cook function on the Instant Pot or you can cook in a dedicated slow cooker, or Crock Pot. The final meal is delicious and well worth a try.
Serving Ideas for Beef Stroganoff
There are plenty of side dishes that match perfectly with beef stroganoff. Below are just a couple of ideas that I love. If you have anything to add, please leave a comment at the bottom of this page.
Either noodles or pasta work absolutely fantastic with beef stroganoff. I used penne in this recipe, but most other types of pasta will work great. Many recipes will use fettuccine or angel hair pasta, but it mainly comes down to personal preference.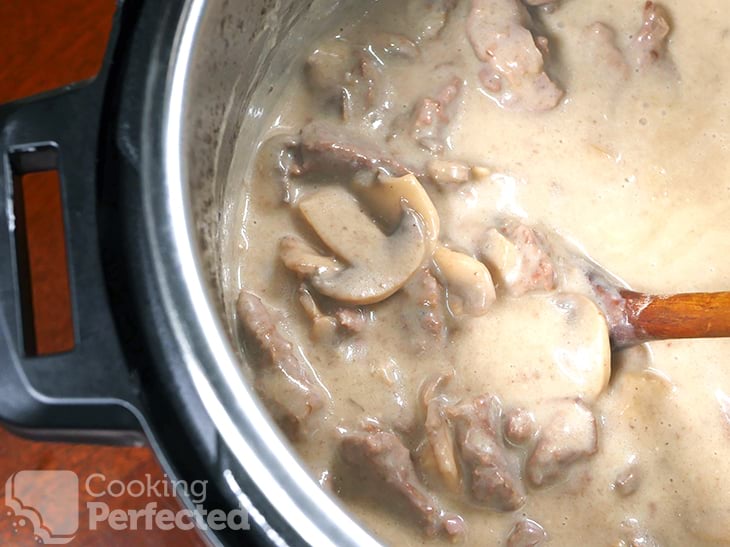 Steamed rice is one of the best side dishes to serve with a stroganoff. I recommend cooking the rice in either a spare Instant Pot or in a rice cooker. You can give cauliflower rice a try if you want something a bit healthier.
Mashed potatoes are the least popular side dish to have with stroganoff but work surprisingly well. A basic combination of potatoes, butter, and a bit of cream usually work great for me. A great healthier alternative to the mashed potato is mashed cauliflower.
Tweaking the Recipe
A popular addition to stroganoff is a teaspoon or two of paprika. It will add a little bit more flavor without overpowering anything else. It is well worth a try if you love the flavors of paprika.
You can easily swap the beef for chicken. The chicken will give the dish a lighter taste and feel. Personally, I think a stroganoff is best made with beef.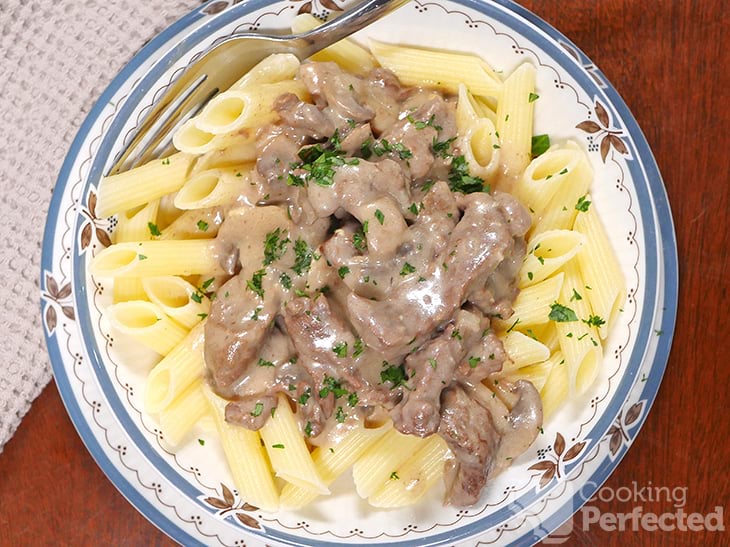 Sour cream imparts a unique flavor to the dish and may not be to your liking. However, you can easily substitute the sour cream for regular cream and still get a ton of flavor. I think it is great either way.
The wine is optional and can be left out of the recipe altogether. However, I find the wine very helpful when deglazing the pan and getting as much flavor as possible.
The recipe below will take you through all the steps to cooking beef stroganoff in the Instant Pot. If you try the recipe, be sure to give us your thoughts by leaving a comment and rating.
Instant Pot Beef Stroganoff Recipe
Ingredients
1 Tbsp cooking oil
1 kg (2.2 lb) chuck beef, thick slices
50 ml (1.7 fl oz) white wine
15 g (0.5 oz) butter
500 g (1.1 lb) mushrooms, sliced
1 onion, diced
2 tsp garlic, crushed
200 ml (6.8 fl oz) beef stock
2 Tbsp Worcestershire sauce
1 Tbsp Dijon mustard
250 ml (8.5 fl oz) sour cream
Thickener
3 Tbsp water
3 Tbsp cornstarch
Instructions
Set the Instant Pot (5.7L/6 qt) to sauté and add the cooking oil.
Cook the beef in batches and season lightly with salt and pepper. Once browned, put the beef to the side.
Deglaze the pan with the white wine.
Next, add butter, mushrooms, onion, and garlic. Cook until the mushrooms have softened.
Return the beef to the pot and add the beef stock, Worcestershire sauce, and Dijon mustard.
Seal the pressure cooker and set to pressure cook on high for 15 minutes.
Allow to sit for 10 minutes before manually releasing the pressure.
Remove the lid and set the Instant Pot to sauté.
Add the sour cream and stir in.
Combine the cornstarch and water until smooth. Pour into the Instant Pot and stir until thickened.
Season with salt and pepper.
Serve & Enjoy.
Recipe Tips
To make this dish gluten-free, simply use gluten-free pasta. Also, double-check the ingredients of the Worcestershire sauce and cornstarch to ensure they do not contain gluten. Some brands add gluten products.
The wine is optional and can be easily left out of the recipe.
Use a cheap cut of beef for the best result. The pressure cooker will tenderize most tough pieces of meat.
You can replace the sour cream with regular cream. The flavor will be slightly different but still be delicious.
Adjusting the amount of cornstarch you use is a great way to alter how thick you want the beef stroganoff.
Beef stock is interchangeable with beef broth.
Nutrition Information
Serving Size: 377g (13.3 oz)
Servings Per Recipe: 6
Calories Per Serving: 375
Amount Per Serving
Saturated Fat: 7.1g
Trans Fat: 0.7g
Dietary Fiber: 1g
Sugars: 3g
Cholesterol: 143mg
Sodium: 351mg
Protein: 39g
The information above is an estimate generated by an online nutrition calculator.
More Instant Pot Recipes
There are plenty more recipes that you can quickly cook in the Instant Pot. Below are a couple more recipes that I highly recommend giving a try.
Our salsa chicken recipe works great in the Instant Pot. It produces some incredibly delicious chicken in a lovely salsa sauce. The chicken and salsa are topped with a generous amount of cheese.
You have also got to give Korean beef a try. It features deliciously tender beef and a sauce that is absolutely loaded with flavor. I love making it as it is so easy to get perfect.
I hope that you love this Instant Pot beef stroganoff as much as I do. If you have some feedback, please do not hesitate to leave a comment below.