This paleo pumpkin soup is perfect if you are looking for a flavor-packed paleo-friendly soup.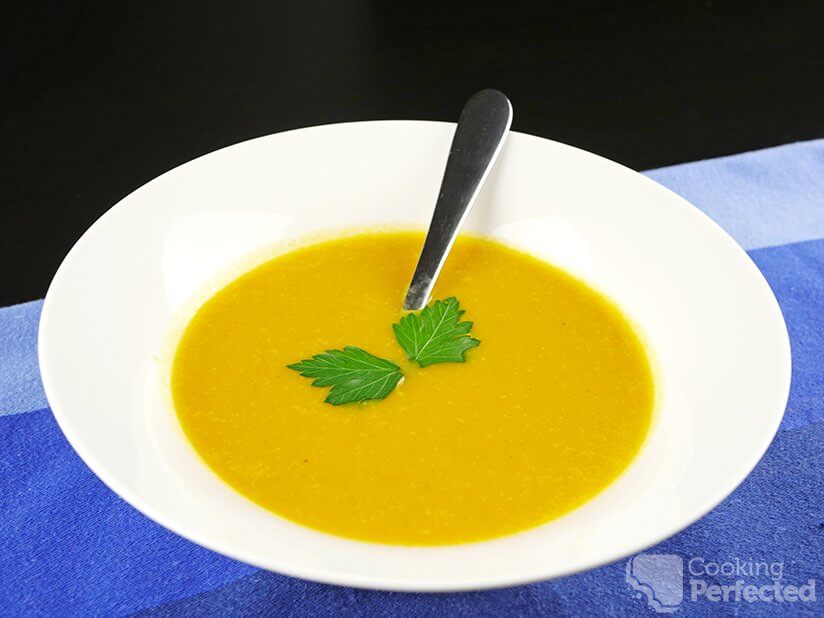 When you taste this soup, you will be greeted with some delicious pumpkin flavors and a touch of spice in the background. The soup is deliciously creamy thanks to the coconut milk. It is undoubtedly a soup that is worth making.
Without adjusting the recipe, you should get roughly eight serves, but this will heavily depend on how hungry people are. You can make some extra side dishes to ensure that it will feed eight people.
You can keep the leftovers for a few days in the fridge, or you can freeze it so it will last even longer. Simply reheat whenever you need a delicious, healthy soup.
Adjusting the Soup Recipe
There are a few ways you can change the soup recipe so that it is more to your liking. Below are a couple of suggestions.
You can use any type of pumpkin for this recipe, but I recommend using butternut pumpkin for the best results. I find it is one of the best-tasting pumpkins around. One downside is butternut pumpkins can be quite a bit more expensive than something like a Kabocha pumpkin.
Adding apple is a great way to add a touch of sweetness to the soup. For this recipe, I would add about one apple that has been cored, peeled, and diced. Alternatively, an unrefined sugar such as honey is a great way to sweeten the soup without drastically changing the flavor.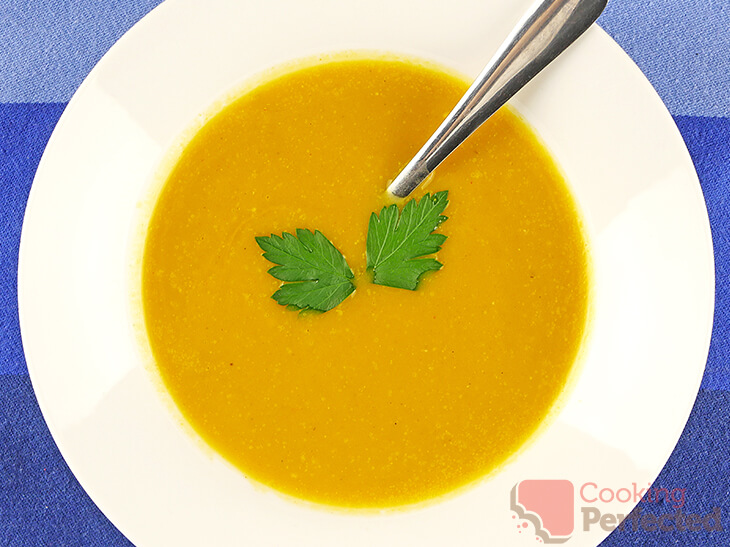 If you like a bit of spice, I recommend adding about one or two diced red chilies. I recommend adding these at the same time as the onion.
My last and probably the favorite variation on this recipe is the addition of some crispy bacon. I prefer crispy bits of bacon in my soup, so if you feel like doing this, cook up some sliced bacon and add this after you have pureed the soup.
What to Serve with Pumpkin Soup
A simple green salad works very nicely as a side dish to this soup. One of my favorite salad combinations is mixed greens with some shaved parmesan and chopped walnuts. However, any salad will work nicely.
For something a little heavier than a salad, you can make some delicious oven-baked sweet potato fries. The fries are surprisingly easy to make and will not take up too much of your time.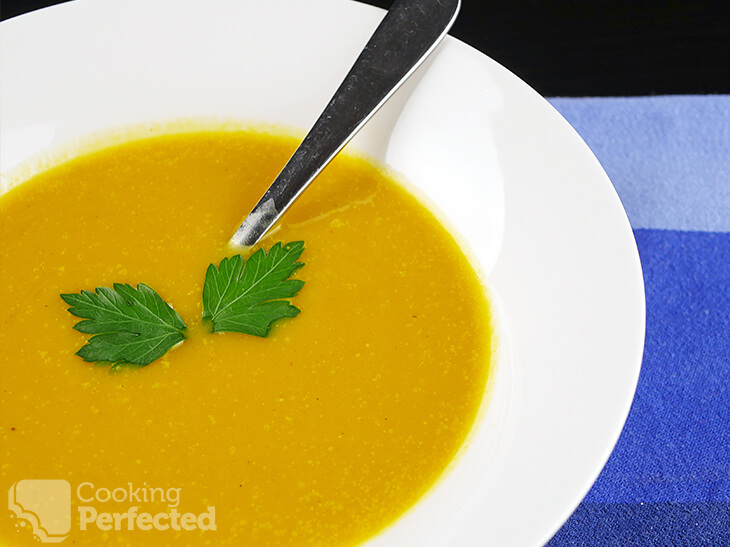 Some almond crumbed chicken is another option as a decent side dish. I love to dip the chicken into the soup for an amazing blend of flavors. I highly recommend giving it a try.
If you want to see how to make this paleo pumpkin soup, then be sure to check out my video below. It takes you through all the steps you need to know to get this recipe prepared, cooked, and ready to serve.
Paleo Pumpkin Soup Recipe
Ingredients
1 onion, diced
1 tsp garlic, crushed
2 carrots, cubed
6 cups pumpkin, cubed
4 cups chicken stock
1 tsp cumin, ground
1 tsp paprika
2/3 cups coconut milk
Instructions
Over medium heat, add one tablespoon of coconut oil to a deep pot.
Add the onion, garlic and cook for 2-3 minutes.
Next, add the pumpkin, carrot, and cook for a further 5 minutes.
Add the chicken stock, cumin, paprika, and bring to the boil.
Once at the boil, reduce to a light simmer and cook for 30-40 minutes.
Using either a stick blender or food processor, blend the mixture until it is smooth.
Return to the saucepan and add the coconut milk.
Heat the soup until it is hot again.
Season with salt and pepper.
Serve & Enjoy.
Recipe Tips
Depending on the size of the food processor, you may need to blend this soup in batches. If you are using a stick blender, then you can blend it in the pot.
If you need to cook this in bulk or want to have it cooking for a long time, you can make delicious pumpkin soup in the slow cooker. Just make sure you add the coconut cream at the end of cooking; otherwise, it may split.
The coconut oil can be replaced with any other good paleo-friendly cooking oil.
Nutrition Information
Serving Size: 365g (12.9 oz)
Servings Per Recipe: 8
Calories Per Serving: 127
Amount Per Serving
Saturated Fat: 4.6g
Trans Fat: 0g
Total Carbohydrate: 19.5g
Dietary Fiber: 6.6g
Sugars: 8.4g
Cholesterol: 0mg
Sodium: 406mg
Protein: 3.2g
The information above is an estimate generated by an online nutrition calculator.
More Delicious Soups
Below are some more delicious soups that are well worth making.
If you want a soup with a bit more meat in it, you should check out the healthy chicken soup where everything is made from complete scratch.
Another soup that I reckon you will love is the cauliflower cheese soup. It is easy to make and has some wonderful flavors. The only downside is that it is not considered paleo-friendly.
If you have any variations that you would like to share for this paleo pumpkin soup, then feel free to leave a comment below.