This delicious chicken korma is a fantastic blend of spices and herbs. The result is an incredible fragrant curry that any curry lover will enjoy.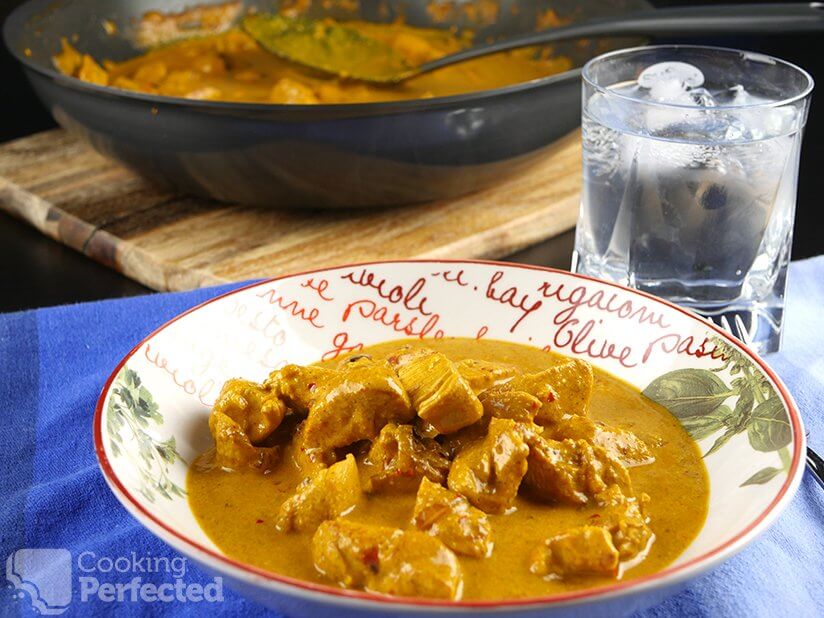 By the time this curry is ready to eat, it will have a lovely aroma and an even better flavor. The chicken will be tender, and the curry sauce will have you going back for seconds. It really is one of the most delicious curries you can make.
The bonus of making a curry paste from scratch is that you know what has gone into it. It's very common to find that most curry pastes and sauces at the supermarket contain non-paleo friendly ingredients.
Adjusting the Curry Recipe
You can bulk out this curry by simply adding some delicious root vegetables. I recommend adding some sweet potatoes, pumpkin, or carrots as these tend to go well in a curry. You may need to increase the cooking time slightly to ensure that the vegetables cook correctly.
One of the best parts of making the korma curry paste from scratch is that you can tweak it to suit your taste buds. For example, you can increase the quantity of a certain spice for a bit more flavor, or if you want more heat, you can increase the amount of chili.
I use chicken breasts in this recipe, but you can use something like chicken thigh instead. You could use a bone-in cut of chicken, but I recommend using boneless for the best results.
If you have any suggestions on how to tweak this recipe, then be sure to leave a comment below.
What to Serve with Chicken Korma Curry
If you're looking for a side to go with this dish, then something like the easy cauliflower rice is perfect. It's very much like traditional white rice but instead is incredibly light and won't leave you feeling bloated. The only downside is that it does require a bit more preparation.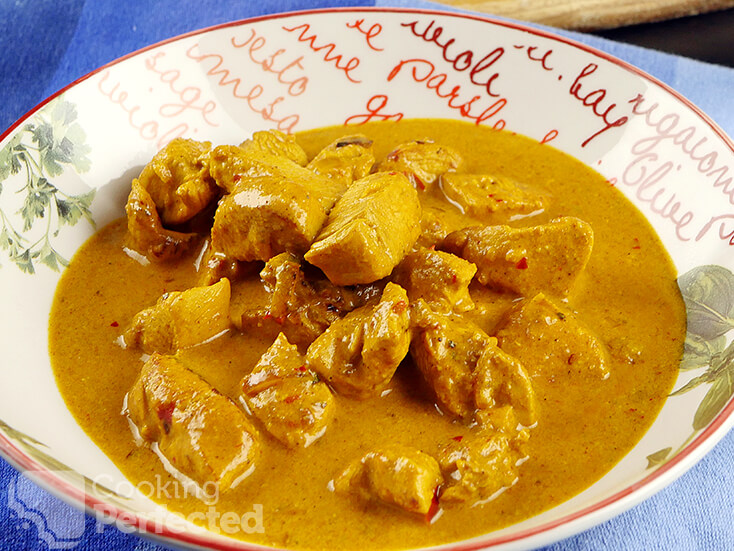 Another option is to make some mashed cauliflower or mashed potatoes. Obviously, if you're sticking to a Paleo or low carb diet, the mashed cauliflower will be the best option.
If you want to see how to make this lovely korma, then be sure to check out the video below. It goes through all the steps to getting this dish perfected.
Chicken Korma Curry Recipe
Ingredients
1 Tbsp coconut oil
1 onion, diced
1 Tbsp ginger, crushed
2 tsp garlic, crushed
½ Tbsp chili powder
1 Tbsp tomato paste
500 g (1.1 lb) chicken breasts, cubed
¼ cup ground almonds
400 ml (13.5 fl oz) coconut cream
125 ml (4.2 fl oz) chicken Stock
Dried Spice Mixture
1 tsp cayenne pepper
1 tsp garam masala
1 tsp turmeric, ground
2 tsp cumin, ground
2 tsp coriander seeds, ground
Instructions
In a frying pan over high heat, add the coconut oil.
Once the oil is hot, add the dried spice mixture, onion, ginger, garlic, chili, tomato paste, and cook until fragrant.
Add the chicken and cook until browned.
Next, add the ground almonds, coconut cream, and chicken stock.
Simmer for 15-20 minutes.
Season to taste using salt and pepper.
Serve & Enjoy.
Recipe Tips
If you find yourself liking this chicken korma recipe, then I recommend making the dry spice mix in bulk. That way you can quickly measure (2 Tbsp) what you need for this recipe.
You can also do this chicken korma recipe in the slow cooker with very few alterations. I do recommend reducing the amount of chicken stock unless you want a soup-like curry.
If you love your curries hot, then try increasing the chili to one tablespoon or more. I found one tablespoon was enough to set my mouth on fire, but this still might not be enough for some people.
You can use any cut of chicken for this dish, but I would stick to something like chicken breast or thigh.
Nutrition Information
Serving Size: 305g (10.8 oz)
Servings Per Recipe: 4
Calories Per Serving: 566
Amount Per Serving
Saturated Fat: 27.3g
Trans Fat: 0g
Total Carbohydrate: 13.1g
Dietary Fiber: 4.4g
Sugars: 5.6g
Cholesterol: 112mg
Sodium: 238mg
Protein: 40.9g
The information above is an estimate generated by an online nutrition calculator.
More Curry Recipes to Try
If you're a huge fan of curries, then you should also check out the butter chicken. Much like this dish, the butter chicken also uses a homemade curry paste and is packed full of flavor, it's well worth checking out.
Another recipe that I can highly recommend trying is the curried sausages. It's the perfect meal that will feed a crowd but also be super delicious.
I hope that you enjoy this delicious chicken korma curry. If you come across any issues or have some feedback that you would like to share, then please don't hesitate to leave a comment below.