I love using the air fryer for cooking my favorite frozen spring rolls. They turn out hot, crunchy, and absolutely delicious.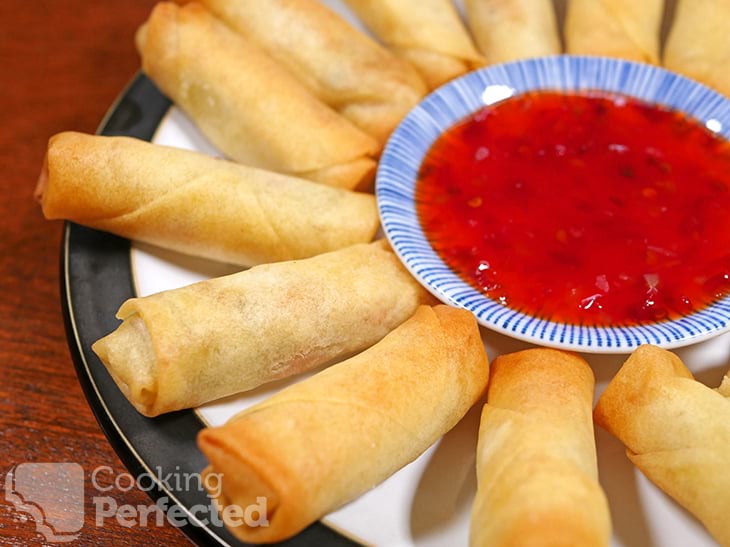 These spring rolls have lovely crispy skin and are filled with a delicious range of vegetables. I find that the quality of the spring roll will vary heavily between brands. My personal favorite brand is Ho Mai.
The Chinese spring roll can vary heavily depending on which region they originate from. Typically, the spring roll involves some type of wrapper and a delicious filling that is usually a combination of meat and vegetables.
Depending on where you live, spring rolls might go by different names. For example, sometimes they are known as loempia (Netherlands and Belgium), Frühlingsrolle (Germany, France, and Poland), or Arrolladitos primavera (Argentina).
A single batch of these spring rolls should be enough to feed four people. If you are feeding a crowd, I highly recommend that you make some more food. Alternatively, you can double or triple the number of spring rolls.
Spring Roll Side Dishes
Spring rolls go great with a delicious range of condiments. For example, sweet chili sauce, ketchup, mayonnaise, soy sauce, or even BBQ sauce will work great. My personal favorite is soy sauce.
There are loads of foods that will match perfectly with these spring rolls. If you want more finger food, then foods such as Tater Tots, steak fries, chicken tenders, or pizza scrolls will work best.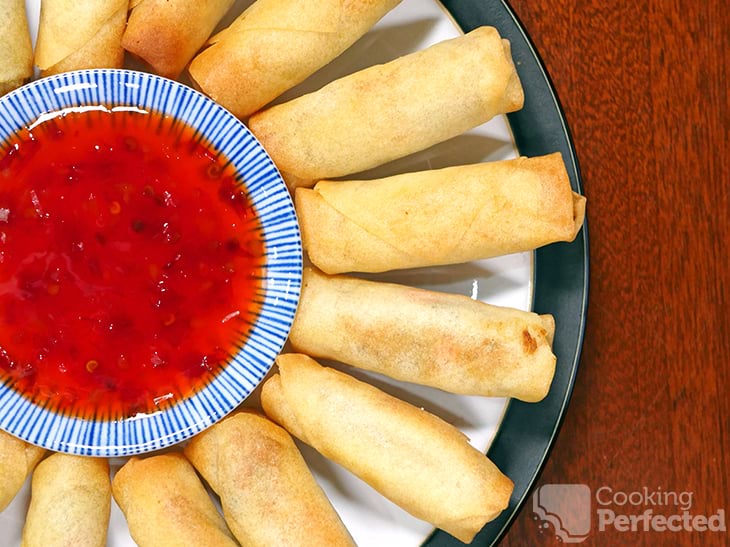 If you live in Australia, dim sims or Chiko rolls will go perfectly alongside these spring rolls. You can also cook them in the air fryer. Just remember not to overload the air fryer with food.
A refreshing green salad will go very nicely with spring rolls. A simple combination of sliced carrot, baby spinach leaves, red onion, and a light salad dressing will work very nicely. For a heavier meal, you can try making a potato salad.
The recipe below will take you through all the steps to cooking these frozen spring rolls in the air fryer. If you have some feedback, please do not hesitate to leave a comment at the bottom of this page.
Air Fryer Frozen Spring Rolls Recipe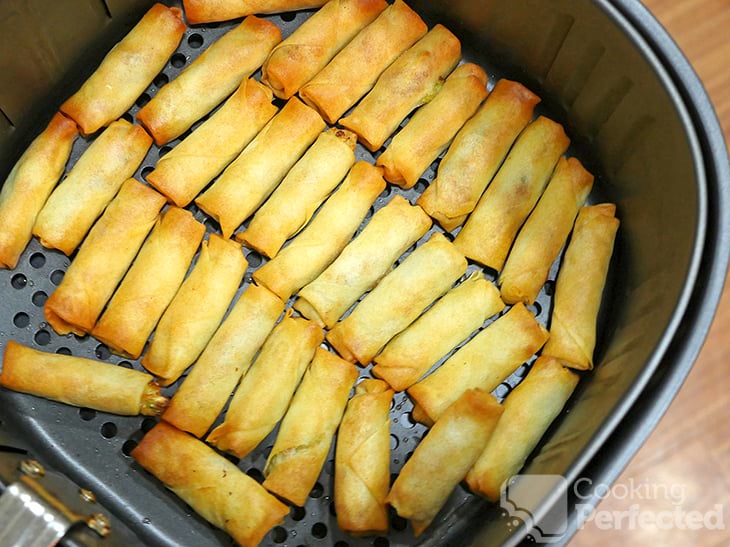 Ingredients
30 frozen spring rolls
1 tsp cooking oil
Instructions
Preheat the air fryer to 200°C (390°F). It will take roughly five minutes.
Place the frozen spring rolls into the air fryer making sure they do not overlap.
Lightly spray the spring rolls with the cooking oil.
Cook for 15 minutes or until crispy. Turn halfway through.
Serve & Enjoy.
Recipe Tips
The extra oil will help ensure the outside of the spring rolls become crispy. Leaving the oil out of the recipe will be fine if you want to keep things healthier.
You can flip the spring rolls halfway through cooking for a more even cook. However, this is entirely optional.
Thirty spring rolls is an estimate, and you may find that you can fit more into your air fryer. Whatever you do, make sure you do not stack the spring rolls for the best result.
The spring rolls that I use in this recipe are cocktail size. If you are using larger spring rolls, you may need to reduce the quantity.
Frozen spring rolls can vary heavily in terms of nutritional information. Below is an estimate, but for accurate information, please refer to the product box.
Nutrition Information
Serving Size: 120g (4.2 oz)
Servings Per Recipe: 4
Calories Per Serving: 264
Amount Per Serving
Saturated Fat: 4.9g
Trans Fat: 0g
Total Carbohydrate: 37.8g
Dietary Fiber: 0g
Sugars: 2.9g
Cholesterol: 0mg
Sodium: 581mg
Protein: 4.9g
The information above is an estimate generated by an online nutrition calculator.
More Amazing Air Fryer Recipes
We have loads of recipes for cooking food in the air fryer. Below are a couple of delicious recipes that might interest you.
I love cooking pork belly in the air fryer. The pork belly cooks to have a beautiful crackling and incredible succulent meat. The soy glaze helps take the pork to a whole new level, so I highly recommend that you make that as well.
Cooking frozen pizza in the air fryer is probably one of the easiest things you can do. You will need to be cautious of the size of the pizza as you may need to halve or quarter it for it to fit into the air fryer.
I hope that the frozen spring rolls cook perfectly in the air fryer as they did for me. If you have any recommendations, please leave us a comment below.