The air fryer is a great way to cook some frozen dumplings till they are crispy and delicious.
A dumpling refers to a wide range of dishes that typically consist of a doughy wrapper and usually a filling, but it can be purely dough. You can bake, steam, boil, air fry, or pan fry the dumplings to your liking.
For this recipe, we use dumplings that are like potstickers, gyozas, or wontons. However, the same steps will work for most dumplings so feel free to use them and let us know how you go.
The result of this recipe will heavily depend on the brand of dumplings you buy from the supermarket. I try to stick to what I know and love, and it usually works well. For this recipe, I used pork and spring onion dumplings.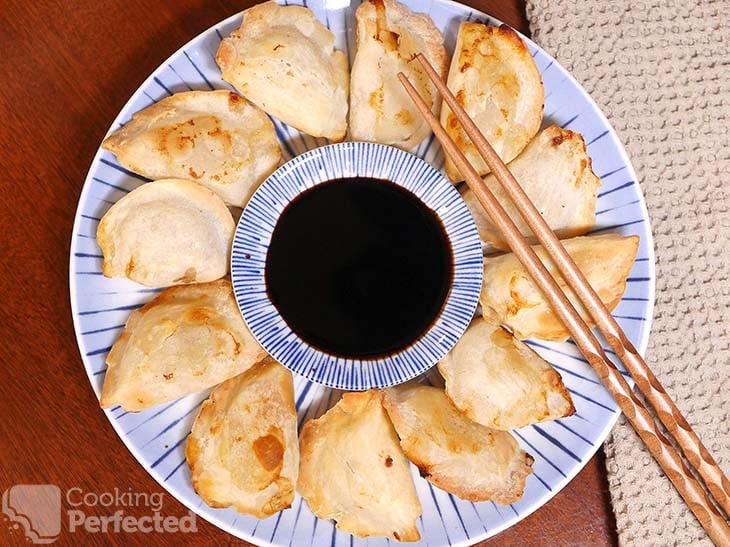 A single batch of this recipe should cook enough dumplings to feed roughly four people. However, it heavily depends on whether they are big eaters and if you are cooking extra side dishes to go with the potstickers. I love to serve them as either an appetizer or main meal.
These dumplings will go great with a huge variety of side dishes such as fried rice, stir-fries, chicken soup, sauteed Chinese broccoli, and so much more.
Dipping Sauce Ideas for Dumplings
Loads of dipping sauces match perfectly with dumplings. Below are a few of my favorite condiments that I highly recommend giving a try.
Regular soy sauce is the perfect match for dumplings. I recommend filling a small ramekin with soy sauce and gently dipping the dumplings into the sauce. You will need to be careful as soy can be very overpowering.
One of my favorite dipping sauces is sweet chili sauce. You can drizzle the sweet chili over the top of the dumplings or serve it in a ramekin. Either choice will let you control how much impact the sweet chili will have on the dumplings.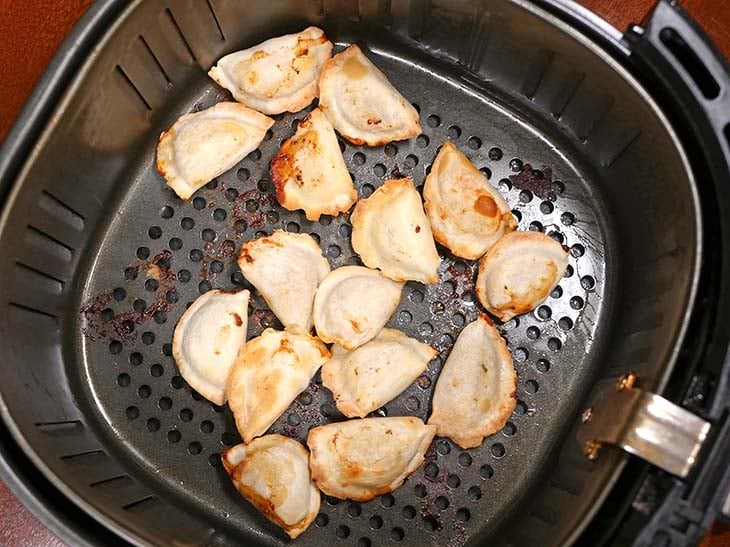 Teriyaki sauce is another condiment I have to recommend giving a try. Much like the sweet chili and the soy sauce, I recommend serving it in a ramekin and gently dipping the dumpling into the sauce as you eat. You can make teriyaki sauce at home. Otherwise, the store-bought sauce is pretty good.
If none of the above take your fancy, then you can give other sauces such as ranch dressing, BBQ sauce, or even tomato sauce a try. They will all go nicely with the dumplings, but you may need to be careful not to overpower the flavors of the dumpling filling.
The recipe below takes you through all the steps to cooking frozen dumplings in the air fryer. If you have some feedback, please do not hesitate to leave a comment at the bottom of this page.
Air Fryer Frozen Dumplings Recipe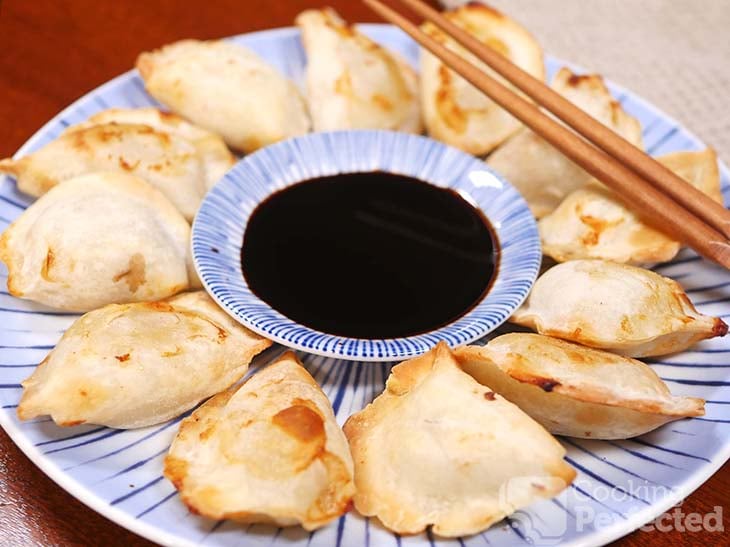 Ingredients
12 frozen dumplings
1 tsp cooking oil
Instructions
Preheat the air fryer to 180°C (350°F). It will take roughly five minutes to heat up.
Add the frozen dumplings into the air fryer basket. Lightly spray or brush with oil.
Cook in the air fryer for 8 minutes. Shake or flip the dumplings halfway through cooking.
Serve & Enjoy.
Recipe Tips
This recipe will work for most types of dumplings, such as frozen potstickers. You may need to adjust the cooking times, so they are perfect for your tastes.
Compared to other cooking methods, the dumplings will turn out crisper and a lot crunchier from cooking in the air fryer.
Spraying the dumplings with a cooking oil such as canola or vegetable oil is best to achieve a crispy outside. If you do not use oil, they may go very dry on the outside.
I recommend not stacking the dumplings in the air fryer basket as it may cause inconsistent cooking. Try to keep them all as a single layer.
If you thaw the dumplings beforehand, you will need to reduce the cooking time slightly. You will likely only need four minutes in the air fryer if the dumplings are no longer frozen.
The nutritional information will vary heavily depending on the brand and type of dumpling you use. Please refer to the packaging for the most accurate information. I used Heavenly Banquet pork and spring onion dumplings.
Nutrition Information
Serving Size: 113g (4 oz)
Servings Per Recipe: 4
Calories Per Serving: 229
Saturated Fat: 2.4g
Trans Fat: 0g
Dietary Fiber: 1.3g
Sugars: 1.6g
Cholesterol: 50mg
Sodium: 310mg
Protein: 9g
The information above is an estimate generated by an online nutrition calculator.
More Air Fryer Recipes
The recipes below are some of my favorite frozen foods to cook in the air fryer.
The air fryer is perfect for cooking some frozen spring rolls quickly. The spring rolls are a great choice to serve alongside these dumplings, but I recommend cooking them in a separate air fryer.
If you live in Australia, then you must try cooking dim sims in the air fryer as they cook to be delicious. The dim sims will have deliciously crispy skin and taste amazing. I highly recommend giving them a try.
I hope that your frozen dumplings cook great in the air fryer. If you have some feedback, please do not hesitate to leave a comment below.