There are many different frozen foods that you can cook in the air fryer with very little effort. It is perfect when you are feeding a couple of people and do not need the size of a traditional oven.
Frozen foods are one of the best convenience foods that you can buy. They are great for snacks, side dishes, or even a full meal. Instead of the microwave, you can use the air fryer to achieve delicious crispiness that will please almost anyone.
I love using our air fryer as it takes very little time to heat and will cook food much faster than most other methods. From my experience, it is very good at cooking frozen food, so it is perfectly golden brown and deliciously hot.
The cooking times in each recipe may vary depending on the size of your air fryer and the size of your frozen food. With that said, our times should be rough enough to be within a few minutes of the final cooking time.
Below are just a few examples of the best frozen foods you can cook in the air fryer.
Frozen Burgers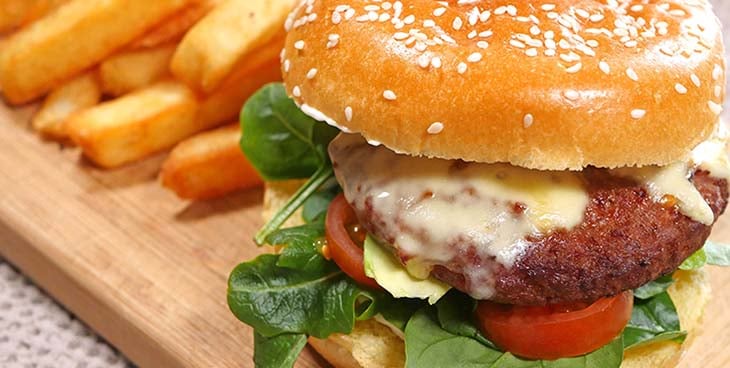 The air fryer is perfect for cooking some frozen hamburgers to perfection. With a little bit of extra work, you can easily make a burger that beats most restaurants.
Frozen Pizza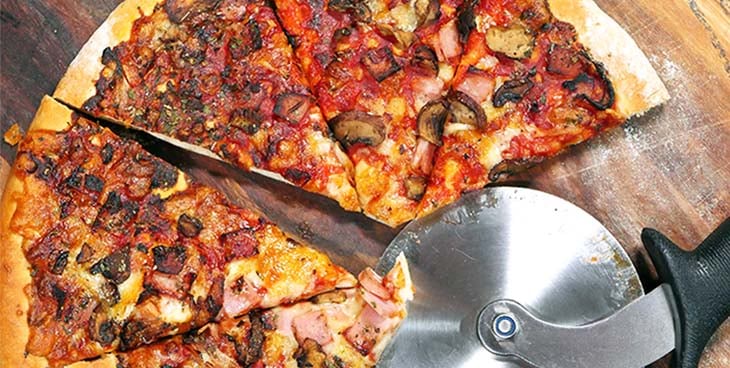 Firstly, you will need to make sure your air fryer is big enough. If it is, you can quickly cook a frozen pizza to perfection. I love following this recipe whenever I only need to feed one or two people.
Frozen Fish Sticks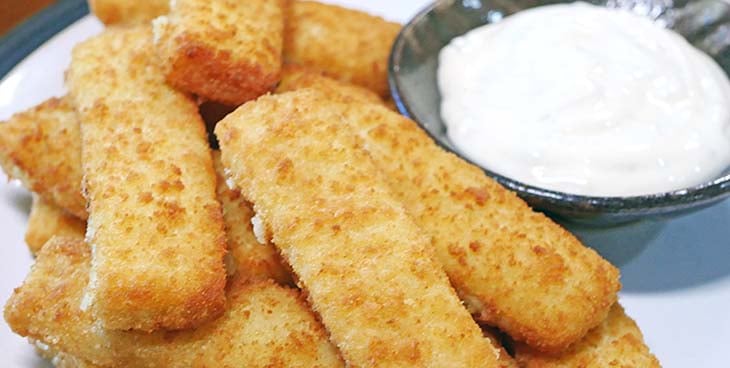 Using the air fryer is the perfect way to cook frozen fish sticks till they are crispy and deliciously hot. Then, I love eating them with either some homemade or store-bought tartar sauce.
Frozen Mozzarella Sticks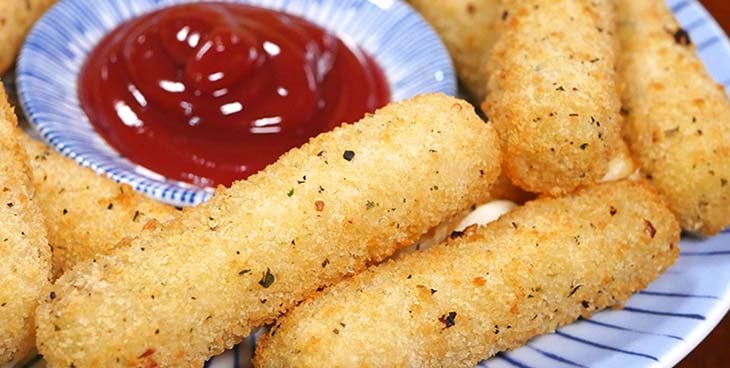 You will be surprised how well the air fryer can cook frozen mozzarella cheese sticks to perfection. The sticks end up deliciously gooey on the inside and perfectly crispy on the outside.
Frozen Tater Tots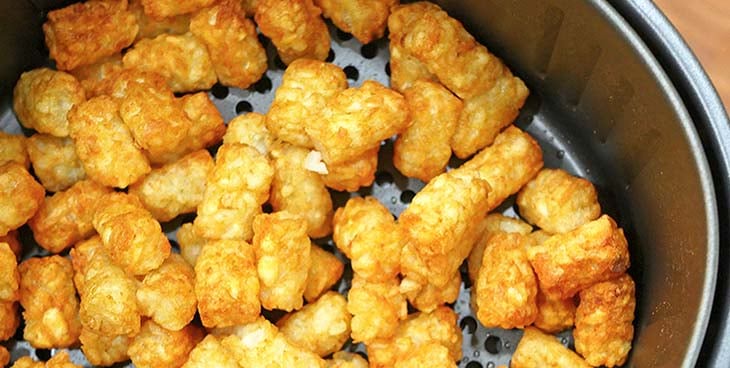 Tater Tots are hugely popular and are the perfect food to cook in your air fryer. You may know them as potato royals, potato gems, or even potato croquettes. They taste great with some dipping sauces.
Frozen Chicken Nuggets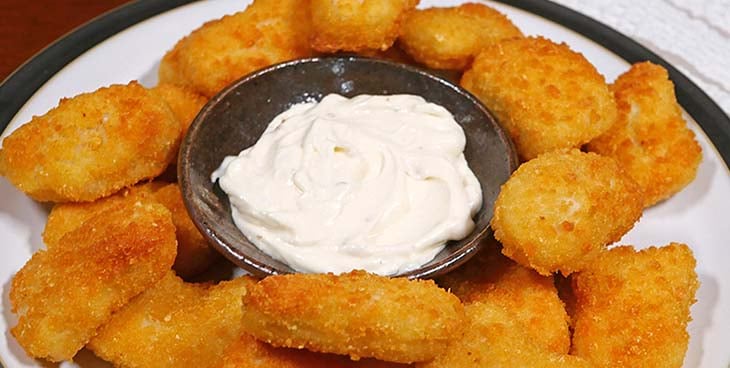 Chicken nuggets are an all-time favorite and will be your new ideal food to cook in the air fryer. The crust cooks to be crispy, and the chicken will be deliciously hot. I highly recommend them.
Frozen Hash Browns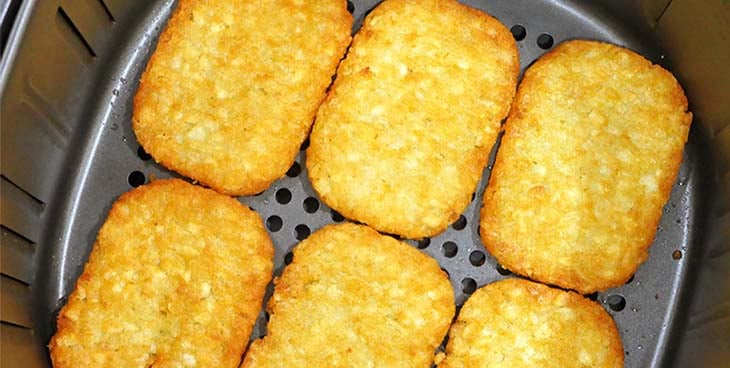 I love using my air fryer for cooking frozen hash browns until they are golden brown and have a delicious crunch. Even better, they cook much faster than in the traditional oven.
Frozen Spring Rolls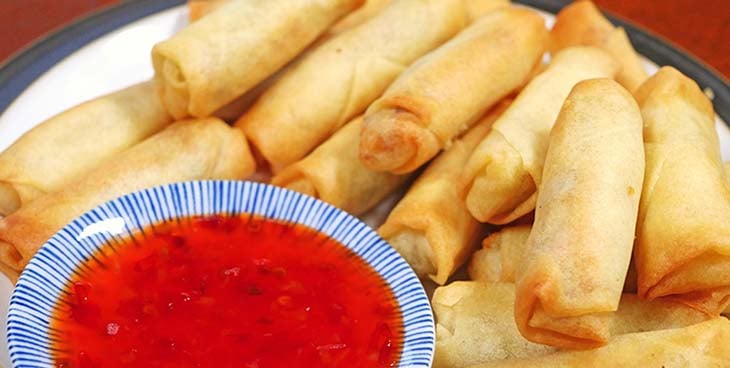 These delicious rolls of flavor cook great in the air fryer and are the perfect party food. I love to serve spring rolls with some sweet chili sauce or soy sauce. Certainly, worth a try.
Frozen French Fries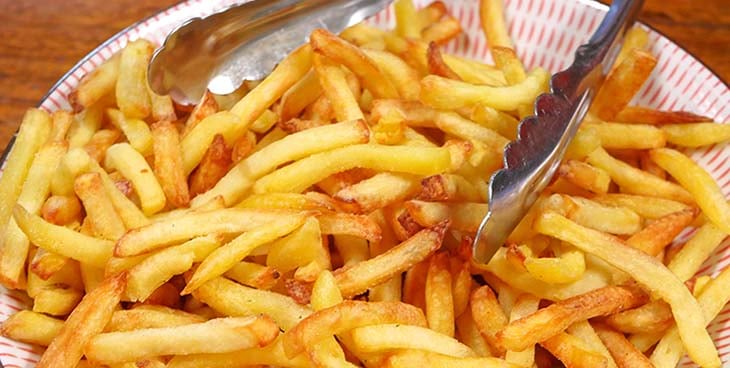 You can have incredibly delicious cooked French Fries in just under twenty minutes by using the air fryer. It is a much healthier method of cooking fries than using a deep fryer.
Frozen Chicken Tenders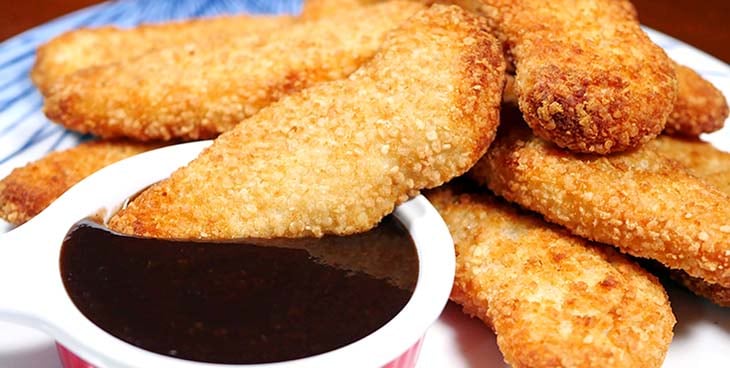 Frozen crumbed chicken tenders are an all-time favorite and cook perfectly in the air fryer. I love to serve these delicious chicken strips with some BBQ sauce, mayonnaise, or ranch dressing.
Frozen Meatballs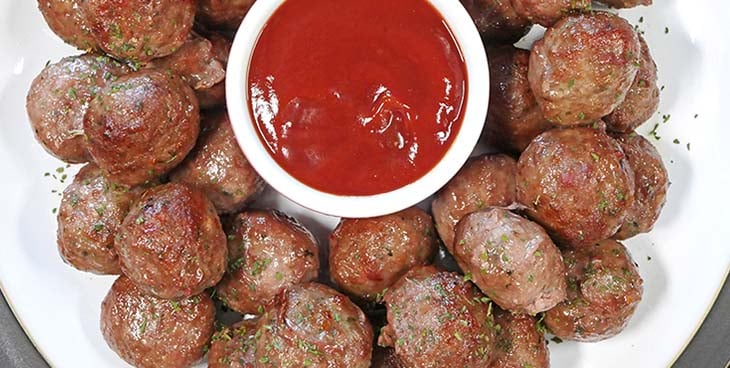 Cooking frozen meatballs in the air fryer is an excellent idea as you can prepare a meatball sauce in a frying pan while they cook to perfection. Alternatively, they are great as finger food.
Frozen Chicken Wings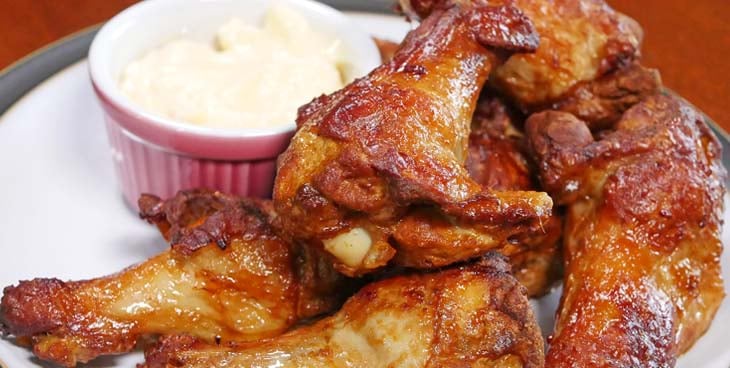 There are so many different marinades that work great on chicken wings, and they will all equally cook great in the air fryer. So, pick your favorite type and have them ready to eat in no time at all.
Frozen Corn Dogs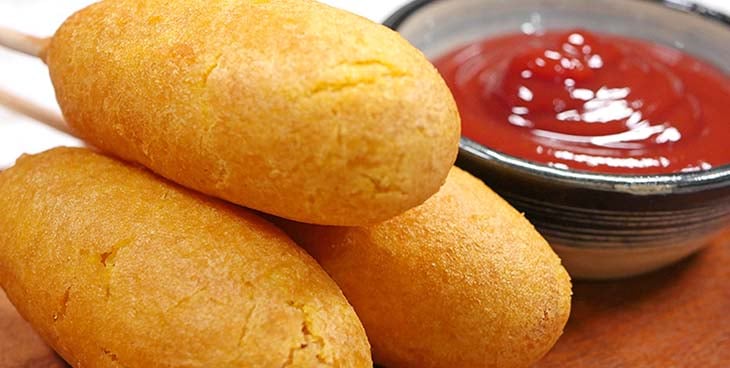 Cooking corn dogs in the air fryer is the perfect way to get a crispy texture on the outside and a deliciously hot inside. I recommend serving this delicious finger food with some ketchup.
Frozen Onion Rings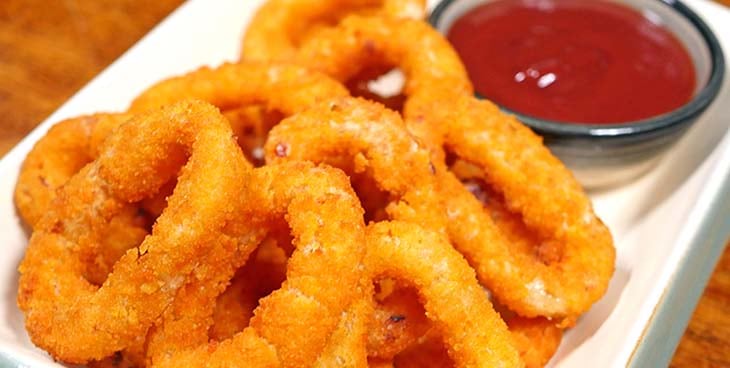 As you have probably realized, you can basically cook almost any type of frozen food in the air fryer, and onion rings are no exception. They are the perfect side dish to some burgers.
Frozen Cauliflower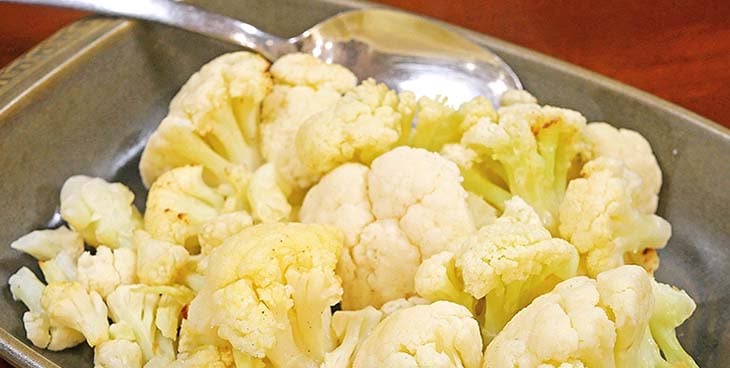 Cooking frozen cauliflower in the air fryer is the perfect way to defrost it and have it crisp slightly. In addition, you can easily add some extra flavoring such as herbs, sauces, and more.
Frozen Chicken Kievs
The air fryer is perfect for cooking some frozen chicken kievs to perfection. In less than thirty minutes, you will have some delicious tasting kievs that ooze with flavor. A couple of side dishes will go perfectly with the chicken.
Frozen Dumplings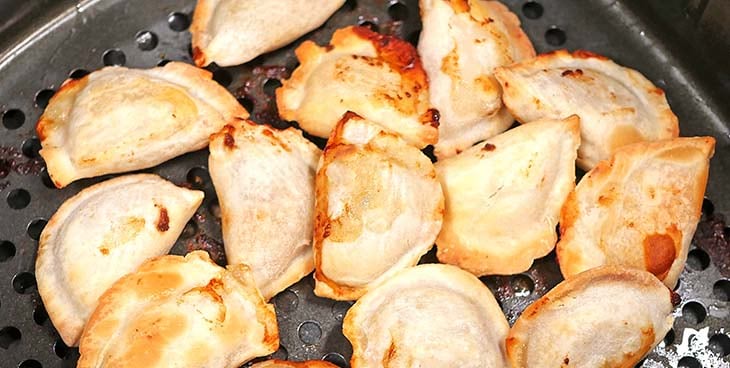 I love using the air fryer to cook some dumplings until they are hot and crispy. They go great with a couple of dipping sauces, with my favorites being soy sauce and sweet chili sauce. I highly recommend giving these dumplings a try.
Frozen Pigs in a Blanket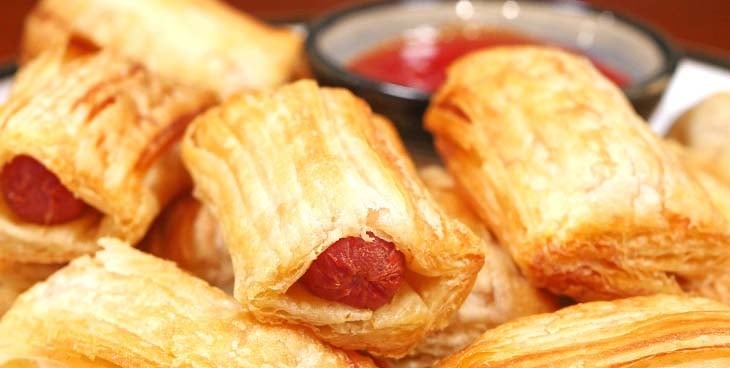 Using the air fryer is the fastest and easiest way to have some frozen pigs in a blanket ready in no time at all. These delicious sausages wrapped in pastry are best served with some sauces and side dishes. I love dipping them into some ketchup.
Frozen Sweet Potato Fries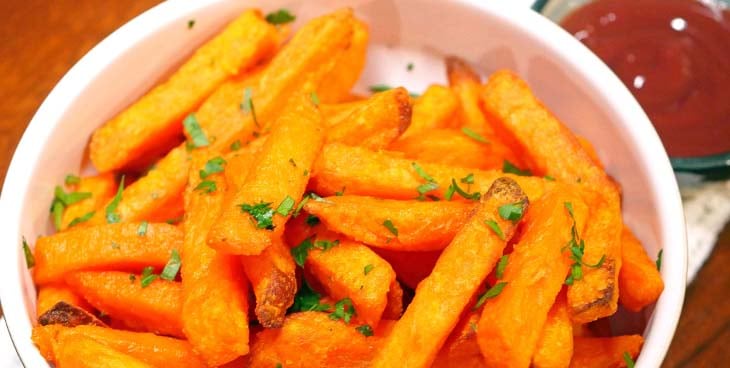 I love using the air fryer to cook frozen sweet potato fries as it cooks them quickly and perfectly every time. These fries go great with a huge range of delicious dipping sauces such as ketchup or mayonnaise.
Frozen Potato Wedges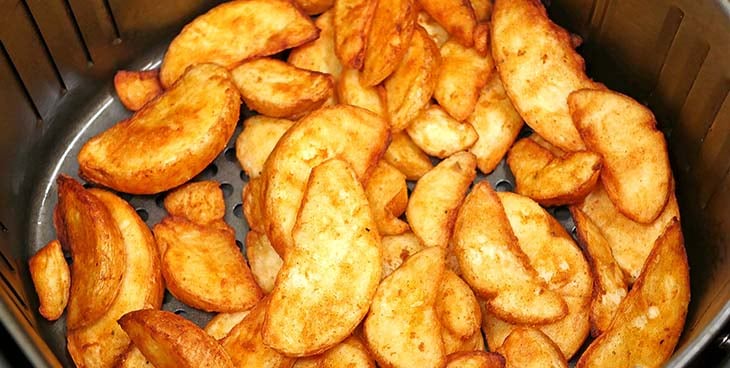 Potato wedges are another great food that you can cook from frozen in the air fryer. I recommend serving the wedges with some condiments such as sour cream and sweet chili sauce.
More Air Fryer Recipes
I hope that you love these frozen food ideas for the air fryer as much as I do. If you try any of these recipes, you will see why the air fryer is a great kitchen appliance for cooking frozen foods until they are deliciously crispy and loaded with flavor.
We have plenty more air fryer recipes that are homemade and well worth checking out.