Using an air fryer to cook frozen chicken kievs is a great way to have an incredibly delicious meal ready fast with minimal effort.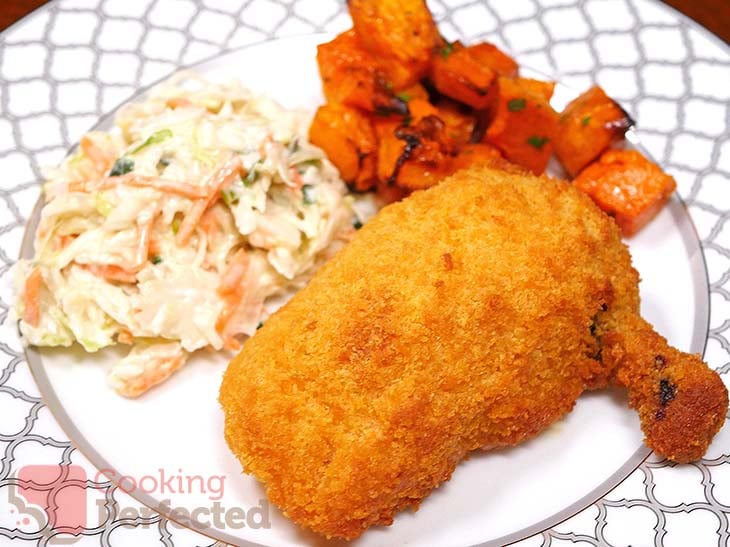 A chicken kiev is typically a chicken breast stuffed with butter, herbs, and garlic. The chicken is also coated with breadcrumbs and then either fried or baked. Since they are typically quite labor-intensive to make, it is a popular item to buy frozen or pre-prepared.
When the chicken is ready to eat, the breadcrumbs will be golden brown, and the filling inside the kiev should be hot and gooey. I recommend serving the chicken with a variety of delicious side dishes.
I typically get roughly four servings without having to adjust the recipe. However, I always serve some side dishes to go along with the chicken kievs. You can easily cook more kievs, but you may need a bigger air fryer.
What to Serve with Chicken Kievs
There are plenty of potato side dishes that match perfectly with these chicken kievs. My favorite is some freshly air-fried fries or thick-cut chips. Both of these will cook great in the air fryer. Alternatively, some Hasselback potatoes are delicious too.
To compliment the potatoes and kievs, you can make a delicious salad. I love making a basic salad that consists of lettuce, tomato, cucumber, avocado, and red onion. However, a homemade potato salad or coleslaw is absolutely delicious.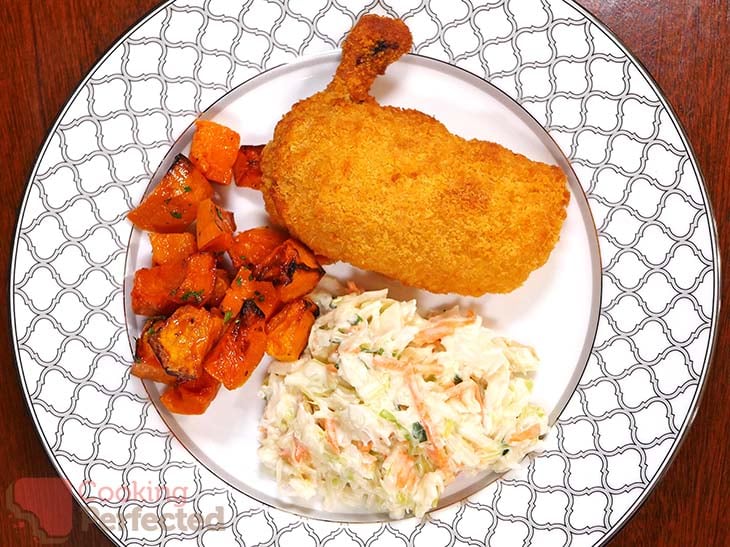 A popular way to serve the kiev is on the top of some mashed potatoes. I prefer homemade, but store-bought mashed potatoes will also work. Of course, for something a bit healthier, you can always make some mashed cauliflower instead.
Steamed vegetables such as broccoli, green beans, or sugar snap peas are a fantastic healthier side dish you can have with the chicken. I love to finish the vegetables with a drizzle of either olive oil or melted butter.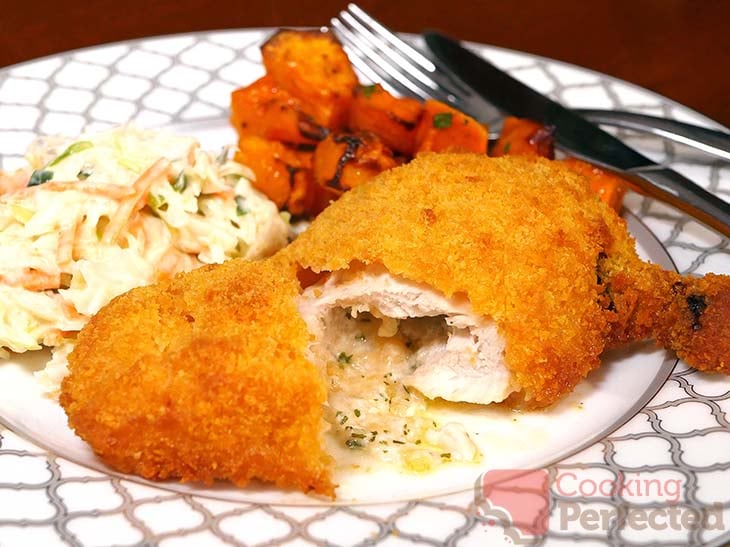 The recipe below will take you through the easy steps to cooking some frozen chicken kievs in the air fryer. Please do not hesitate to leave feedback at the bottom of this page.
Air Fryer Frozen Chicken Kievs Recipe
Ingredients
4 large frozen chicken kievs
2 tsp cooking oil
Instructions
Preheat the air fryer to 180°C (350°F). It will take roughly five minutes to heat up.
Place the frozen chicken kievs into the air fryer basket and lightly coat with the cooking oil.
Cook for 20 minutes or until golden brown and the internal temperature is at least 75°C (170°F).
Serve & Enjoy.
Recipe Tips
I use the cooking oil to help achieve a better cook on the chicken, but it can be left out of the recipe if you do not want to use it.
Use a meat thermometer to check whether the internal temperature of the chicken has reached at least 75°C (170°F).
I cook the kievs from frozen, so you may need to decrease the cooking time if you have already thawed yours.
Larger or smaller kievs may cook faster or slower than the recommended time in this recipe.
I do not recommend overcrowding the air fryer as it will lead to inconsistent cooking.
For the best results, stick to a brand of frozen chicken kievs that you know and love.
Please refer to the box of your frozen kievs for the most accurate nutritional information.
Nutrition Information
Serving Size: 153g (5.4 oz)
Servings Per Recipe: 4
Calories Per Serving: 178
Saturated Fat: 4.6g
Trans Fat: 0g
Dietary Fiber: 0g
Sugars: 1g
Cholesterol: 73mg
Sodium: 318mg
Protein: 12g
The information above is an estimate generated by an online nutrition calculator.
More Air Fryer Frozen Food Recipes
There are loads more frozen foods that cook great in the air fryer. Below are a couple of my favorite recipes that I reckon you will love.
The air fryer is the perfect way to cook some frozen chicken tenders to perfection. You may also know chicken tenders as chicken strips. They are delicious in a sandwich with mayonnaise, lettuce, and tomato.
I love using my air fryer to cook some frozen chicken nuggets. It is a great way to have some nuggets cooked and ready for eating quickly. I highly recommend serving the nuggets with a few dipping sauces, such as BBQ sauce or sweet and sour sauce.
I hope that your frozen chicken kievs cook perfectly in the air fryer, just like mine did. If you have some feedback, then please do not hesitate to leave a comment below.