These easy muffins bake to be light, fluffy and loaded with flavor. The best part is they are super easy to get right and taste absolutely delicious.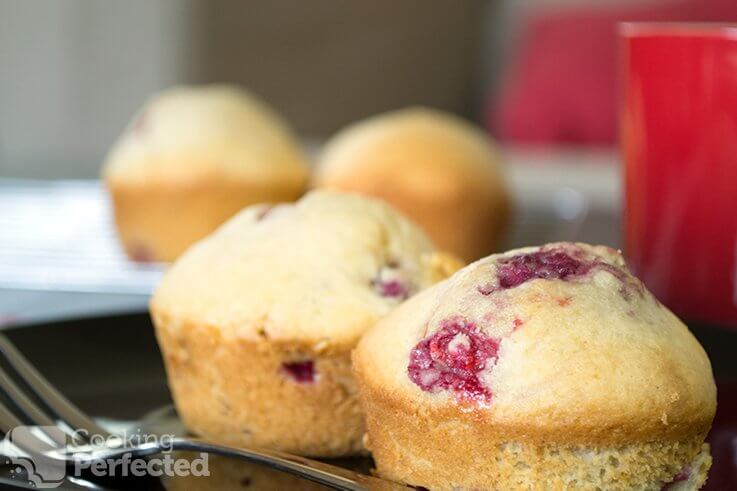 These muffins should bake to be a lovely golden color and have plump bits of fruit throughout them. I made use of raspberries, but you can add any type of fruit that you want. I highly recommend that you give this recipe a try.
Baking is one of the hardest methods of cookery to master. This easy recipe will help you make some delicious muffins without needing to put lots of time in. You can add any type of sweet ingredients to help add a bit more flavor to the muffins.
This recipe is slightly different from most as we use mayonnaise. The mayo helps keep the muffins moist and make them a little richer. All these benefits are thanks to the egg, vinegar, and oil that make up a traditional mayonnaise.
You will get eight decent-sized muffins out of a single batch of this recipe. However, this number may vary depending on the size of your muffin tin. I would aim for roughly two muffins per person, so you may need to adjust the recipe if you are cooking for more than four.
Changing the Flavors of the Muffins
A whole range of different flavorings works excellent with this straightforward muffin recipe. Below are a couple of examples of what you can do.
You can take this recipe one step further by adding some white chocolate chips into the muffin mixture. It is a great way to make some delicious raspberry white chocolate muffins.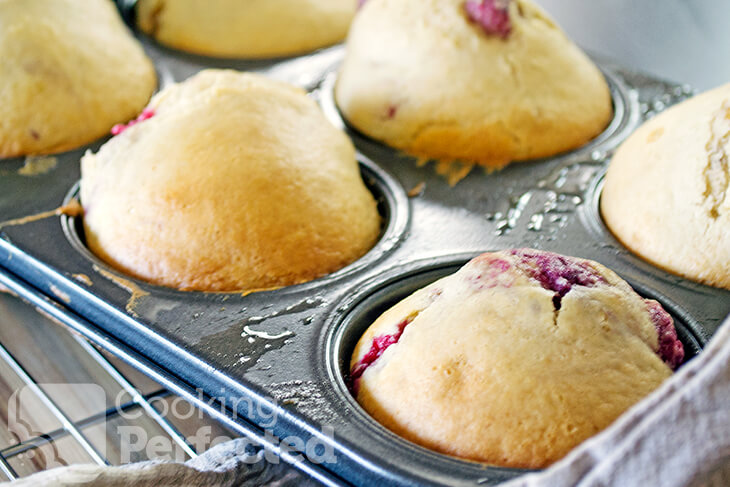 Cinnamon and apple are a classic combination and can easily be worked in with this recipe. Simply add a teaspoon of cinnamon into the muffins along with a cup of grated or chopped apple.
A chocolate chip muffin is super easy to make and essentially involves replacing the raspberries with chocolate chips. You can also add a bit of cocoa powder into the muffin mixture for a double chocolate muffin.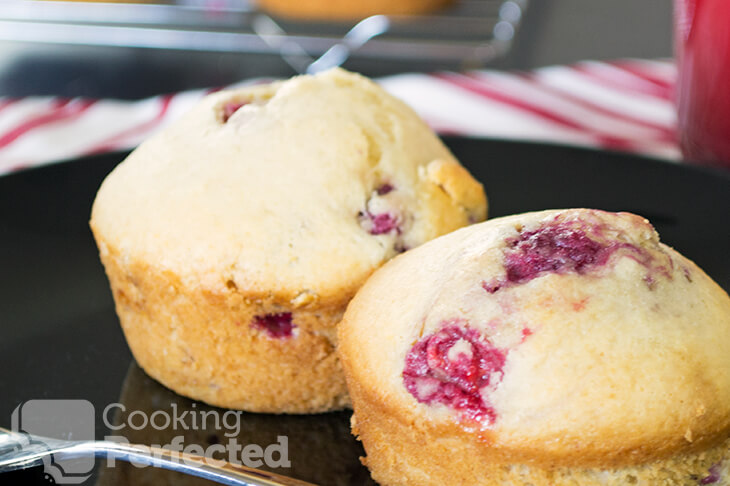 My last recommendation is to replace the raspberries with some blueberries. It is a simple change, but the outcome is very different. If you love blueberries, you might also want to check out our gluten-free blueberry muffins.
If you want to see how to make these easy muffins, then be sure to check out the video below. Alternatively, if you want the text recipe, then you can find it right below the video.
Easy Muffins Recipe
Ingredients
1 ½ cups self-rising flour
¼ cup brown sugar
¼ cup caster sugar
1 Tbsp mayonnaise
1 egg
200 ml (6.8 fl oz) milk
1 cup raspberries
Instructions
Preheat the oven to 180°C (350°F).
Sift the dry ingredients together.
Add wet ingredients and mix until well combined. Try not to overwork the muffin batter.
Fold in the raspberries.
In a greased muffin tin, fill each muffin hole to about three quarters.
Place in the oven and bake for 10-15 minutes or until a skewer comes out clean.
Leave to sit in the tray for about 5 minutes before placing on a cooling rack.
Serve & Enjoy.
Recipe Tips
A skewer is the best way to check if a cake is ready, if it comes out clean, then it is done. If it does not come out clean, then it will need to be cooked longer.
If you have the time, it might be worth putting the dry ingredients through a sieve. This extra step will help your mix rise and produce nice fluffy muffins.
Do not be afraid to add some spices to the muffin mix. For example, if you are cooking apple and cinnamon muffins, some ground cinnamon would work nicely.
Muffins browning too fast are at risk of burning. Grease a piece of foil and place it over your muffins to help prevent the muffins from browning further.
Frozen berries are best slightly thawed. Otherwise, they can affect the overall baking of the muffins.
Caster sugar is sometimes called baker's sugar or superfine sugar. If you have none of those, then regular sugar should also work.
Nutrition Information
Serving Size: 92g (3.2 oz)
Servings Per Recipe: 8
Calories Per Serving: 218
Amount Per Serving
Saturated Fat: 2.8g
Trans Fat: 0g
Dietary Fiber: 2g
Sugars: 18g
Cholesterol: 26mg
Sodium: 42mg
Protein: 5g
The information above is an estimate generated by an online nutrition calculator.
More Cake Recipes
If you love cakes but only need to cook for one, then be sure to check out the easy mug recipes. These recipes are fantastic if you are feeling a bit lazy but want something delicious to eat.
Another recipe that you might be interested in is the gluten-free chocolate cake. It features two very fluffy chocolate cakes with some whipped cream and jam in-between them. Whenever I make the cake, it is always a huge hit.
I hope these easy muffins bake to be as good as they were for me. If you have some feedback, variation, or anything else that you would like to say, then please leave a comment below.