This moist gluten-free chocolate cake is an absolute delight. It is incredibly moist, fluffy, and has flavors that will have you coming back for seconds.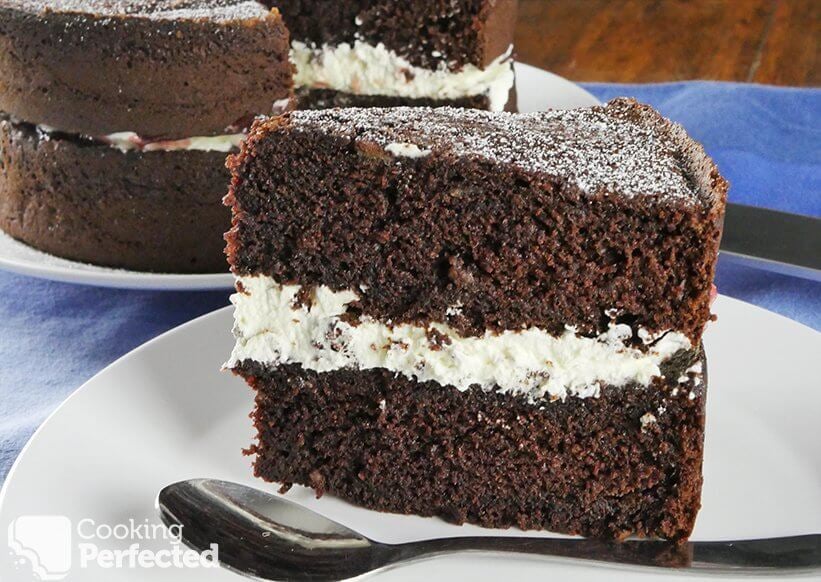 When you pull this cake out of the oven, it will be moist and packed with a delicious range of flavors. The most dominant flavor is the chocolate, but you will also get a slight hint of raspberry jam and banana.
The ingredients that you will need for this cake are pretty straightforward. You should be able to get all the ingredients from your local supermarket. One of the best parts is that you will not need xanthan gum to make this gluten-free cake.
This cake will be able to feed six to eight people. However, this depends on how hungry people are. Adding some whipped cream will help stretch the cake a bit further, otherwise you may need to bake more cakes.
Serving the Cake
You can have this chocolate cake just on its own without any extras. With that said, it does go perfectly with some whipped cream.
As shown in the photo below, I add some raspberry jam and cream in between the two cakes once they are cool. Feel free to change the jam to whatever you like the most.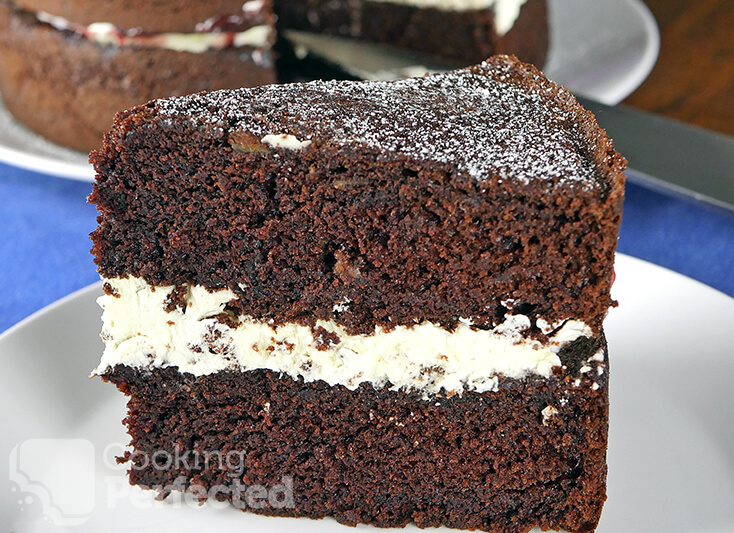 If cream and jam doesn't appeal to you, then some ice cream is the next best thing. I love having a scoop or two of chocolate ice cream alongside this cake, especially if it is still warm.
A delicious beverage is always good alongside cake, so if you want to make something special then try either a chai tea or hot chocolate.
This cake will keep its moisture quite well, so the leftovers are still great the next day. Just make sure you cover the cake and place it in the fridge if you have some fresh cream on it.
You can find the full written recipe right below. It will take you through all the steps on how to make this gluten-free chocolate cake. If you love our gluten-free recipes, then don't forget to follow us on social or subscribe to our mailing list.
Gluten-Free Chocolate Cake Recipe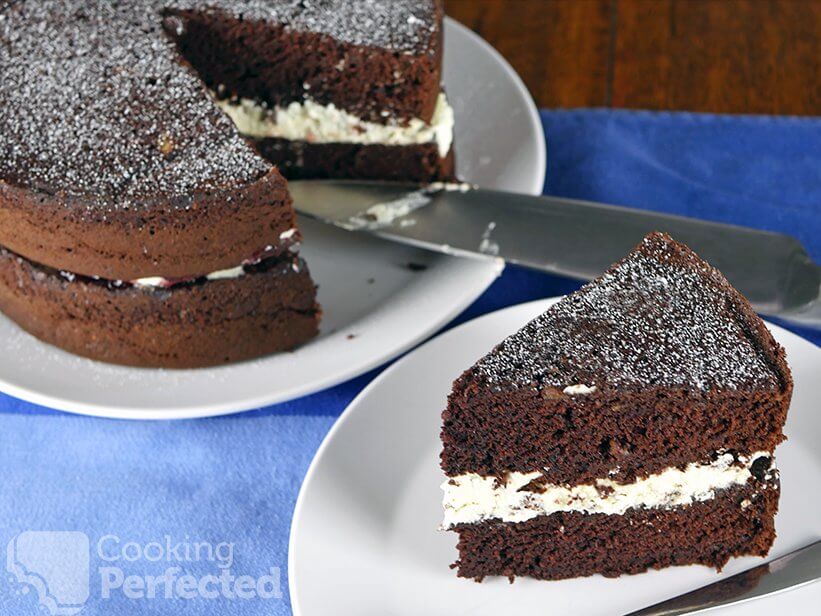 Ingredients
1 Tbsp white vinegar
1 cup milk
2 cups gluten-free plain flour
2 tsp bicarb soda
½ cup cocoa powder
1 cup caster sugar (superfine)
150 g (5.3 oz) unsalted butter, melted
1 tsp vanilla essence
2 eggs
2 bananas mashed
4 Tbsp raspberry jam
Instructions
Preheat an oven to 170°C (340°F).
Line and grease two 23cm (9 in) round cake tins.
Combine the vinegar and milk in a small bowl. It is normal for the mixture to curdle.
Sift all the dry ingredients into a large bowl.
Mix in the melted butter, and milk mixture. Mix gently until combined.
Add the remaining ingredients and mix until well combined.
Split the cake mixture into the two cake tins. Smooth the tops.
Bake in the oven for about 30-45 minutes.
Allow the cakes to stand for 5 minutes before removing from the tins.
Cool completely before adding any cream.
Serve & Enjoy.
Recipe Tips
You can swap the raspberry jam for a different jam. This alteration will result in a slightly different flavored cake. For example, a fig jam will leave you a chocolate fig cake. I have tried it, and it's delicious.
If you don't mash the bananas enough, then you will have little lumps of banana in your cake. These lumps won't negatively impact your cake at all and are quite normal.
This cake is pretty amazing warm, so if you're not adding any cream to the cake, then you should give it a try while it is still warm.
Nutrition Information
Serving Size: 152g (5.4 oz)
Servings Per Recipe: 8
Calories Per Serving: 399
Amount Per Serving
Saturated Fat: 11g
Trans Fat: 0.6g
Dietary Fiber: 3g
Sugars: 23g
Cholesterol: 84mg
Sodium: 351mg
Protein: 7g
The information above is an estimate generated by an online nutrition calculator.
More Gluten-Free Chocolate Desserts
There are so many gluten-free desserts that you can make. Below are a couple of my favorite recipes that I highly recommend you try.
If you feel like eating a dessert that's a little creamier, then the chocolate cheesecake might take your fancy. The cake is so delicious, and the coconut crust matches perfectly with the cheesecake filling.
The gluten-free chocolate self-saucing pudding is also a chocolate dessert that's well worth giving a go. One of the best things about the pudding is that it makes a rich chocolate sauce. Indeed, worth trying if you love chocolate desserts.
I absolutely love this gluten-free chocolate cake recipe, and I hope that you enjoy it too. If you have some feedback, tips, or anything else, then please don't hesitate to leave a comment below.