This gluten-free coconut pie crust is incredibly easy to make and perfect for most sweet pies.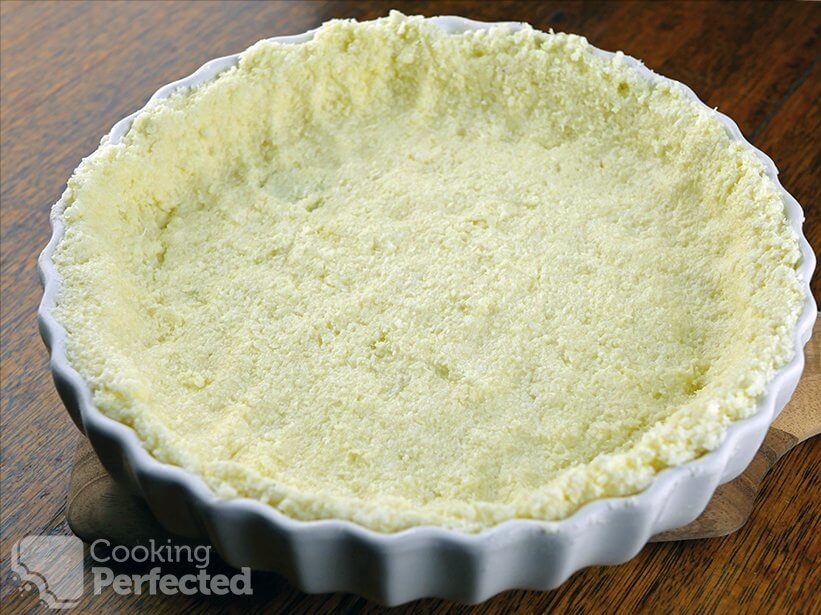 This pie crust is absolutely delicious and matches perfectly with a huge range of different fillings. For example, you can fill it with custard for a delicious coconut and custard pie. I have a few more suggestions throughout this page on what you can do.
You can use this coconut pie crust as a gluten-free base for cheesecake as well. I have already made use of a similar recipe for the chocolate cheesecake. It's certainly worth checking out if you love a good rich cheesecake.
As I mentioned earlier, it is best to use this crust as a sweet crust rather than savory. If you feel like being a little experimental, then you can try using it with a savory pie filling.
Achieving the Best Possible Pie Crust
One of the best things about this pie crust is that you don't need to blind bake it. With that said, if the recipe you're doing requires baking, then I recommend blind baking it slightly. This technique will help produce a much better pie crust.
A downside to this crust is that it will need to be quite thick. If it is too thin, the crust will fall apart when you go to serve it. You can experiment with different thicknesses, but I recommend having it about 1 centimeter or 0.4 inch thick.
Instead of rolling this crust out, you will need to press it into a pie tin. Once it has a cooled little, the crust will be solid and won't fall to bits when you slice it.
If coconut isn't your thing, then you can always try something like a gluten-free almond pie crust instead. However, unlike this crust, the almond crust will need to be blind-baked.
Gluten-Free Coconut Pie Crust Recipe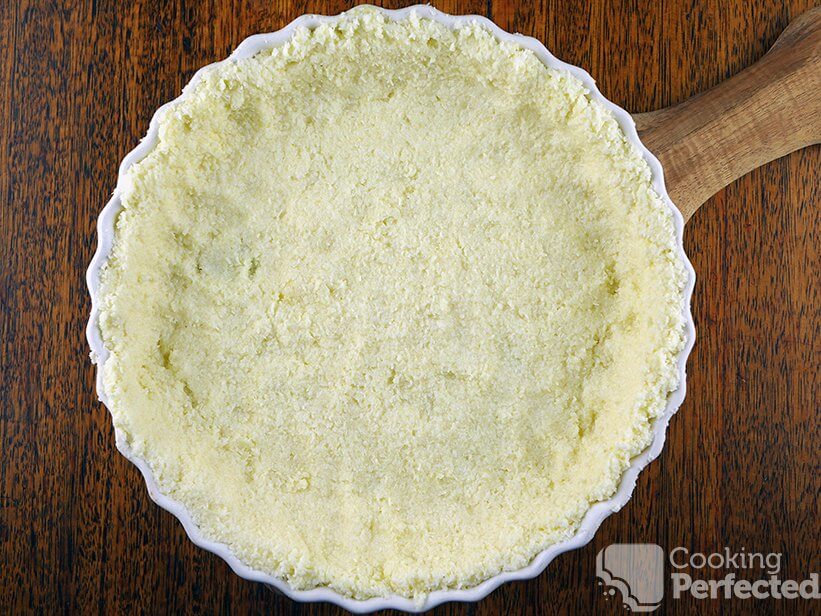 Ingredients
Instructions
Mix all the ingredients until well combined.
Press into the required pie tin or cake tin. Aim to have the base about 1 centimeter or 0.3 inch thick.
Refrigerate for at least 15 minutes, and it should harden considerably.
If your filling is cold set, then you don't need to do anything more other than to fill the crust with your filling.
Blind Baking (Optional)
If you need to bake your pie, you might want to consider blind baking the crust.
First, preheat an oven to 200°C (390°F).
Bake for 15 minutes or until lightly golden.
Use the coconut pie crust as required.
Recipe Tips
After blind baking, excess butter might rise to the surface of the pie crust, you can use some paper towel to remove the excess before adding your filling.
If the pie crust looks a bit wet, then don't hesitate to add a bit more cornstarch and coconut to the mixture.
Sugar can be added to the mixture if you're looking to add a bit of sweetness to the crust. I recommend adding about one tablespoon, but more can be added if you have a bit of a sweet tooth.
You could use a different type of milk if you wanted to. For example, almond milk or coconut milk will work nicely in this recipe. Whatever you choose will ultimately impact the flavor of the crust.
Nutrition Information
Serving Size: 79g (2.8 oz)
Servings Per Recipe: 8
Calories Per Serving: 187
Amount Per Serving
Saturated Fat: 8.2g
Trans Fat: 0.5g
Dietary Fiber: 0g
Sugars: 2g
Cholesterol: 35mg
Sodium: 39mg
Protein: 1g
The information above is an estimate generated by an online nutrition calculator.
More Gluten-free Desserts
There are a ton of gluten-free desserts where this pie crust will come in handy.
As I mentioned above, I have already used this pie crust recipe as a base in a chocolate cheesecake. It's super easy to make and matches the chocolate really well.
I have also made use of this coconut pie crust for a key lime pie. It's a delicious combination and is perfect if you're trying to cook for someone who sensitive to gluten products.
Both the chocolate cheesecake and key lime pie turned out absolutely delicious with this crust.
I do hope that you enjoy this gluten-free coconut pie crust as much as I did. If you have any feedback regarding this delicious recipe, then please don't hesitate to leave a comment below.