These quick and easy pancakes aren't just super easy to make, but they also taste amazing.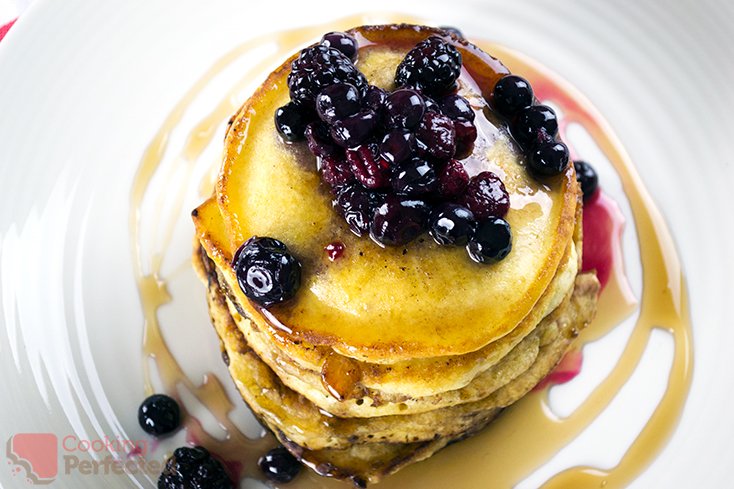 These pancakes will cook to be light, fluffy, and not overly sweet. They're perfect when loaded with a range of different toppings, my favorite is berries and honey.
A single batch of these pancakes should feed roughly two people, maybe four if everyone isn't huge eaters. You can easily double or triple the recipe if you need to feed more people.
This pancake mix is the perfect replacement for those supermarket quick mixes. It's super easy to make from scratch and may end up being cheaper in the long run.
One of the best things about this recipe is that you end up with some fantastic homemade pancakes without needing to put in a massive amount of effort.
What to Serve with these Pancakes
Pancakes by themselves are pretty average and are never complete without the addition of some delicious toppings. Below are a few ideas on how you can serve these delicious pancakes.
I recommend topping these pancakes with some fresh berries such as raspberries, blueberries, and strawberries. A drizzle of honey is perfect over the top of the fruit as it helps take away any bitterness and helps bring out all the delicious flavors.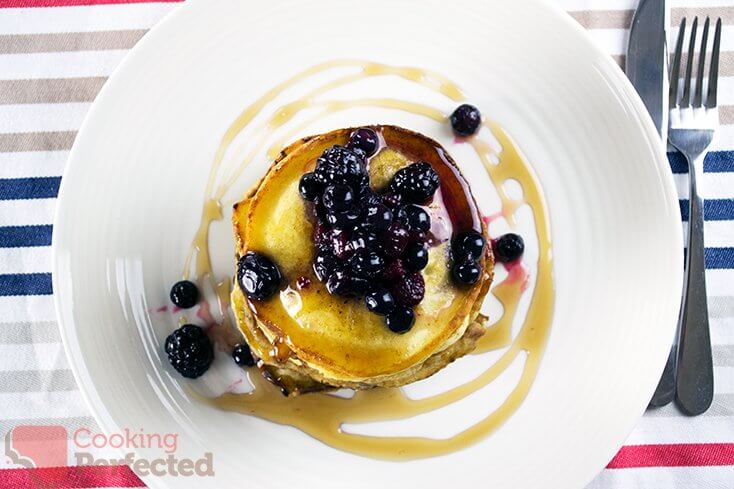 A scoop or two of ice cream is always perfect with pancakes. Ice cream also goes great with other ingredients such as fruit, chocolate, and much more. I prefer vanilla ice cream, but basically, any flavor will work.
If you're a massive fan of citrus, then I highly recommend topping the pancakes with a sprinkle of sugar and a drizzle of lemon or lime juice. It's one of my favorite combinations.
One of the most popular combinations to go alongside pancakes is bacon and maple syrup. These three items are a match made in heaven, and I highly recommend giving them a try.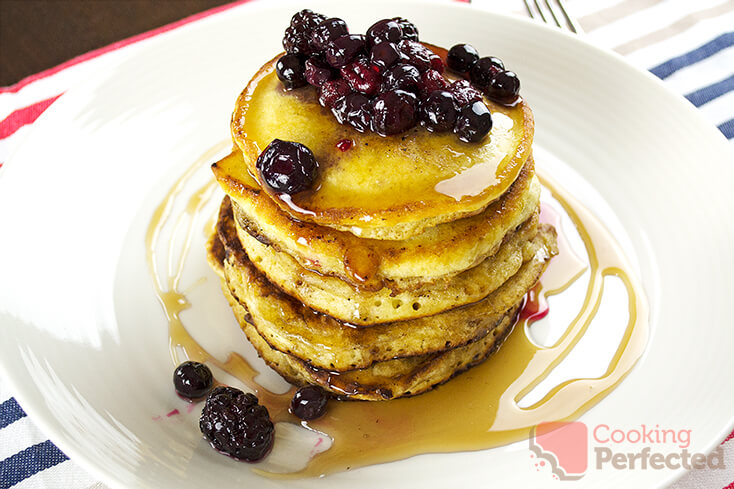 This recipe is sweet, so it's best combined with fruits, chocolate, cream, and other sweet ingredients. However, the slight sweetness doesn't mean you can't have it with some savory toppings as well.
If you want to check out a nice quick video on how to make these quick and easy pancakes, then check out the one below. Alternatively, there is a super handy written recipe immediately below the video.
Quick & Easy Pancake Recipe
Ingredients
1 cup self-raising flour
2 Tbsp caster sugar
1 egg, lightly beaten
190 ml (6.4 fl oz) lemonade
Instructions
In a bowl, combine the self-raising flour and caster sugar.
Make a well in the dry mix and add the egg and lemonade.
Gently mix the ingredients until well combined.
In a pan over medium heat, add a knob of butter.
Pour the desired amount of mixture into the pan. Roughly 1/4 cup mixture per pancake.
Cook on one side until the mix starts to firm up, then flip the pancake and cook until done.
Repeat steps 4-6 until you use up all the mixture.
Serve & Enjoy.
Recipe Tips
If the pancakes are cooking too fast, then I recommend lowering the heat on the stove. They should take a few minutes to cook on each side.
You can use oil instead of butter. However, I recommend only doing this if you're not a fan of butter, or you prefer to use cooking oil.
If you don't like your pancakes being too sweet, then I recommend leaving the sugar out altogether. The sugars in the lemonade should be just enough to give you excellent tasting easy pancakes.
The pancake batter should be thick, but if it is a little too thick, then just add a little bit more lemonade to the mix.
I suggest using all of the pancake batter straight away as it will not last for very long. If you try to use it after a day or two, you will find that the pancakes won't rise very much.
Caster sugar is also known as superfine sugar or bakers sugar. You can also use granulated sugar instead. However, I recommend a fine sugar for the best results.
Nutrition Information
Serving Size: 94g (3.3 oz)
Servings Per Recipe: 4
Calories Per Serving: 155
Amount Per Serving
Saturated Fat: 0.4g
Trans Fat: 0g
Total Carbohydrate: 34.8g
Dietary Fiber: 0.8g
Sugars: 10.8g
Cholesterol: 41mg
Sodium: 18mg
Protein: 4.6g
The information above is an estimate generated by an online nutrition calculator.
More Delicious Recipes
If you like sweet recipes, then be sure to check out some of our easy dessert recipes.
Another easy dessert that I recommend that you try is the apple crumble. It has a crunchy oat topping and a gooey apple filling. I love making it whenever I need a quick and easy dessert.
A dish that I reckon you will like is French toast. Much like pancakes, it goes great with a huge range of toppings such as bacon and maple syrup. It's one of my favorite meals to have for breakfast.
I hope you enjoy these quick and easy pancakes. If you have any feedback, thoughts, or anything else you would like to share, then please drop us a comment below.