This easy French toast makes for a delicious eggy breakfast. It is perfect on its own, but it does go great with some bacon and maple syrup.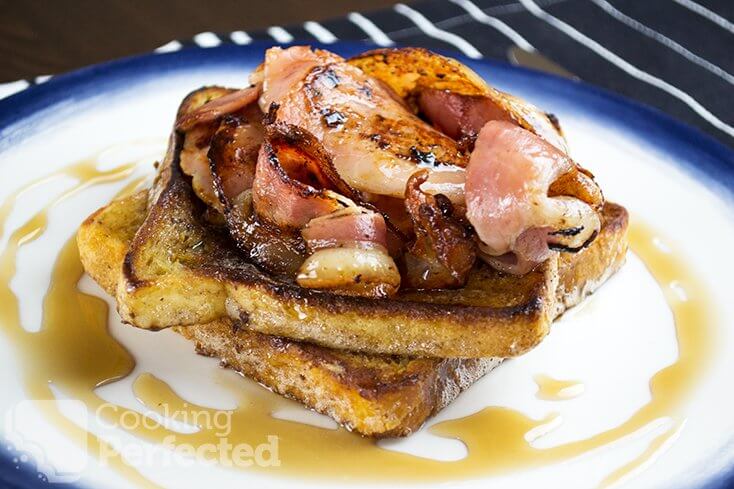 When you serve this eggy bread, it will have a lovely golden crust on the outside and be soft on the inside. It will have a slight hint of cinnamon backed by a little bit of sweetness. I think it goes best with some additional ingredients.
French toast is also known as pain perdu in most French-speaking regions, and this means lost bread. It is called this as you often use stale bread in the making of this dish. Soaking it in egg and frying it in butter is a way of bringing the bread back to a tasty and edible state.
Learning how to make French toast is surprisingly easy, as the concept behind this dish is super simple. The process is typically finding a stale bread and soaking it in an egg mixture.
The egg mixture usually varies from recipe to recipe. Still, the one I have written up here is my personal favorite. You can even try using it in a French toast casserole.
Adjusting the Recipe
You can use any type of bread in this recipe, but stale bread will work the best. I prefer white bread, but fruit bread, brioche, and even sourdough will work nicely in this recipe. Feel free to experiment a little to get the best results.
When cooking thick pieces of bread, I recommend starting them in the frying pan before finishing them in the oven. To do this, have an oven preheated to about 180°C (350°F) and once the bread is slightly golden brown on each side place into the oven. Bake until the egg is cooked.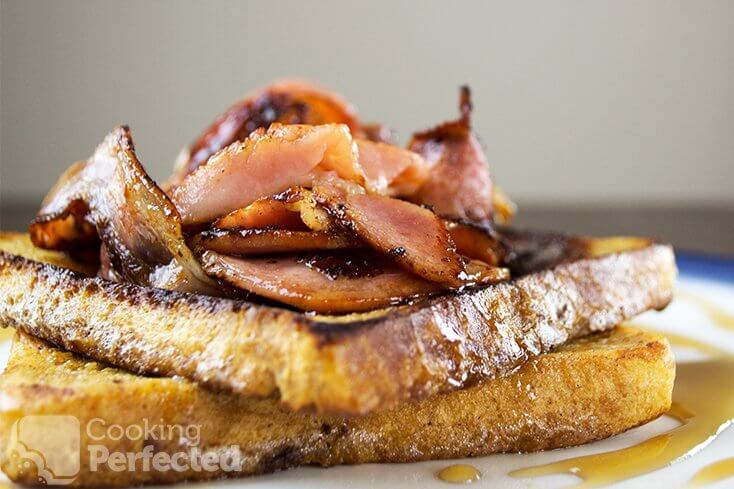 Swapping the milk for some cream is a great way to add a bit more richness to the French toast. You can also swap the milk for coconut milk or cream. It is a great way to add a bit of a coconut flavor to this delicious breakfast.
The cinnamon in the egg mixture is optional and can be removed if you do not like it. On the flip side, you can add additional spices such as cardamom.
What to Serve with French Toast
Below are some of my favorite French toast topping ideas. If you have any suggestions, please let us know in the comments section at the bottom of this page.
I love to top the French toast with some fried bacon and a good drizzle of maple syrup. It is the perfect blend of sweet and savory. You can use honey if you do not like maple syrup.
Lemon curd and whipped cream are a match made in heaven and work perfectly as a topping to this dish. I love to make my lemon curd at home, but store-bought curd will also work nicely.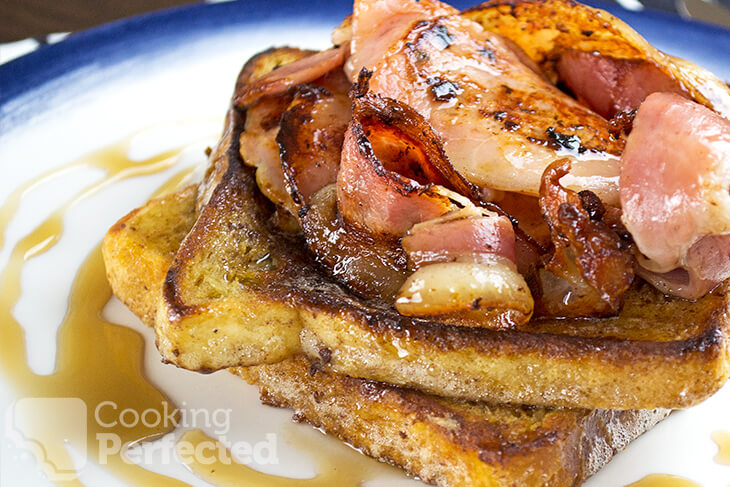 A classic combination is some fresh peaches with a scoop or two of ice-cream. It is the perfect fruity topping to have on this French toast. I highly recommend giving it a try.
The last topping suggestion is chocolate and lots of it. I love to top the bread with a scoop of chocolate chip ice cream and finish with a good drizzle of chocolate topping. It really is one of my favorite toppings, especially when I feel like eating comfort food.
If you want to see how to make some easy French toast, then be sure to check out the video below. Alternatively, there is a full written recipe that is complete with cooking tips below the video.
Easy French Toast Recipe
Ingredients
2 eggs
1 tsp vanilla essence
1 tsp cinnamon, ground
1/2 cup of milk
4 slices of bread
2 Tbsp butter
Instructions
In a bowl, beat the egg, vanilla, and cinnamon together.
Once beaten, stir in the milk.
Dip the bread in the egg mixture. If you slightly massage the bread, this will encourage it to absorb the egg faster.
In a pan over medium heat, melt the butter.
Add your bread slices and cook for 2-3 minutes on each side or until golden brown.
Serve & Enjoy.
Recipe Tips
If you need to prepare a large batch of French toast, I recommend starting them in a pan before moving them into an oven set to a low temperature. With this method you can cook lots and keep warm without overcooking them.
This French toast recipe is very much like the easy pancake recipe and goes fantastic with fresh berries and cream. Another great combination is bacon and maple syrup, but it depends on what appeals to you more.
Nutrition Information
Serving Size: 291g (10.3 oz)
Servings Per Recipe: 2
Calories Per Serving: 559
Amount Per Serving
Saturated Fat: 12.4g
Trans Fat: 0.4g
Dietary Fiber: 5g
Sugars: 3g
Cholesterol: 665mg
Sodium: 971mg
Protein: 28g
The information above is an estimate generated by an online nutrition calculator.
More Breakfast Recipes
There are plenty of other great easy breakfast recipes that you should try out sometime. Below are more recipes that I highly recommend giving a try.
One of my personal favorites is cooking scrambled eggs in a mug. This scrambled eggs recipe is so simple that you will be impressed with how good it tastes.
You can make French toast in a mug if you are feeling a little adventurous. It is not nearly as good as the pan-fried version, but it is pretty delicious.
I hope you enjoy this quick and easy French toast. If you have feedback that you would like to share, then feel free to leave us a comment below.