This delicious lemon curd is super easy to make and has that lovely strong tangy lemon flavor that we all love about a good curd.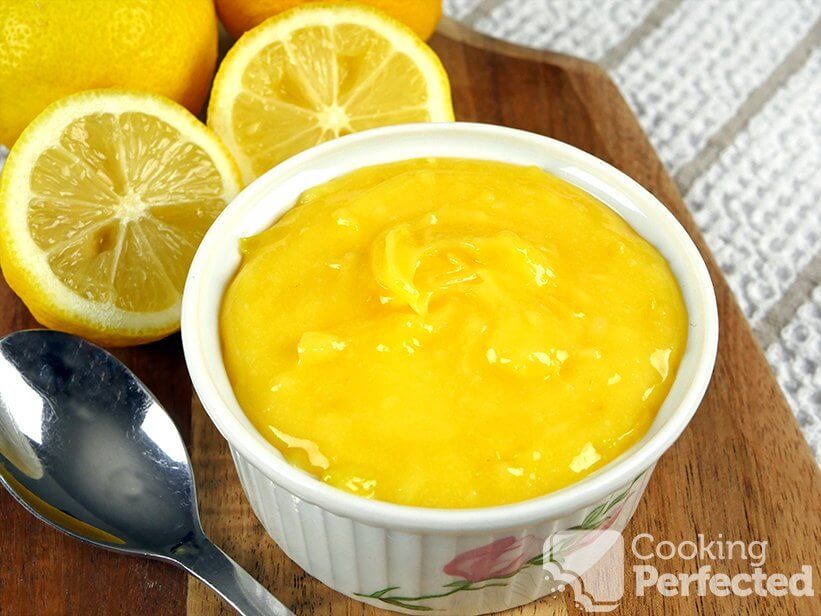 By the time this curd is ready to eat, it will be thick, delicious, and packed with that lovely lemon flavor. It is super easy to make and, in my opinion, tastes way better than the store-bought stuff.
A strong positive for this recipe is that it doesn't require cornstarch. It's one less thing to go wrong with making lemon curd. However, I do recommend adding some if you want this to be a firm filling.
The lemon curd should keep for one to two weeks in the fridge. If you want it to last longer, then you will need to pasteurize some jars. It will then last three months until you open it, then only one to two weeks.
Lemon Curd Uses
There are so many different uses for lemon curd, and below are just a couple of ideas.
You can use the curd in something like a lemon meringue pie or as a filling in small tarts. It also works amazingly in lots of other baked goods such as Danishes, cheesecakes, mousse, parfaits, and so much more.
The curd is incredible as a spread on toast for breakfast. Another delicious breakfast is to have it with some granola, custard, and fresh fruit.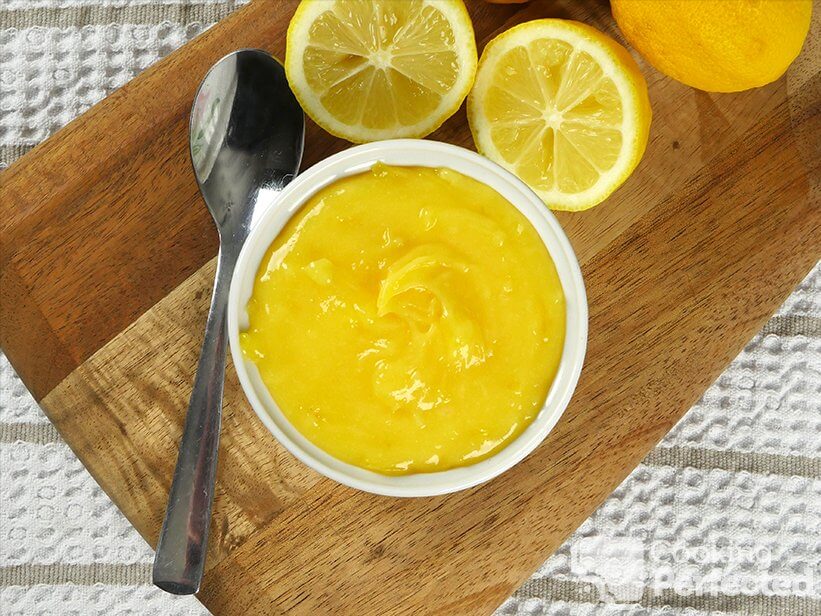 It's super delicious drizzled over the top of some vanilla ice cream or any dessert where citrus matches nicely. I highly recommend giving it a try on a few different desserts as you will be surprised by how well it works with other flavors.
There are many gluten-free dessert recipes that you can use this curd as part of the meal. For example, you can make a lemon tart by using our almond crust recipe as a good base, and this lemon curd as a filling.
You can find the full recipe for this creamy lemon curd right below. There are also some very handy cooking tips below the recipe instructions.
Lemon Curd Recipe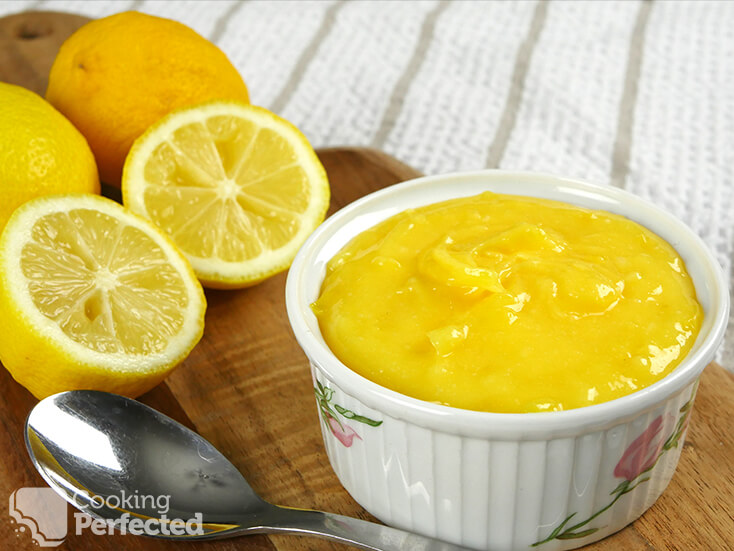 Ingredients
4 lemons
175 g (6.2 oz) unsalted butter
225 g (7.9 oz) white sugar
4 Eggs
Instructions
Zest and juice all the lemons. Discard the seeds and pulp.
In a bowl over simmering water (double boiler), melt the butter and sugar. Mix until smooth, don't allow to boil.
Slowly mix in the lemon zest and juice.
In a separate bowl, beat the 4 eggs.
Gently pour the eggs into the lemon mixture while continually stirring.
Continue to stir for 30-40 minutes or until the mixture is of thick creamy consistency. (Don't allow the mixture to boil)
Allow to cool entirely. The curd will thicken as it cools.
Serve & Enjoy.
Recipe Tips
If you need this lemon curd as a filling to a lemon meringue pie or something similar, then I suggest you thicken it with cornstarch. Simply mix in roughly two teaspoons of cornstarch with the lemon.
You can double the amount of sugar in this recipe if you want a really sweet lemon curd. I prefer it to be on the tangy side, so the current quantity is perfect for me.
If you feel that your curd is starting to lump, then switch to a whisk. A whisk should break up any lumps that may be forming.
It's important that you beat the eggs thoroughly; failing to do so may lead to small bits of egg white in your curd. It will still taste fine.
Nutrition Information
Serving Size: 15g (0.5 oz)
Servings Per Recipe: 50
Calories Per Serving: 41
Amount Per Serving
Saturated Fat: 1.3g
Trans Fat: 0g
Dietary Fiber: 0g
Sugars: 5g
Cholesterol: 17mg
Sodium: 6mg
Protein: 1g
The information above is an estimate generated by an online nutrition calculator.
More Citrus Recipes
If you love citrus, then you must try out our gluten-free key lime pie. The filling has that lovely citrusy flavor from the limes and is deliciously creamy. Indeed, a recipe you need to try.
The paleo-friendly lemon bars are worth checking out if you love citrus flavored desserts. They have a delicious biscuit base and a creamy lemon topping. It's undoubtedly a must-try snack.
I hope that this delightful gluten-free lemon curd works out perfectly for you. If you have some feedback regarding this delightful recipe, then please don't hesitate to leave a comment below.