This classic potato salad features caramelized onion and delicious crispy pieces of bacon. It is always a huge hit whenever I make it.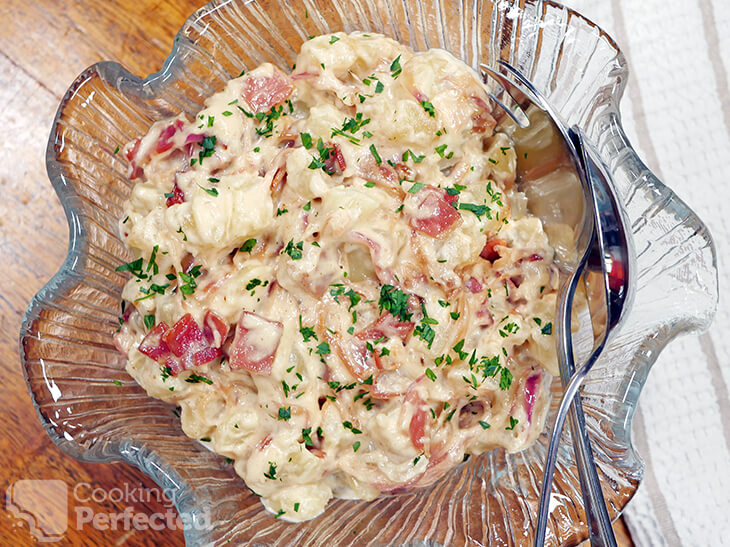 I love how creamy and delicious this potato salad is. Each bite gives you a delicious mixture of caramelized onion, crispy bacon, potato, and a deliciously creamy mayonnaise dressing. It is an incredible combination that I highly recommend that you try.
You should be able to feed roughly six to eight people without needing to adjust the recipe. I also highly recommend that you serve it as a side dish to another meal.
Any leftovers of this potato salad should be kept in the refrigerator. The leftovers can last for roughly three days before needing to be discarded. Personally, I love eating the leftovers as a quick and easy meal.
Serving Ideas for Potato Salad
There are plenty of meals that a potato salad will pair nicely with. Below are a couple of my favorite ideas.
Barbequed meat always goes great with a good potato salad like this one. My favorite BBQ meal typically consists of sausages, steak, bacon, and sometimes some delicious chicken skewers.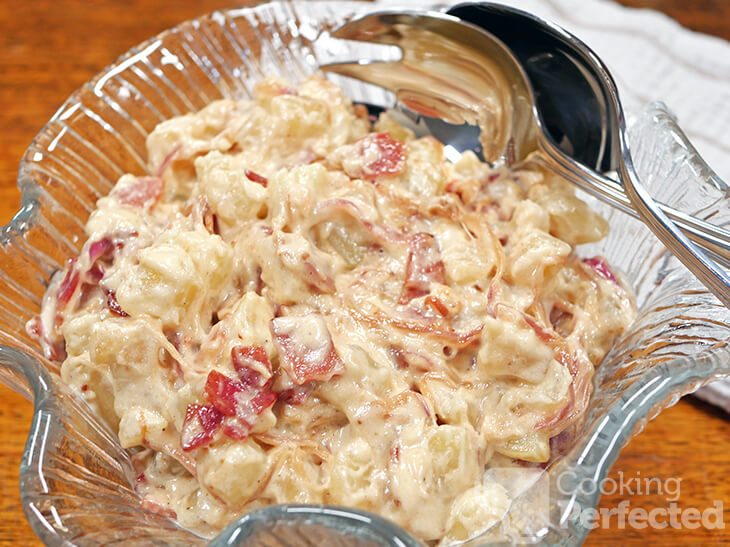 Another two recipes that will go great with this potato salad on the side is the chicken marsala or some honey balsamic chicken. Both are incredibly easy to make and really need a side dish or two to complete the meal.
If you are looking for another side dish that goes well with this salad, you must check out the gluten-free cornbread. The cornbread is packed with bits of bacon, tomato, cheese, and so much more. It is an absolute must-try.
Tweaking the Recipe
You can alter this recipe so that it is better suited for your needs. Below are just a few ideas on how you can change it.
The potatoes can be swapped for sweet potatoes if you want to make this salad a little healthier. Changing the potatoes will radically change the flavors. However, if you love sweet potatoes, then you will probably love the change.
I recommend making a homemade mayonnaise as it is super easy to make. However, store-bought mayonnaise will work just as well and is perfect if you are making it for anyone who cannot eat homemade produce.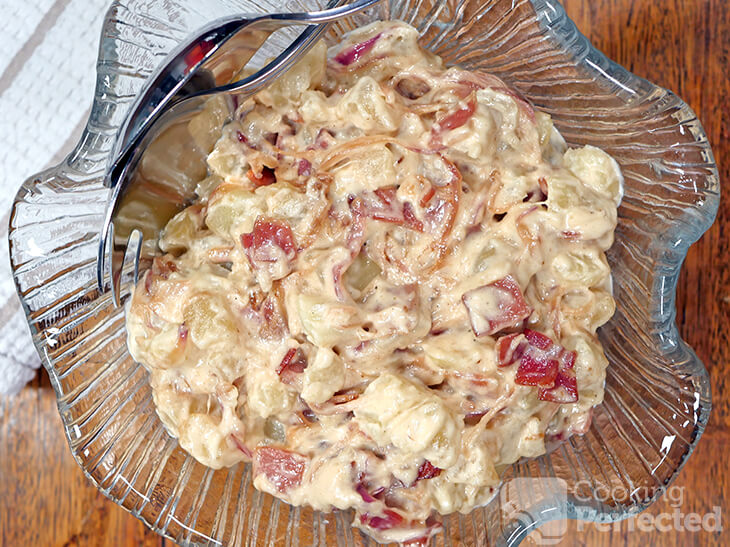 You can swap the Worcestershire sauce for red wine vinegar. The red wine vinegar will add a bit more tanginess to the salad, but it is still undoubtedly delicious. It is a simple change but will radically change the outcome of this salad.
Do not be afraid to add more ingredients to this salad. Snow peas, bell pepper, or even chives will be an excellent addition. Personally, I love the salad without anything extra in it.
You can add half a cup of sour cream to the dressing for a bit more tanginess and flavor. It will help make the dressing a little thicker as well.
The full recipe for making this caramelized onion potato salad is right below. I hope you find it easy to make and that it turns out as delicious as it was for me.
Potato Salad with Caramelized Onion Recipe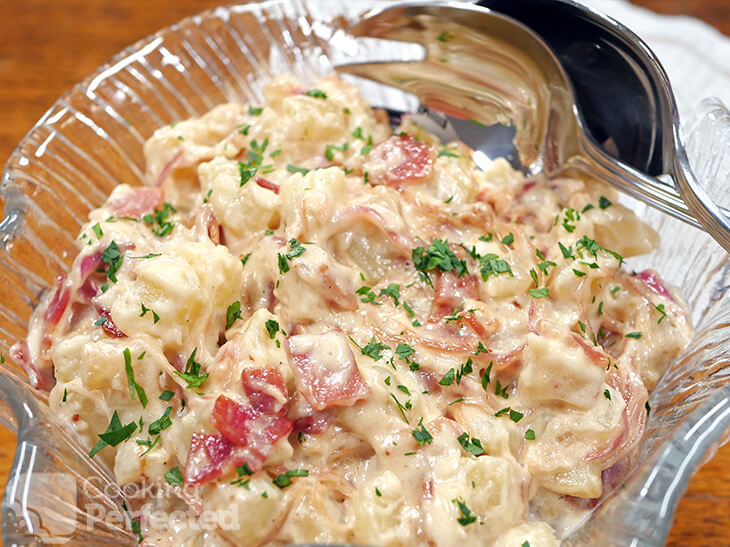 Ingredients
Potatoes
200 g (7.1 oz) bacon, cubed
2 red onions, sliced
2 Tbsp brown sugar
2 Tbsp Worcestershire sauce
750 g (1.7 lb) potatoes, peeled and cubed
Dressing
1 cup mayonnaise
1 Tbsp Dijon Mustard
1 Tbsp lemon juice
Instructions
First, place the potatoes in a large pot and cover with cold water. Bring to a boil and cook for 10 minutes or until the potatoes are tender. Drain, and allow to cool.
In a frying pan over medium-high heat, add the bacon and cook until the bacon is starting to brown.
Next, add the onion and cook until translucent.
Add the brown sugar and Worcestershire sauce and mix. Cook for 5 minutes and then allow to cool.
In a small bowl, combine the mayonnaise, Dijon mustard, and lemon juice.
Once the potatoes, bacon, and onion are cool, add to a large bowl.
Gently mix in the dressing.
Serve & Enjoy.
Recipe Tips
Use a skewer or knife to check whether the potatoes are cooked. The knife should cut through the potato like butter.
The dressing can be replaced with your favorite store-bought potato salad dressing.
To ensure that this recipe is gluten-free, double check the ingredients of your Worcestershire sauce.
Nutrition Information
Serving Size: 160g (5.6 oz)
Servings Per Recipe: 6
Calories Per Serving: 503
Amount Per Serving
Saturated Fat: 11.2g
Trans Fat: 0.1g
Dietary Fiber: 2g
Sugars: 5g
Cholesterol: 36mg
Sodium: 251mg
Protein: 2g
The information above is an estimate generated by an online nutrition calculator.
More Delicious Recipes
We have plenty more recipes that are worth checking out. Below is a couple that I highly recommend giving a try.
One of my favorite salads is a simple taco salad. It is loaded with lots of different ingredients and is always a huge hit. Suppose you love mayonnaise, taco seasoning, beef, lettuce, tomato, red onion, cheddar cheese, and corn chips. In that case, you are going to love the taco salad.
The homemade corned beef is an excellent dish to cook to go alongside this potato salad. The corned beef cooks to be incredibly tender and loaded with the flavors of the poaching liquid. It is a must-try dish if you love succulent beef.
I hope that you love this caramelized onion potato salad and that it becomes a staple in your household. If you have some feedback, then we will love to hear it.