This easy beef goulash is the perfect hearty dish for a cold winter's day. It is also an excellent dish if you have some beef that you would like to use up in a stew.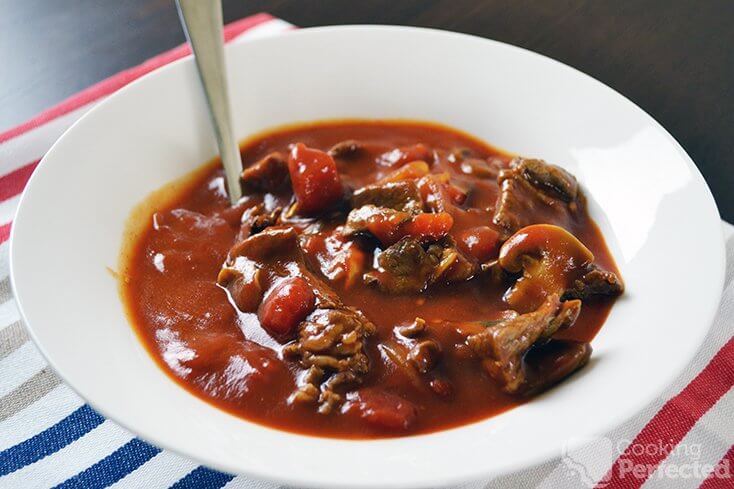 By the time this dish is ready, the beef will be tender, and the sauce will be loaded with flavor thanks to the paprika and tomatoes. It's a super easy dish to prepare and cook, so you should have it ready to eat very fast.
If you have never heard of goulash, then it is typically a stew of both meat and vegetables. It is generally seasoned with paprika and sometimes other spices as well. There are many different variations on this dish. Still, to keep things simple, I have kept this recipe as minimal as possible.
This recipe is probably best for an easy dinner. However, you can cook this as a quick and easy lunch, or if you have made it the night before, just reheat and eat. This dish reheats pretty well, so you don't need to worry about it tasting iffy after reheating it the next day.
Adjusting the Recipe
There are lots of little adjustments that you can make to this recipe, so it's more to your liking. Below are just a couple of my favorite tweaks.
You can add about two teaspoons of chili or chili powder to introduce a little bit of spice to this goulash. I would add this at the same time as the onion and mushrooms. It's the perfect adjustment if you love spicy food.
Try playing around a little with the herbs and spices that I use in this delicious dish. For example, you can add more herbs such as Italian seasoning, oregano, or parsley. You might also want to adjust the amount of paprika that I use in this recipe.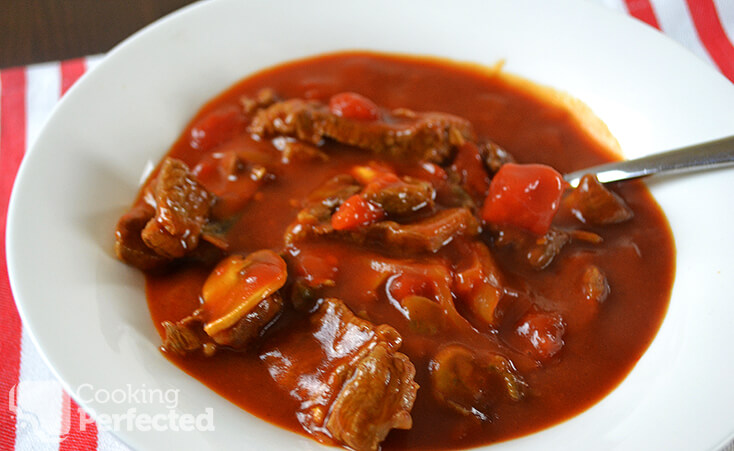 The best cut of beef to use will heavily depend on how long you plan to cook it. A tough cut of beef such as rump, chuck, or brisket will require a long cooking time. A tender cut such as filet mignon or sirloin is best for a short cooking time.
Ground beef is an excellent alternative to using regular beef. You will still get lots of flavors, but you will lose out on the tender chunks of beef that make a goulash delicious.
What to Serve with Beef Goulash
This recipe doesn't need any side dish; however, if you're feeding a crowd, you might want to cook something to go with it.
The easiest and one of the tastiest accompaniments to go alongside this dish is steamed rice. You can make some steamed rice over the stove or in a rice cooker. I prefer the rice cooker as it's super easy to use.
A popular ingredient to serve with a goulash is some pasta. I would pick a pasta such as an elbow macaroni for the best results. I recommend cooking the pasta separately before stirring it through the rich goulash sauce. You can top it with some cheese to complete the dish.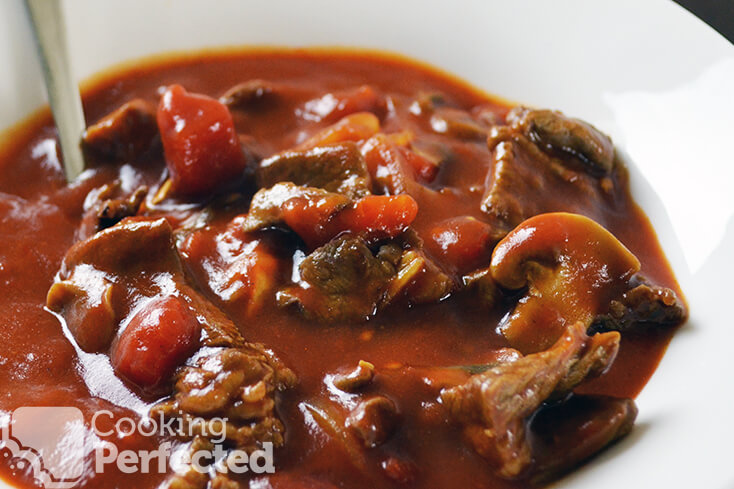 If you have spare time, then some homemade mashed potato goes very nicely with this dish. I love to pour the rich goulash sauce over the top of the creamy mashed potato. It's a match made in heaven that I highly recommend giving a try.
If you want to see how to make this deliciously easy beef goulash, then be sure to check out the video below. It takes you through everything you need to know to cook and prepare this dish. If you're happy with a text version of the recipe, then check it out below the video.
Easy Beef Goulash Recipe
Ingredients
500 g (1.1 lb) beef, cut into strips
1 onion, thinly sliced
200 g (7.1 oz) mushrooms, sliced
1 Tbsp paprika
400 g (14.1 oz) tomato soup
500 g (1.1 lb) diced tomatoes
Instructions
In a frying pan over medium heat, cook the beef until browned. Approximately 3-4 minutes.
Add the sliced onion and mushrooms to the pan and cook for 3 minutes.
Next, add the paprika and cook for 1 minute.
Finally, add the soup and tomatoes.
Bring to the boil, then simmer for 3 minutes.
Season with salt and pepper.
Serve & Enjoy.
Recipe Tips
If you're finding the beef to be a bit tough, you can use a different cut of beef, or you can cook it for longer. Using a slow cooker to cook the beef goulash is the perfect way to get the beef super tender.
Any type of mushroom will work fine, but I find the best is typically portobello mushrooms or something similar.
Use your favorite brand of tomato soup as it will heavily influence the flavors of this stew.
You might need to add a pinch of sugar to help remove the bitterness of the tomatoes.
Nutrition Information
Serving Size: 429g (15.1 oz)
Servings Per Recipe: 4
Calories Per Serving: 341
Amount Per Serving
Saturated Fat: 3.2g
Trans Fat: 0g
Total Carbohydrate: 23.4g
Dietary Fiber: 4.4g
Sugars: 13.6g
Cholesterol: 112mg
Sodium: 644mg
Protein: 42.8g
The information above is an estimate generated by an online nutrition calculator.
More Delicious Recipes
If you're looking for other quick and easy beef recipes, then we have a few that you might like.
The beef stroganoff is a delicious pasta dish that won't take you long to cook up. It has delicious tender pieces of beef, juicy mushrooms, and an amazing creamy sauce. I highly recommend giving it a try.
You can also cook an amazing goulash in a slow cooker, but it will take hours to cook. The result is totally worth it as you're left with a fantastic rich beef stew with tender meat that just melts in your mouth.
I hope you have been able to make this easy goulash recipe, and you have enjoyed it. If you have any feedback that you would love to share, then be sure to leave a comment below.