This easy chicken marsala is a flavor-packed meal that has an incredibly creamy sauce and tender mushrooms.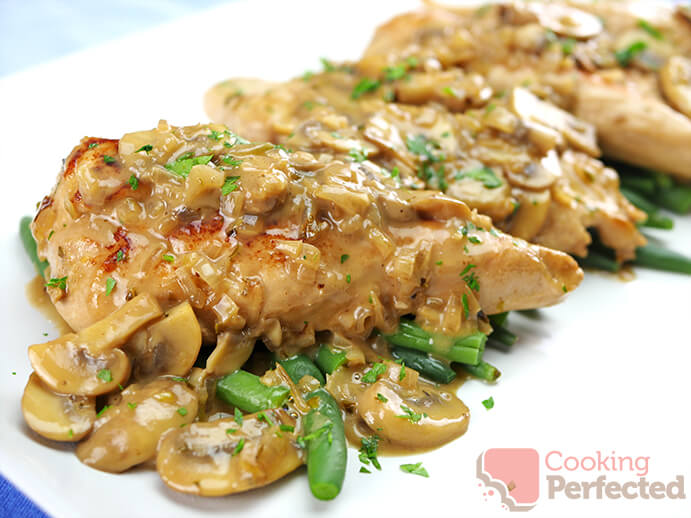 The chicken cooks to be juicy and packed with flavor. For the sauce, it is one of those sauces where you grab some bread to try and soak up as much of the sauce as it is so delicious.
Marsala wine can be dry or sweet, but you will want to try and find the dry variety for this dish. You should be able to find dry Marsala wine available at any good supermarket or wine vendor.
You will be able to feed roughly four people with this recipe. I do recommend making some additional side dishes to go with the chicken. If you need to feed more people, then the recipe can be easily doubled or tripled.
Adjusting the Recipe
Since this dish is quite simple, you can alter it in several ways, but each change will involve adding more work.
If you are unable to get your hands on a dry marsala wine, then you can use sweet instead. The most significant difference is that the sauce will be sweeter. For some people, that is not such a bad thing.
The type of mushroom you use is entirely up to you. For the best results, I recommend using button mushrooms or bella mushrooms. If you have a better suggestion, be sure to let us know in the comments section.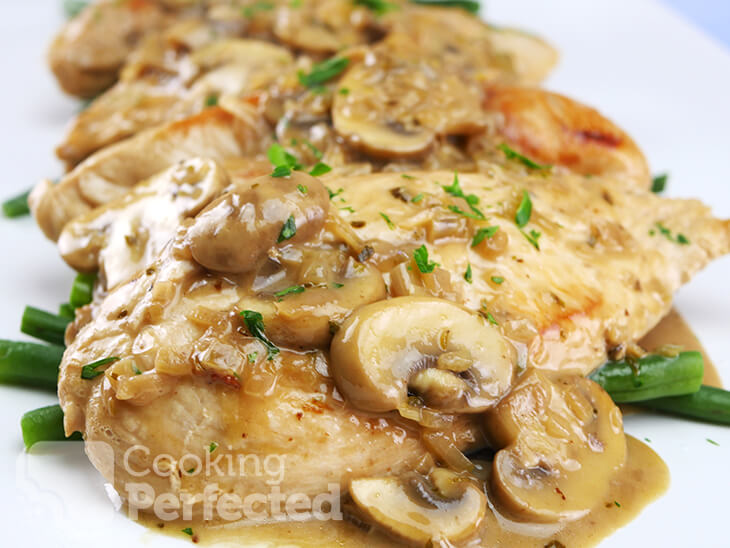 If the sauce is too runny, thicken it using a mixture of cornstarch and water. Roughly one tablespoon of each will be enough. The recipe will still be gluten-free as most cornstarch's do not contain gluten.
I prefer chicken breasts in this recipe, but they can easily be swapped for something like chicken thighs. The process of making the dish should be exactly the same.
If you have a variation on this dish that you would like to share, then please do not hesitate to leave it in the comment section at the bottom of this page.
What to Serve with Chicken Marsala
You can eat this chicken by itself, but you might need a bit more food. If you are looking for ideas for extra side dishes, then check out the suggestions below.
Something like sweet potato fries or a potato mash will work very nicely with this dish's flavors. It will involve a little more time in the kitchen, but it will certainly be worth it.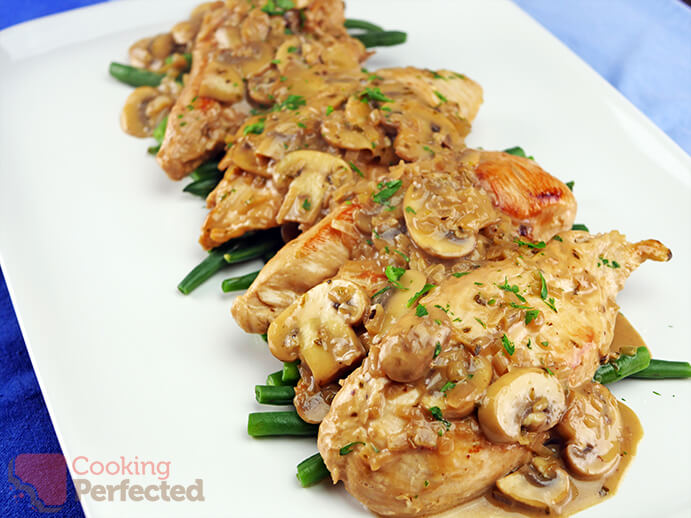 As you can tell in the photos, I like to serve the chicken on the top of some buttered green beans. Other green vegetables such as broccoli, sugar snaps, and spinach will work nicely. Some pasta will also work nicely with vegetables and chicken.
One of the simplest and easiest side dishes that you can do is some steamed rice. I love to make it in the rice cooker as it is super easy. Otherwise, cauliflower rice is a good alternative if you want something a little healthier.
If you want to see how to make chicken marsala, then be sure to check out the video below. It goes through all the steps to making this delicious dish. Alternatively, you will find the full written recipe right underneath the video.
Easy Chicken Marsala Recipe
Ingredients
4 Tbsp butter, unsalted
2 chicken breasts, halved
4 shallots, diced
500 g (1.1 lb) mushrooms
½ cup marsala wine
1 tsp oregano
½ cup cream
1 tsp lemon juice
Instructions
In a skillet pan over high heat, melt 2 tablespoons of butter.
Once the butter has melted, add the halved chicken breasts and brown for 2-3 minutes on each side.
Remove the chicken from the pan and put to the side.
Add 2 tablespoons of butter, shallots, and mushrooms to the pan. Cook until the mushrooms are lightly browned.
Next, add the marsala wine and bring to a simmer. Scrape the bottom of the pan to get all the flavor.
Add the oregano, cream, and lemon juice, return to a simmer.
Season with salt and pepper.
Reheat the chicken in the pan with the sauce for roughly 3-5 minutes.
Serve & Enjoy.
Recipe Tips
Lightly coating the chicken breast in flour is a great way to help thicken the sauce.
If you are a massive fan of the sauce, then you might want to double the amount for this dish. This recipe will produce just enough, but you might want lots of sauce.
Use a meat thermometer if you are unsure whether the chicken is fully cooked. I have always found the chicken to be ready by the time I serve the meal. The internal temperature of the chicken should be 75°C (165°F).
The oregano can be left out or swapped for a different herb such as parsley. Dried herbs will work fine; however, fresh is always so much better.
If you prefer to cook this dish low and slow, you can cook chicken marsala in the slow cooker. It comes out surprisingly delicious.
Nutrition Information
Serving Size: 387g (13.7 oz)
Servings Per Recipe: 4
Calories Per Serving: 826
Amount Per Serving
Saturated Fat: 15.1g
Trans Fat: 0.6g
Dietary Fiber: 16g
Sugars: 8g
Cholesterol: 143mg
Sodium: 308mg
Protein: 44g
The information above is an estimate generated by an online nutrition calculator.
More Delicious Chicken Recipes
There are plenty of other recipes for you to try, especially chicken recipes. Below are a couple of recipes that I highly recommend making.
Something like the easy creamy chicken carbonara is a recipe that you need to try. It features a delicious cream sauce that is loaded with mushrooms and bacon. Not a traditional carbonara, but it is delicious.
Another creamy chicken recipe that I highly recommend trying is the creamy chicken skillet. The chicken skillet has a delicious coconut sauce and is loaded with vegetables and meat. It is also paleo-friendly, perfect if you are trying to keep to a diet.
If you have some feedback, tips, or anything else about this easy chicken marsala recipe, then be sure to leave a comment below.