The air fryer is great for cooking a delicious chicken fajitas mixture quickly. The result is absolutely delicious and will have you going back for seconds.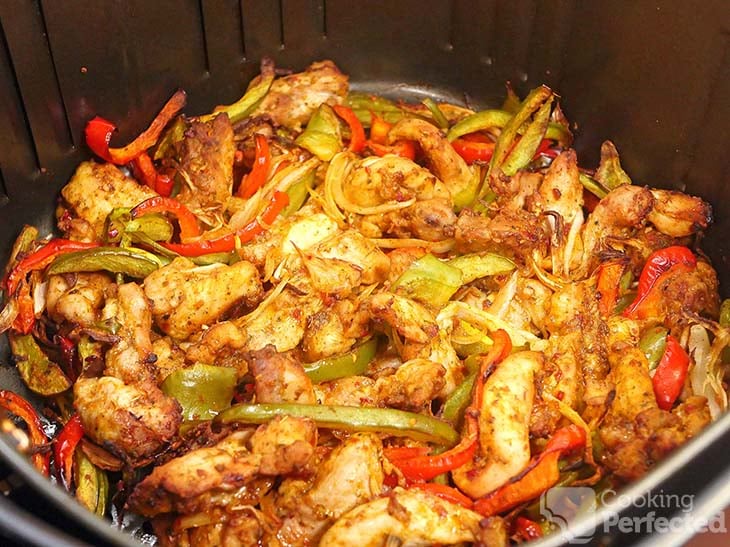 Traditionally fajitas are cooked on a grill along with peppers and onions. Once cooked, it is served on a tortilla and rolled up into a wrap. For this recipe, we will be using the air fryer to cook everything you need.
When you take a bite of this dish, you are greeted with an explosion of flavor thanks to the fajita seasoning, chicken, and vegetables. The vegetables should have a bit of crunch, and the chicken should be slightly crispy. It is a delightful combination that the entire family will enjoy.
A single batch of this recipe should feed roughly four people. However, if you are cooking for light eaters, you might be able to stretch it to six people. You can easily double the recipe or cook some side dishes if you need to feed more people.
If you want to cook slowly, you can cook chicken fajitas in the slow cooker instead. The recipe is super easy but will require hours of cooking. I prefer the crispy chicken and bell peppers that the air fryer achieves.
You can use any leftover chicken fajita mixture in a variety of other dishes. For example, it makes for a great pizza topping. You can store the leftover mixture in the fridge for three days or the freezer for three months.
Chicken Fajitas Serving Ideas
The type of tortilla you want to use is entirely up to you. I prefer wheat tortillas as they are more flexible and have a more subtle flavor. Corn tortillas are more authentic but are smaller and coarser. You could also use hard taco shells.
There are loads of condiments that you can add to your tortilla with the cooked chicken fajita mixture. For example, guacamole, sour cream, pico de gallo, refried beans, queso, shredded cheese, or even salsa will work great with the rest of the ingredients.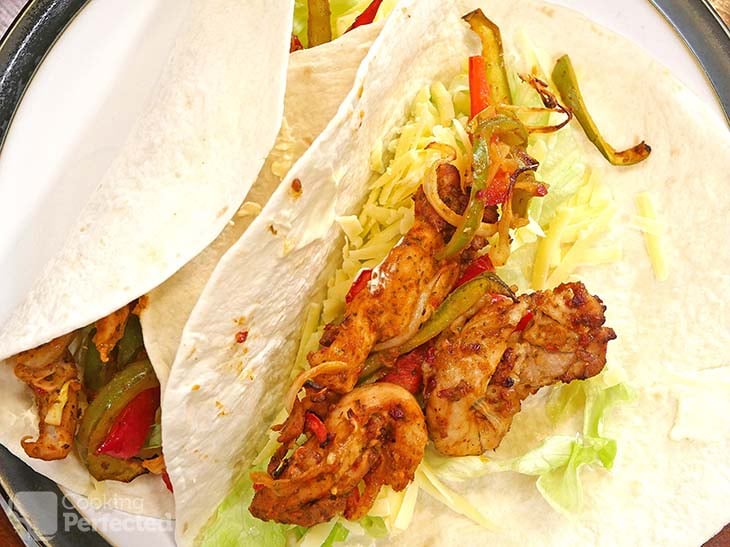 Do not be afraid to add some more ingredients to the tortilla. Sometimes I like to add a bit of extra diced tomato, lettuce, sliced avocado, shredded cheese, fresh cilantro, and so much more.
There are loads of side dishes that go great with fajitas. One of my favorites is a side dish of roasted potatoes. However, salads, rice, salsa verde, creamed corn, corn chips, and many more will work great. Let us know what you like to serve with fajitas.
To make this paleo-friendly or keto, simply serve the chicken fajitas over the top of some cauliflower rice. It is an excellent low-carb option if the tortillas do not interest you.
Personalizing the Fajita Mix
To really tinker with the flavors of this dish, you can make your own homemade fajita seasoning mix. It will require a little more preparation, but the result is pretty good. Alternatively, the store-bought packets are usually pretty nice.
I use chicken thigh in this recipe, but you can easily replace it with chicken breast or tenderloins. If you want to go completely different, you can use beef instead. All these options result in one of the most delicious fajita mixtures ever.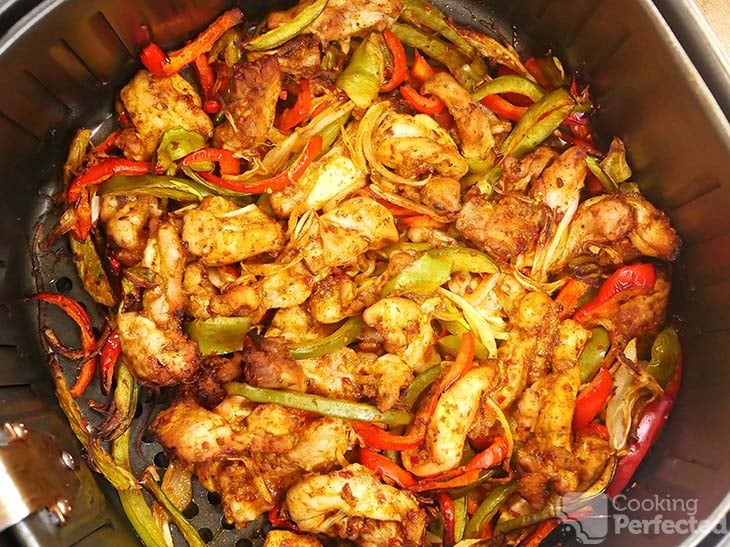 If you do not mind going less traditional, you can cook some extra vegetables with the bell peppers. Vegetables such as mushrooms, zucchini, or red onion will work great. However, I think sticking to the traditional ingredients will work best.
The recipe below will take you through all the steps to cooking chicken fajitas in the air fryer. If you have some feedback, please do not hesitate to leave a comment below.
Air Fryer Chicken Fajitas Recipe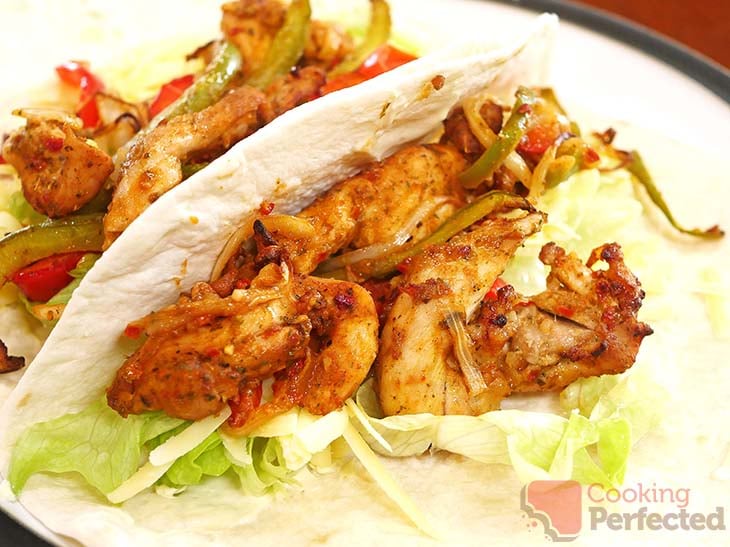 Ingredients
2 tsp cooking oil
1 onion, sliced
2 tsp garlic, crushed
2 bell peppers, sliced
500 g (1.1 lb) chicken thighs, cut into strips
30 g (1.1 oz) packet Fajita seasoning
Extra Ingredients
Lettuce
Sour cream
Shredded Cheese
Tortilla
Salsa
Lime juice
Instructions
Preheat the air fryer to 180°C (360°F). It will take roughly 5 minutes,
Combine the oil, onion, garlic, bell peppers, chicken strips, and fajita spice mixture in a bowl.
Place chicken and vegetables into the air fryer basket and cook for 20 minutes. Shake the air fryer basket halfway through cooking.
Serve & Enjoy.
Recipe Tips
I highly recommend using a meat thermometer to ensure the chicken is ready by the time you pull it out of the air fryer. The thickest part of the chicken should reach at least 75°C (170°F).
You can replace the cooking oil with olive oil.
Make sure the chicken thigh or chicken breasts are boneless and skinless.
Shaking the air fryer basket helps ensure that the chicken and vegetables cook evenly. However, you can leave the air fryer undisturbed for the entire cooking time.
The type of bell pepper you use is entirely up to you. For aesthetics, I like to have two different colored bell peppers. For example, I use red and green bell peppers.
For the best results, do not slice the bell peppers and chicken too thin or too thick. No thicker than 1cm (0.4 in).
You can use a store-bought fajita seasoning mixture, or you can make one yourself.
To ensure this recipe is gluten-free, make sure you use a gluten-free tortilla.
Nutrition Information
Serving Size: 223g (7.9 oz)
Servings Per Recipe: 4
Calories Per Serving: 345
Amount Per Serving
Saturated Fat: 5.9g
Trans Fat: 0.1g
Dietary Fiber: 3g
Sugars: 3g
Cholesterol: 123mg
Sodium: 645mg
Protein: 22g
The information above is an estimate generated by an online nutrition calculator.
More Mexican Inspired Recipes
We have a few more Mexican-inspired recipes that are well worth checking out. Below are a couple of my favorite recipes that I highly recommend giving a try.
The salsa chicken is an amazing recipe that makes use of the Instant Pot. The result is some deliciously tender chicken in a delicious salsa sauce. Lastly, it is all topped with a generous amount of cheese.
A Tex-Mex recipe that I have got to recommend is the Taco salad. It is one of the most delicious salads I have ever tried. The salad features lettuce, tomato, corn chips, ground beef, taco seasoning, mayonnaise, and so much more. Certainly worth giving a try.
I hope that you love the air-fried chicken fajitas as much as I did. If you have some feedback, then please do not hesitate to leave a comment below.