These deliciously seasoned chicken thighs cook perfectly in the air fryer. They are always a huge hit.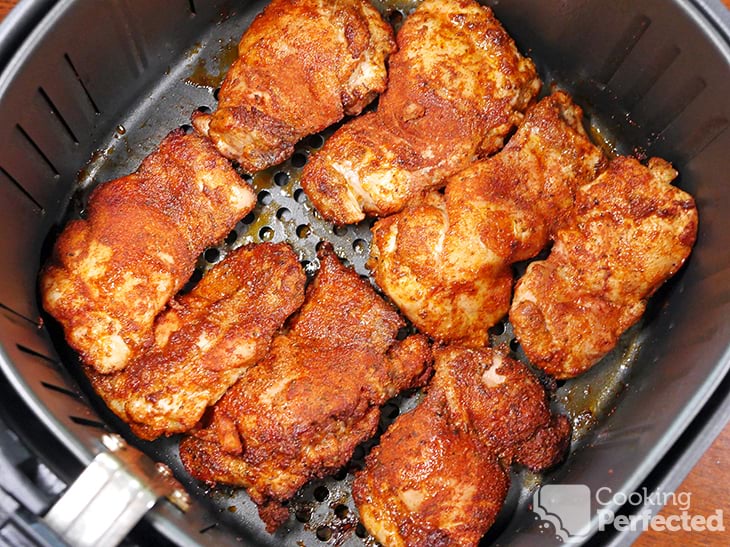 When you take the chicken thighs out of the air fryer, they will have a flavor-packed crust, thanks to our beautiful seasoning. The chicken will be deliciously tender, making it extremely hard not to go back for seconds or thirds.
The air fryer is the perfect device for cooking chicken as it is faster and healthier than some other cooking methods. This recipe produces some of the tastiest chicken I have ever tried.
You should be able to feed roughly four to six people without needing to adjust this recipe. I do highly recommend that you make some side dishes to go with the chicken. You can also double the recipe if you need to feed more people, but you may need to cook the chicken in batches.
If you somehow end up with leftovers, the chicken is excellent for lunch or dinner the next day. I love having it inside a sandwich with mayonnaise, lettuce, and tomato. The chicken should last in the refrigerator for three days or three months in the freezer.
Serving Ideas for these Chicken Thighs
If you have another air fryer, then some crunchy Tater Tots will go great with these chicken thighs. Alternatively, you can cook them in the oven or deep fryer. Some oven-baked Hasselback potatoes are a great alternative.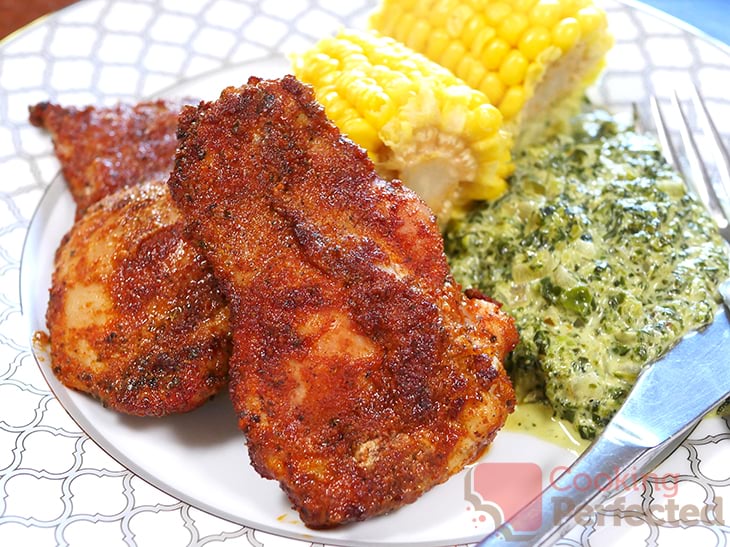 If you have a bit of spare time, then homemade cornbread is an excellent side dish. To take the meal to the next level, then consider making a caramelized onion potato salad. These two side dishes are a delicious combination.
Two cheesy side dishes that will work nicely with the chicken are mac n cheese or cauliflower cheese. Both require a bit of extra time preparing and cooking, but it is well worth it. I could personally eat the mac n cheese all the time.
Tweaking the Seasoning
I love the seasoning and do not think it needs any adjustments. However, if you love tweaking recipes, then some of the ideas below might interest you.
You can add some sugar into the seasoning for a bit of sweetness. The sugar will caramelize and help form a delicious flavor-packed crust. It is a simple tweak but will help add even more flavor.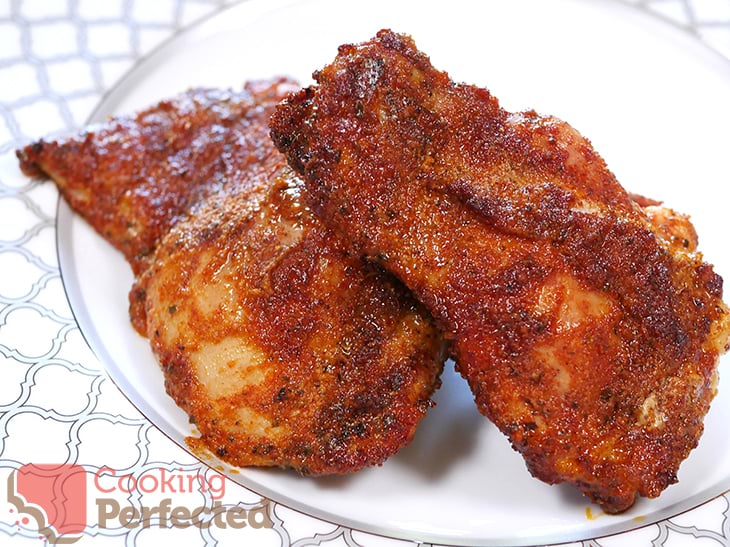 Different seasonings such as taco seasoning or dry ranch dressing will work fine on this chicken. You will need to replace all the seasoning ingredients with your preferred mix.
The recipe below will take you through all the steps to cooking these chicken thighs in the air fryer. If you have feedback, please do not hesitate to leave a comment at the bottom of this page.
Air Fryer Chicken Thighs Recipe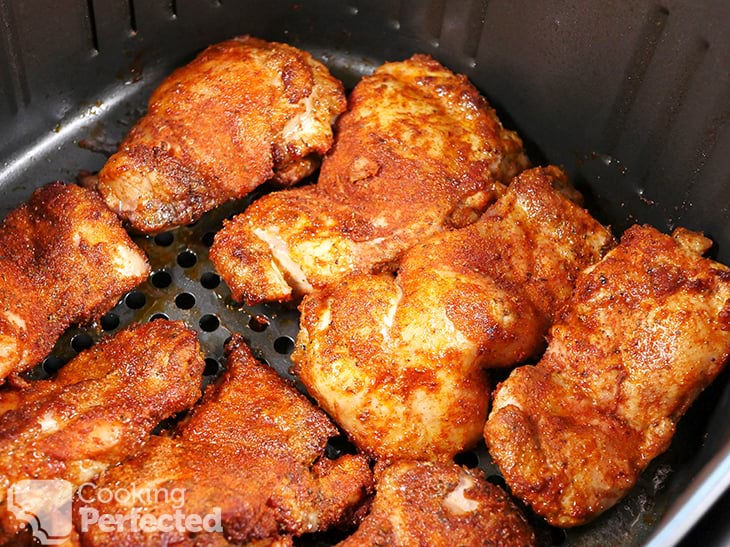 Ingredients
8 boneless chicken thighs
Seasoning
1 Tbsp paprika
2 tsp salt
1 tsp ground black pepper
1 tsp oregano
2 tsp garlic powder
2 tsp onion powder
½ tsp cayenne pepper
Instructions
In a bowl, combine all the seasoning ingredients.
Coat the chicken thighs in the seasoning.
Preheat the air fryer to 190°C (375°F)
Place the seasoned chicken thighs into the basket of the air fryer.
Cook for 15 minutes or until the chicken's internal temperature is around 75°C (170°F). Flipping halfway through cooking will ensure a more even cook.
Serve & Enjoy.
Recipe Tips
You can easily swap the chicken thigh for chicken breast or something else. You will need to adjust the cooking time slightly to make up for the thicker cuts of meat.
Using a meat thermometer is the best way to check whether the chicken is cooked correctly. The internal temperature of the chicken should be 75°C (170°F).
Depending on the size of your air fryer, you may need to do multiple batches. If you double-layer the chicken thighs, the chicken may take longer to cook.
If you are using bone-in chicken thighs, you may need to add another three minutes to the cooking time.
For frozen chicken thighs, I recommend cooking the chicken for twenty-five minutes. I highly recommend that you check the internal temperature of the chicken before serving.
Nutrition Information
Serving Size: 259g (9.1 oz)
Servings Per Recipe: 4
Calories Per Serving: 570
Amount Per Serving
Saturated Fat: 11.4g
Trans Fat: 0.2g
Dietary Fiber: 1g
Sugars: 0g
Cholesterol: 245mg
Sodium: 1369mg
Protein: 42g
The information above is an estimate generated by an online nutrition calculator.
More Delicious Chicken Recipes
There are plenty more chicken recipes that are worth giving a try. Below are just a few of my absolute favorites.
An air fryer recipe that you need to try is chicken tenders. They are delicious strips of chicken coated in a lovely range of spices and some breadcrumbs. I highly recommend giving them a try.
The cheesy Instant Pot salsa chicken is a delicious dish that is well worth making. It is super easy to prepare and does not take long to cook. It is one of my favorite easy recipes to finish a busy day with.
I love these air fryer chicken thighs, and I hope that you agree. If you have feedback, please do not hesitate to leave a comment below.